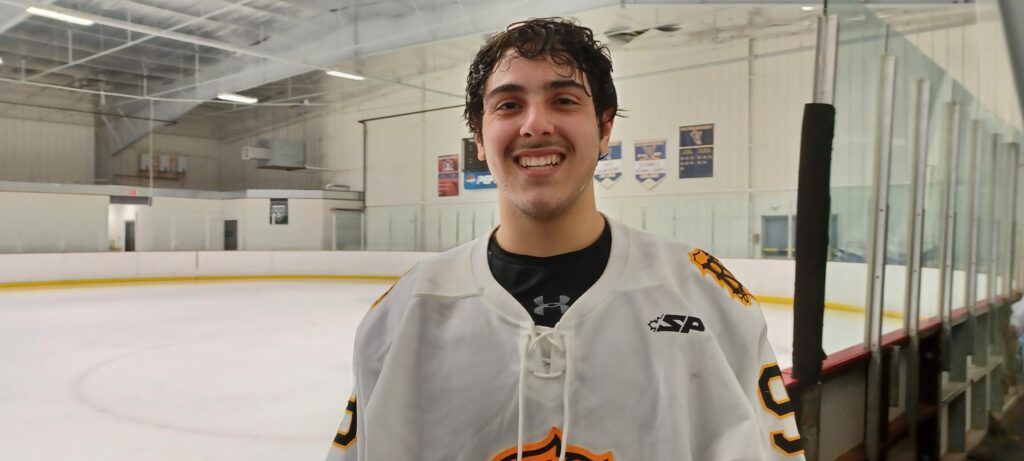 By TIM IRVING
McQuaid senior Dante Coelho sets the bar for the rest of his hockey teammates.
"We preach that, you wanna learn how to play the game the right way, watch that guy. It's not always flashy but it's consistent," said McQuaid coach Joe Dugan after Coelho scored the hat trick to lead the Knights past the Portside Royals, 4-3 in the Class A quarterfinals at the Rochester Ice Center Thursday.
The sixth-seeded combined Spencerport and Brockport team took the lead just 2:39 into the game as defenseman Evan Bovee gave the Royals the lead.
Four minutes later, the Knights tried to get set up at the point but Henry Schultz tipped the puck out of the zone, skated up the right side and hit Ryan Plouffe and the lead was 2-0.
With a minute left in the first period, the Knights took advantage of a power play opportunity with Coelho burying a wrister skating in from the point.
"I was open the last time we were on the power play, Gabe (Simmons) saw me at that slot and fed me," Coelho said.
In the second, the Knights on another power play, Evan Kopacz's shot from the right side kicked out in front and Nick Bianchi buried it out front to tie the game at two.
With four minutes left, Portside had the extra skater, Schultz picked up the puck in the corner and skated along the goal line, feeding the puck to Jonathan LoMonaco skating in from the point for a 3-2 lead.
With 33 seconds left, Coelho saw the Royals changing lines and skated up the left side, firing from just outside the left circle and finding the net to equalize again heading to the third period.
1:26 into the third period, with a lot of movement in front of Portside goalie Danny Kucmerowski, Coelho flipped a backhander on net from just inside the blue line that slipped through the pads for the game winner.
Rory Fitzpatrick made a flurry of saves late as Portside got an extra skater on to try and tie the game.
The win puts the Knights into the semifinals against a Victor team that occupies the locker room adjacent to the Knights at RIC.
Coelho said, "It's not over, nothing to be excited about until the job's finished, just gotta keep plugging away at it."