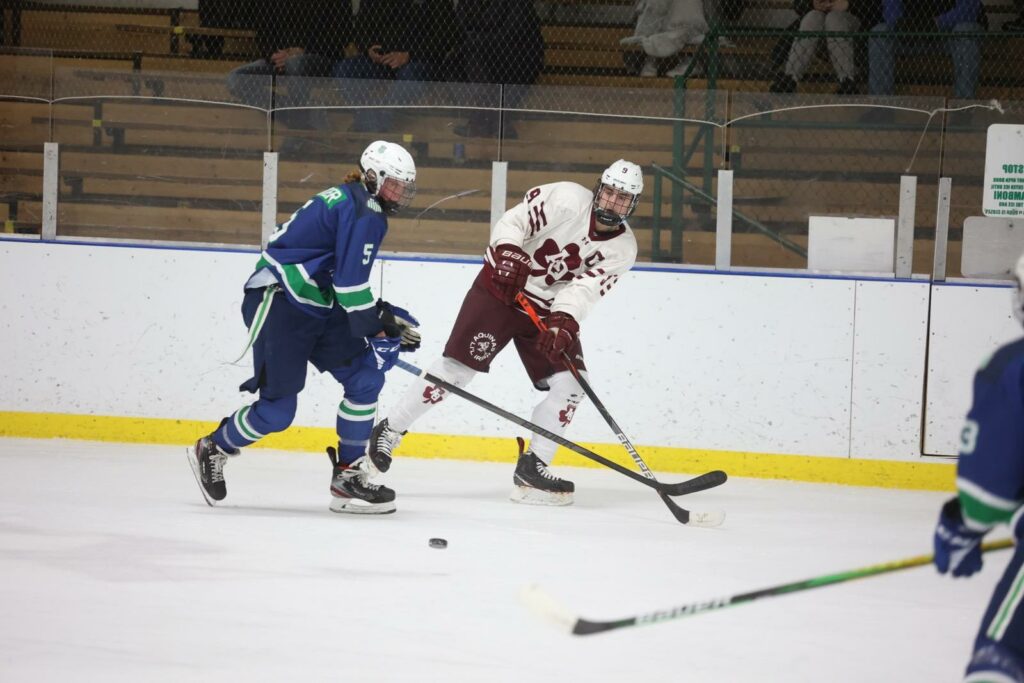 By TIM IRVING
On November 30, Aquinas hockey traveled to Batavia to face the Notre Dame United team and came away on the short end of a 6-3 score.
"It was early on and everyone was trying to figure some things out and it was good though, I think the loss did us some good, " Aquinas coach Chuck Dossier said.
That might be a slight understatement.
The Li'l Irish defeated the Fighting Irish at Lakeshore on Tuesday, 3-2, on their way to an eighth straight victory coming out of that loss.
The tone was set early by the goalies. Senior Courtney Schum came up with the first big save of the night on the backhand attempt for the United.
Junior Andrew Gatti then stopped Gavin Schrader on a breakaway to keep the game scoreless after one.
Seven minutes into the second period, Aquinas captain CJ Mangone snapped off a shot from the left circle to put the Li'l Irish on the board.
"He's been a captain on this team for two years for a reason. He's a leader, he loves a lot of ice, he's good on the ice with the younger guys, " Dossier said of the senior.
Four minutes later, Tosh Flaherty shot from the point, the rebound bounced to Mangone in front for a 2-0 lead.
With 1:34 to play, the United pressed the forecheck and Ronin Hofmaster scored off a turnover to cut the lead to 2-1.
With 10 seconds left in the period, Schrader got another breakaway on Gatti and flashed the leather, making the glove save on his off-season teammate.
"He's a catalyst back there and he keeps us in a lot of those tight games and he definitely did that tonight," Dossier said of Gatti.
With 10 minutes left in the third, Tony Terrana's from the point, with 6' Mangone screening Schum, found the net for a 3-1 Aquinas lead.
Batavia Notre Dame United kept the pressure on and with 59 seconds left and an extra skater on the ice, Schrader scored to cut the lead to 3-2.
Gatti kept it that way, making 28 saves in the game. Schum stopped 24 at the other end. Perhaps the most impressive stat, there were no penalties called in the game.
The Li'l Irish (9-1) have a busy weekend in trying to extend their eight-game winning streak, with games at Lakeshore against Irondequoit and rival McQuaid Friday and Saturday respectively.