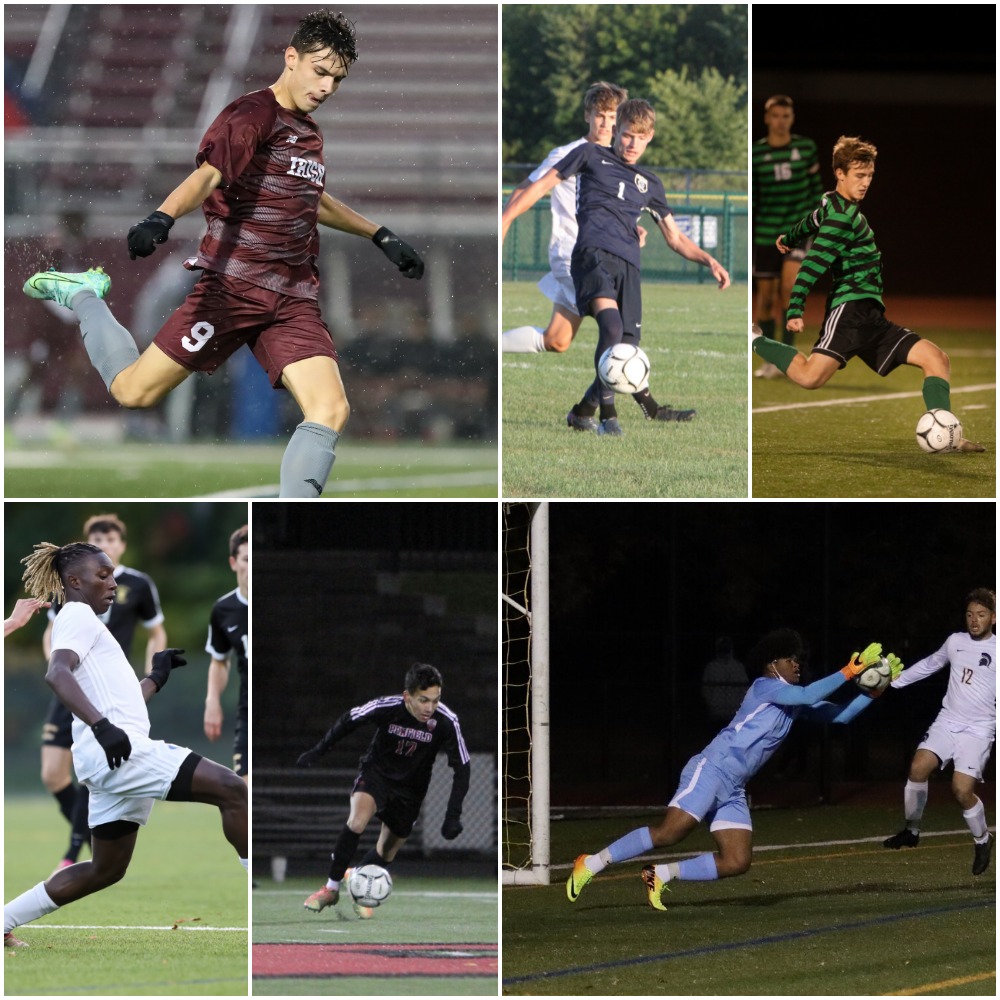 By PAUL GOTHAM
With the 2021 High School Soccer season in the past, here's a look at the top performers in Section V. Presenting the 2021 Pickin' Splinters Junior Boys' Starting XI:
CHASE ALEXANDRE
Midfielder, Brighton Bruins (Monroe County II)
All-County performer: Physical and skilled while scratching at the surface of his abilities; Alexandre moves effortlessly and consistently outpaces opposing players, makes sound decisions with the ball and has the ability to execute to either side of the field, haven't yet seen him on an overlapping run along an outer third but there is that potential, possesses a quick release on his shot and needs just the tiniest of openings from 25 yards to get it on frame; a willing defender, uses his speed to stop the ball and give teammates a chance to find shape behind, he routinely wins 50-50 balls because of the challenge he creates trying to knock him off-balance.
DANIEL BARRACLOUGH-TAN
Midfielder, Brighton Bruins (Monroe County II)
All-County performer: Barraclough-Tan possesses a tireless motor that he uses to pester opposing backlines, anticipates the next play and moves well on the flight of the ball, does not need the ball to work hard; disciplined defender who understands the value of containment but recognizes when to press his advantage; skilled offensive player who allows the play to come him, sees passing lanes and also understands when to advance the ball off the dribble.
ALEX COOK
Attacker, Wayne Eagle (Finger Lakes East)
Finger Lakes East All-Star: Skilled offensive player who works hard off the ball, understands how to take advantage of space with diagonal runs, capable of receiving the ball in full stride while maintaining pace and balance, works well within the structure of an offense, effective in one-to-two touch combinations; disciplined defender who consistently stops the ball in time in order to allow defense to gain shape.
LUCA DODGE
Defender, Hilton Cadets (Monroe County I)
All-County performer: Skilled and athletic, Dodge makes consistent stops along the Hilton and possesses the ability to start the offense from the outer third; disciplined defender who moves on the flight of the ball, sees one play ahead and makes necessary adjustments to help team maintain shape, understands the value of containment while recognizing opportunities to take away possession, strong on the ball.
HENRY GOLDSTEIN
Midfielder, Pittsford Sutherland Knights (Monroe County III)
Steady performer on a senior-laden team, understood his role and flourished in that capacity, skilled in quick combinations and capable of receiving in full stride and maintaining pace, sees the field well and is a willing distributor; a tireless defender who understands the value of containment, combines quickness with game IQ to anticipate opposing attempts for progression and consistently interrupts passing lanes.
LEE HARTKE
Midfielder, Avon Braves (LCAA Division II)
All-LCAA performer: Commanding presence in the middle third; Hartke slows the game to his speed and makes high-level decisions, equipped with a confident touch and field vision, he becomes the center of Avon's offense, quiet on the ball he smoothly shifts from creator to finisher with little to no drop off; anticipates the play well on defense and understands the purpose of containment to create shape.
CRISTIANO MOUNNARAT
Midfielder, Penfield Patriots (Monroe County I)
All-County performer: Power and escapability combined in one package, Mounnarat routinely goes into clusters of players, comes out with the ball composed and ready to create, a slashing player, he can change direction within balance and stride, consistently beats first defender off the dribble and looks to create for teammates at the same time he can strike from 25 to 30 away.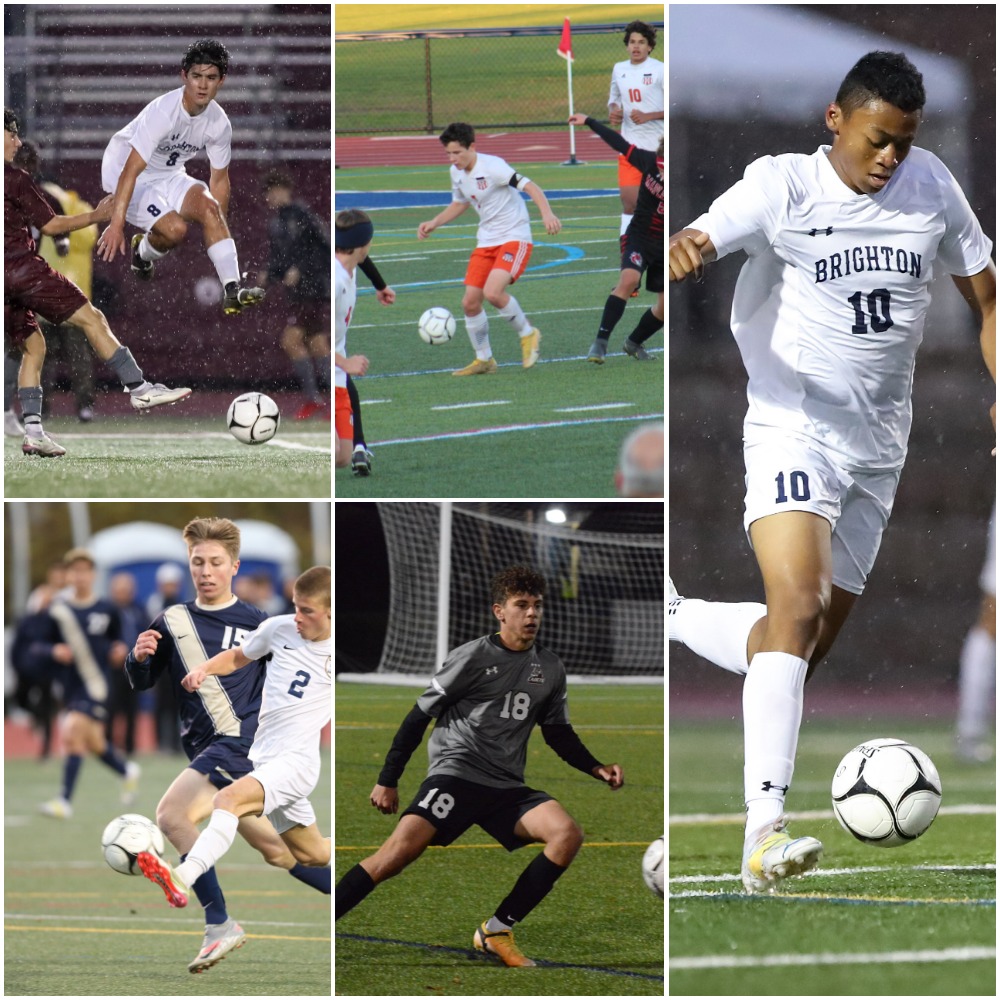 ELVIR ODZAKOVIC
Defender, Aquinas Li'l Irish (Independent)
Fearless backline player who couples skill with athleticism; Odzakovic thrives on physical contact consistently winning in 50-50 situations, steps hard to the ball, moves well on the flight of the ball and anticipates the play well; possesses a keen understanding of knowing when to clear, when to distribute and when to advance via the dribble, has the ability to thrive with any of those situations.
77' Elvir Odzakovic converts the PK. McQuaid 3 Aquinas 1 pic.twitter.com/1lPYkNl6lJ

— Paul Gotham (@PickinSplinters) October 3, 2021

MYLES PALMER
Attacker Fairport Red Raiders (Monroe County I)
Monroe County Division I Co-Player of the Year and Class AA Fourth Team All-State: Skilled frontline player who recognizes situations and takes what the defense gives, at the same time the 5-foot-11 forward can dictate play, comfortable receiving the ball with his back to the goal, Palmer can create for teammates, he has a knack for finding the ball inside the 18-yard box and finishing, sturdy enough to ward off defenders yet routinely gets a step on opponents in the open field.
With a nod of the head, Myles Palmer gives Fairport a 3-1 lead. 7:49 left in the clock. pic.twitter.com/C5tZWcQiLi

— Paul Gotham (@PickinSplinters) October 1, 2021
NIYEN RUFFIN
Goalkeeper, McQuaid Jesuit (Rochester City Athletic Conference)
Commanding presence, Ruffin combines a sturdy build with athleticism for an above-average coverage of the frame, quick reactions to get to threatening attempts heading for the corners and upper-body strength to keep those shots out of the net, decisive, reads situations well and understands when to come off his line, again physical strength allows him to win one-on-one confrontations.
Niyen Ruffin and John Palermo deny a late corner kick opportunity. pic.twitter.com/ZCbEpSdQqA

— Paul Gotham (@PickinSplinters) October 3, 2021
NATHAN THAYER
Midfielder, Keshequa Indians (LCAA III)
Craft playmaker with a nose for the goal and gifted with a deft touch, Thayer thrives in quick combinations, works well in crowded spaces and is capable of escaping a swarm with possession, at his best in the open field where he can receive in full stride and execute the necessary play; a disciplined defender, he understands the value of containment and knows how and when to advance on the ballhandler.