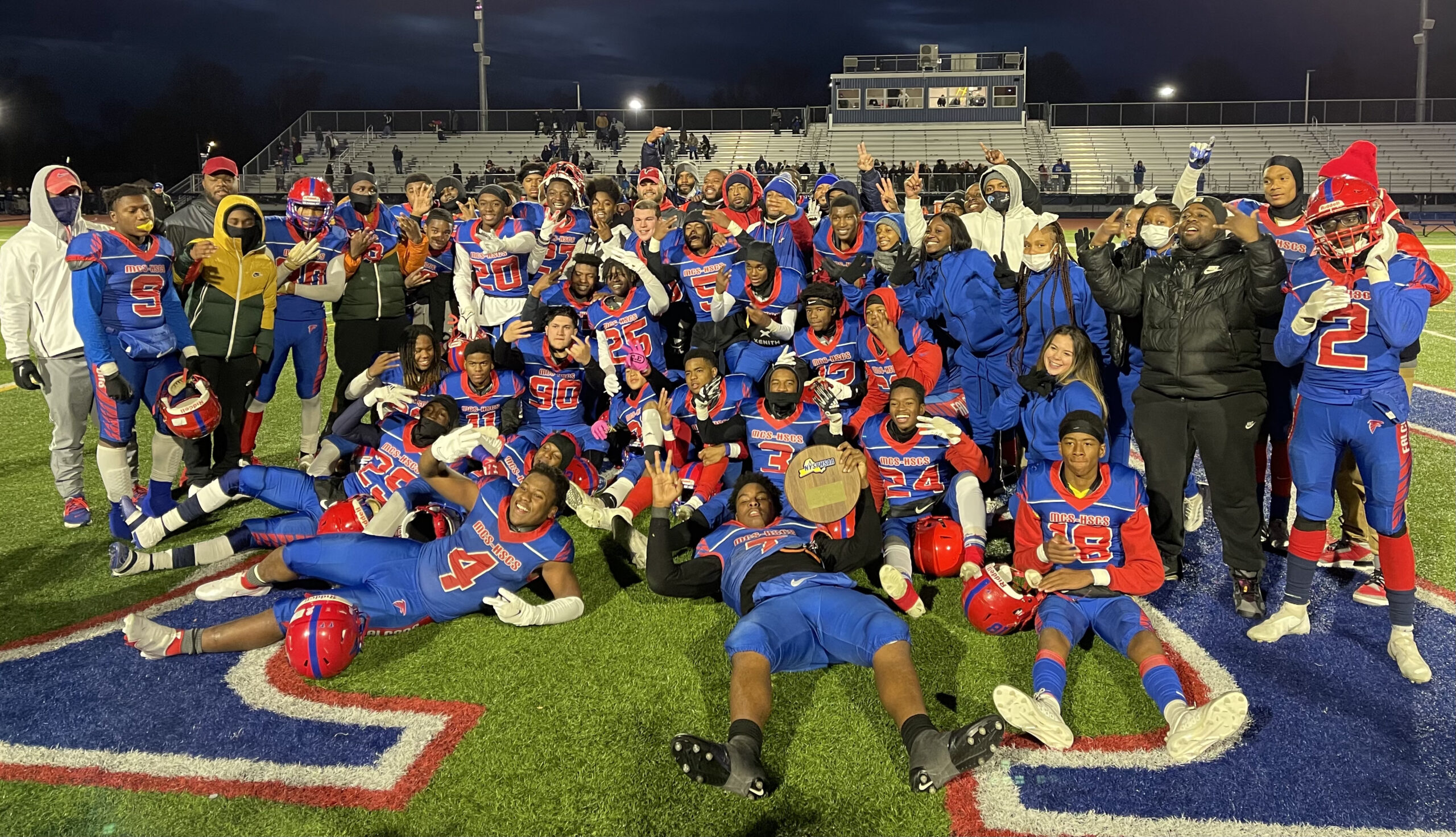 By PAUL GOTHAM
WILLIAMSVILLE, N.Y. — The original play called for a run to the right side of the line.
Addison Copeland didn't follow the script.
Caught in the backfield, Copeland reversed directions and eventually found a crease on the opposite sideline. When it was over, the 6-foot-2 wide receiver had rushed for more than the 22 yards indicated in the box score and clinched a trip to the New York State semifinals for the WNY Maritime/Health Sciences Falcons (VI).
"It was a counter to him, but they snuffed it out," Maritime/Health Sciences head coach Ty Parker said after his Falcons defeated Batavia 22-14 in the 2021 Far West Regional from Williamsville South High School. "So we had to reverse fields. That's his athleticism and the speed. If you ain't got the speed, you ain't going to be able to reverse fields and get to the distance like that. I got to credit his natural ability that God gave him. That play was all him right there. That wasn't no sophisticated play that we ran. That play was all Addison Copeland right there."
Lined up to the left, Copeland broke right on the snap and took the handoff from quarterback Montrice Webster. He was immediately met by a Batavia defender. He spun right and again into the grasp of another Blue Devil. He was at the right hash marks before turning to his left.
"It was like finding my way out of a labyrinth," said Copeland, a University of Pittsburgh commit. "It was a lot of left-right, back-forward. It was a lot of movement, but I got it done. I don't know how it happened, but I'm glad it did.
"As soon as I got the breakaway, I saw the end zone. Was nobody stopping me."

With a quartet of Batavia defenders in pursuit, Copeland retreated to the 30-yard line before he turned upfield.
"Everybody's game plan is to stop Addison Copeland, so he's going to have two or three guys on him," Parker noted. "We still try to find him a way to get the ball. As you see on that one play, he made that happen on his own. The line blocked, but he had to reverse field to get to the end zone. That's the type of stuff that he does. That's the type of dynamic player that he is."
The touchdown, coming with 2:02 remaining in the fourth quarter, represented the only score in the second half.
Stopped in the backfield, Addison Copeland reverses course and finds the end zone. After a 2-pt conversion 2:02 remains. Maritime/Health Sciences leads 22-14 pic.twitter.com/N8J0tpjtH9

— Paul Gotham (@PickinSplinters) November 20, 2021
"I knew we needed a touchdown," Copeland said. "It was either them or us at that point. That play was going to decide the game. I never want to send the seniors out that started with me on a bad foot. I wanted to win it all for them."
It was Copeland's second touchdown of the game having grabbed a 26-yard halfback option from Zeke Taylor to tie the game at 14 late in the second quarter.
"Big-time players make big plays in big games," Parker said. "Addison is built for that. Where he's heading, he's got to make plays like that. Like I told him, 'be the playmaker.' Over the season, we were playing a lot of Class B teams where he couldn't expose the stuff that he does well. These are the games that count the most, big games. And he showed up today."
Back and forth we go. WNY Maritime/Health Sciences has tied the game at 14 on this wide receiver reverse pass for a touchdown. The two-point try was no good, 5:00 remaining first half. @BHSScores @SecVFootball @NYSPHSAA @Batavia_Daily @Coach_Briggs1 https://t.co/zYt8Kz7Boq pic.twitter.com/8ntGrviNLf

— Alex Brasky (@AlexBraskyBDN) November 20, 2021
The loss ended the season for Batavia (11-1-0).
"We got a phenomenal group of kids," Batavia head coach Brennan Briggs said. "They fought hard until the end. I don't know how many people gave us much of a shot in this game. Just reading things and hearing things throughout the week, but our kids showed what they're made of. The Batavia football program showed what they're capable of doing. I'm proud of them."
The Blue Devils were making their first trip to the regionals since 2018 when they went on and advanced to the state championship game.
"It's about the kids," Briggs said.  "The kids have done a fantastic job. They've bought into what we're doing.
"It comes down to them. They battle every day. They do what is asked of them. I'm just super-proud of them. Obviously, it's tough ending a season on a loss, but I'm just proud of these guys."

Cole Grazioplene gave Batavia the lead when he returned the opening kickoff for a touchdown.
Maritime/Health Sciences responded on its opening possession going the length of the field with Braylen Boyd scoring on five-yard run. After a two-point conversion, the Falcons led 8-7.
Jesse Reinhart connected with Javin McFollins to regain the lead for Batavia at 14-8.
Batavia senior Jesse Reinhart finds jumior Javin McFollins wide open on the deep ball. Batavia has regained the lead, its now 14-8, Blue Devils in front of WNY Maritime/Health Sciences 9:39 remaining first half. @BHSScores @Coach_Briggs1 @SecVFootball @NYSPHSAA @Batavia_Daily https://t.co/UgYaeSO2iI pic.twitter.com/9b1BHcvuYn

— Alex Brasky (@AlexBraskyBDN) November 20, 2021
"We knew we were going to face some form of adversity at some point," Parker said. "Batavia is a good team. They're well-coached. We missed some assignments in the first half. I'm told them these types of games are about adjustments. We made the necessary adjustments that we had to make in the second half. I'm just happy and proud of our guys for getting it done. We knew it wasn't going to be any easy game."
Parker credited his squad's regular season schedule which saw the Falcons with a 16-0 loss to Section VI Class AA champ Bennett before getting trounced by Monsignor Martin power house Canisius High, 59-0.
"Tough teams tough it out. We faced a lot of adversity the first two games that we lost. I think those games are the games that helped us win these types of games."
Maritime/Health Sciences will play Maine-Endwell (IV) next Saturday in the NYS Class B semifinals held at Cicero-North Syracuse High School. A 3 p.m. kickoff is scheduled.
"I always tell our guys, 'Every game we move up, the teams are going to get better.' We got to play better. Every level we get to, we got to play better football. Today was a prime example of it. I don't think they understood the magnitude of this game until they seen it was 14-14. We got in there. We made some adjustments."