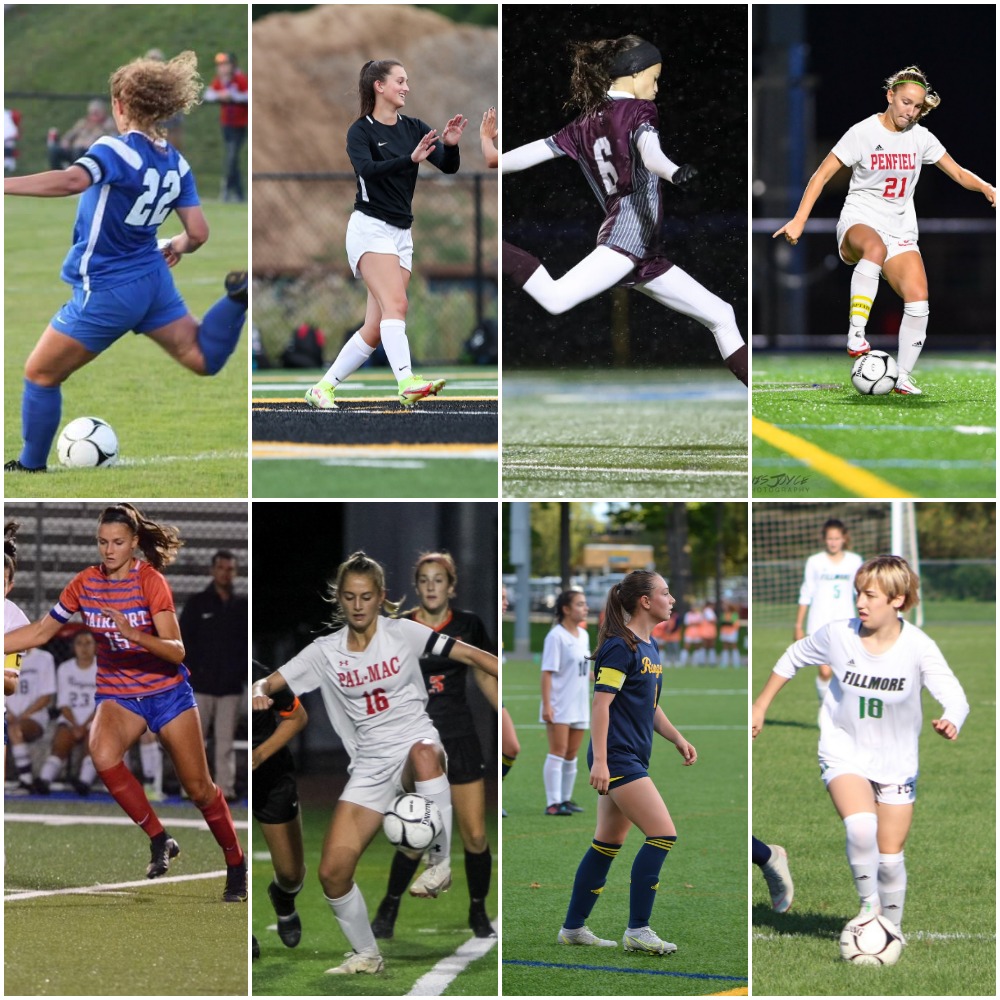 By PAUL GOTHAM
Ten schools claimed championships late last month. Section V Girls' Soccer honored the players who contributed to those titles and more with the naming of the 2021 All-Tournament Teams.
Fairport and Penfield shared the Class AA title. Four players from both teams earned All-Tournament honors.
Katie Diem scored once and converted twice during PKs to help Fairport to a share of its second straight title. The senior was joined on the all-tournament team by fellow Red Raiders Brigid Mulholland, Bella Pucci and Erika Yancey. Mulholland made 20 saves in Fairport's semi-final matchup with Rush-Henrietta. Pucci also found the back of the net once. Yancey collected a pair of assists in post-season.
Penfield's Eva Elliott, Courtney Felton, Natalie Giunta and Delaney Tellex earned all-tourney honors. The quartet helped the Patriots to a share of their second title in three years. Felton and Giunta scored a goal apiece in Penfield's 3-nil win over Hilton to open sectionals. Tellex finished with a pair of assists in the post-season. Elliott anchored a Penfield defense which allowed just one goal in sectionals. Penfield eventually advanced to the New York State Class AA semi-finals.
Mikaela Campbell and Cassidy Pearce helped Rush-Henrietta to the semi-finals and earned the post-season honors. Hilton's Kayley Connor and Caitlin Nelson paced the Cadets effort to reach the semis and were named to the AA team. Maggie Galewski (Victor) and Maya Hatch (School of the Arts) rounded out the Class AA All-Tournament team.
Spencerport won its sixth straight sectional title, and a quartet of Rangers earned Class A1 honors. Lily Brongo finished with three goals and five assists in Spencerport's three post-season victories. Teammate Bre DeHond collected four goals and two assists in title run. Alyssa Hackett added three goals, and Emma Taylor anchored a Spencerport defense that posted two shutouts and limited opponents to two goals in three games.
Brighton advanced to the finals, and three Bruins Maggie Cregan, Pauny Khounpachamsy and Meredith Reynolds were named to the Class A1 team. Cregan accumulated six goals and an assist in three post-season games including a four-goal effort in a semi-final win over Churchville-Chili. Khounpachamsy had a goal and two assists in the post-season. Reynolds added an assist.
Churchville-Chili's Amelia Breton and Olivia Hogan helped the Saints to the semi-finals and earned all-tournament honors while Our Lady of Mercy's Caroline D'Anza and Shea Netti also nabbed spots on the A1 team.
Megan Fry (Webster Schroeder), Lillian Gillett (Irondequoit), Catherine Rogers (Webster Thomas) and Jade Salmon (Gates-Chili) also were named to the Class A1 team.

Class A2 champion Pittsford Mendon placed four players on the All-Tournament team: Elena Barr, Kate Hennessey, Rachel Lee and Leah Shaffer. Barr scored two goals including the lone tally in Mendon's 1-nil win over crosstown rival Pittsford Sutherland in the championship game. Lee finished with three goals in the post-season. Shaffer and Hennessey anchored a Mendon defense that posted back-to-back shutouts and allowed just one goal in three sectional games.
A2 finalists Pittsford Sutherland had three players on the All-Tournament squad: Ava Allen, Ava O'Neill and Ella Wilmot. The trio limited opposing offenses and helped the Sutherland girls reach a sectional final for the first time since 1994.
Ella Fadale and Maija Young helped Brockport to the semi-finals while Wrianna Hudson and Abby Ranalletta paced Athena's post-season. The four each earned post-season honors.
Nevaeh Bunch (Eastridge), Maria Karipidis (Honeoye Falls-Lima), Addison Rice (Wayne) and Emily Silverstein (Aquinas) also earned Class A2 honors.
Palmyra-Macedon's Clare Boesel, Maya Ikewood, Molly Seither and Abby Stever highlighted the Class B1 team. The quartet led Pal-Mac to its second sectional title in four years and sixth overall. Boesel made 12 saves and posted three shutouts in the post-season. Ikewood finished with four goals. Seither collected three goals and four assists while Stever solidified the defense.
Class B1 finalists Hornell placed three players on the All-Tournament squad: Maddie Lyng, Juliet Marino and Ayla Prior. The three bolstered the Hornell defensive effort with Marino allowing just two goals in the opening pair of wins.
Class B1 semi-finalists Batavia and Greece Olympia had two players apiece receive post-season honors. Maddie Barone and Lily Miller represented Batavia while Olympia's Kuditra Derosa and Morgan Welch earned honors.
Nicole McGloon (Waterloo), Mikayla Myer (Geneva), Gabby Taylor (Newark) and Ekemini Udofa (Greece Odyssey) also were named to the Class B1 team.
Lillian Dickson, Natalie Krelie, Keegan Smith and Ella Yartym led Bath-Haverling to a second straight Class B2 title and earned All-Tournament Team in the process. Smith paced the Rams' offense in the post-season with five goals and two assists. Yartym, Bath-Haverling's regular season scoring leader, had two goals and three assists in three post-season wins. Dickson and Krelie secured a Rams' defense that registered three clean sheets.
Kaley Griffin, Elle Harrison and Sierra Harrison represented Penn Yan on the B2 team while Grace Lando (Mynderse), Ella Wirth (Mynderse), Summer Foster (Dansville) and Sidney Stone (Dansville) each earned all-tournament honors.
Kaylie Bugajski (Attica), Mara Deisering (Midlakes), McKayla Pribanich (Livonia) and Emilee Scott (Le Roy) also were named to the Class B2 team.
Warsaw's Mattie Heim, Natalie Herbert, Makaylah Higgins and Chloe Hubbard garnered Class C1 All-Tournament Team honors. The quartet led the Tigers to their second sectional title in three years and third in program history. Hubbard, who topped Warsaw with 25 goals and 14 assists during the regular season, added six more tallies and six helpers in four post-season wins. Higgins accounted for three goals and five assists while Heim found back of the net on four occasions. Herbert fortified a backline which limited opponents to two goals.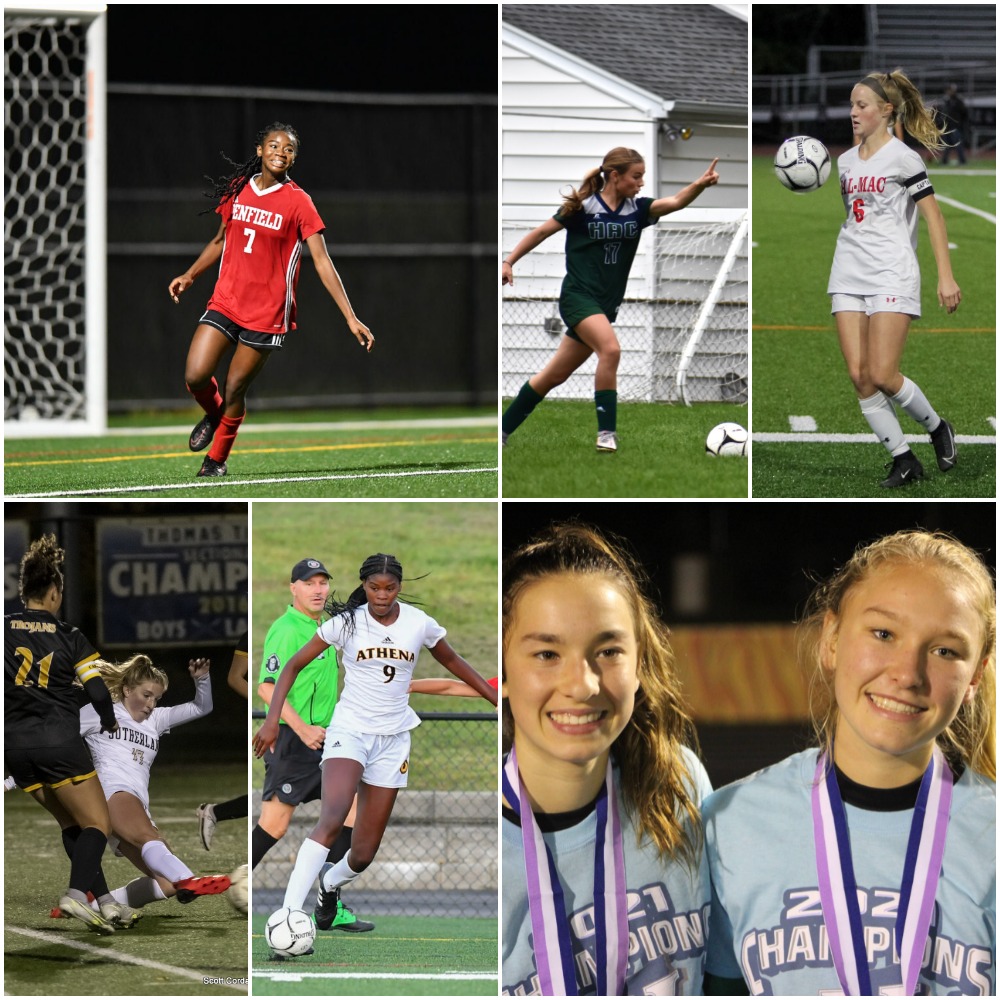 Geneseo's Bridget McMaster, Mary Claire Rollins and Morgan Wolcott also were named to the Class C1 team. Rollins netted four post-season goals including the game winner in a 1-nil win over Addison in the semi-finals. McMaster had three goals in an opening-round win over Sodus. Wolcott was part of a defense that registered three shutouts to open the post-season.
Addison's Jillian Ames and Kerrigan Driskell along with Williamson's Morgan Baumgartner and Andrea Hurtado also earned post-season honors. Emma Brady (Holley), Brooke Burd (Canisteo-Greenwood), Lana Burnett (Marcus Whitman) and Ellie Cochrane (Avon) all were named to the C1 team.
Mia Gray, Mackenzie Hagen, Emma Starowitz and Ava Wagoner earned Class C2 honors in helping the Byron-Bergen girls to their first title in 20 years. Hagen finished with eight goals in the sectional run including three in the title game win over HAC. Gray, a ninth-grader, accounted for four goals and five assists in the four post-season games. Starowitz, an eighth-grader, had a goal and two assists in a semi-final win over Bishop Kearney and followed that with a goal and three assists in the championship game. Wagoner helped a defense that posted shutouts in two wins to start the playoffs and finished with three goals against in the post-season.
HAC's Chloe Fowler, Lucy Michael and Katherine Winchester were named to the Class C2 team while Bishop Kearney/Chesterton's Akon Awuok and Sophia McMullen along with Kendall's Aleyzya Brown and T'Mia Kitchings also received honors.
Karissa Champion (Campbell-Savona), Chloe Hann (Alfred-Almond), Cierra Smith (York) and Ava Thayer (Keshequa) each a spot on the Class C2 Team.
Zoe Beardsley, Grace Russell, Hope Russell and Sophia Templeton led Fillmore to its second sectional title in three years and fifth overall. The four Eagles were named to the Class D2 team. Hope Russell paced Fillmore's offense with seven goals and two assists. Grace Russell added three goals and an assist. Templeton had two tallies and three helpers while Beardsley accounted for three assists.

Marion's Alyse Burich, Delaney Szostak and Hayley Wurster earned spots on the D1 team in guiding the Black Knights to the championship game.
Honeoye's Alexa Colon and Leah Green along with Wheatland Chili's Marena DeBruyne and Emily Parker were named to the D1 team. Ciera Babcock (South Seneca), Polly Bay (Naples), Alicia Borden (Genesee Valley/Belfast) and Grace Carney (Arkport/Canaseraga) all were named to the D1 team.
Batavia-Notre Dame's Nina Bartz, Maylee Green, Autumn Mathisen and Arabella Rogers highlighted the Class D2 All-Tournament Team. Mathisen had a hat trick in Batavia-Notre Dame's 4-1 win over Avoca/Prattsbrugh in the D2 championship game. The junior captain also had two assists in the post-season. Bartz scored two goals and added two assists in sectional play. Green chipped in with a goal, and Rogers spearheaded a defensive effort that allowed one goal in three post-season games.
Jada Derick, Olivia Kilmer and Riley Stowe represented Avoca/Prattsburgh on the All-Tournament Team. C.G. Finney's Kiara Vanderjagt and Grace Vitti earned spots as well as Andover/Whitesville's Zoey Lee and Gabby Terhune.
Zoe Cornell (Jasper-Troupsburg), Lexi Crossely (Friendship/Scio), Katelyn Demarest (Northstar Christian) and Maggie Durand (Hammondsport) rounded out the Class D2 All-Tournament Team.