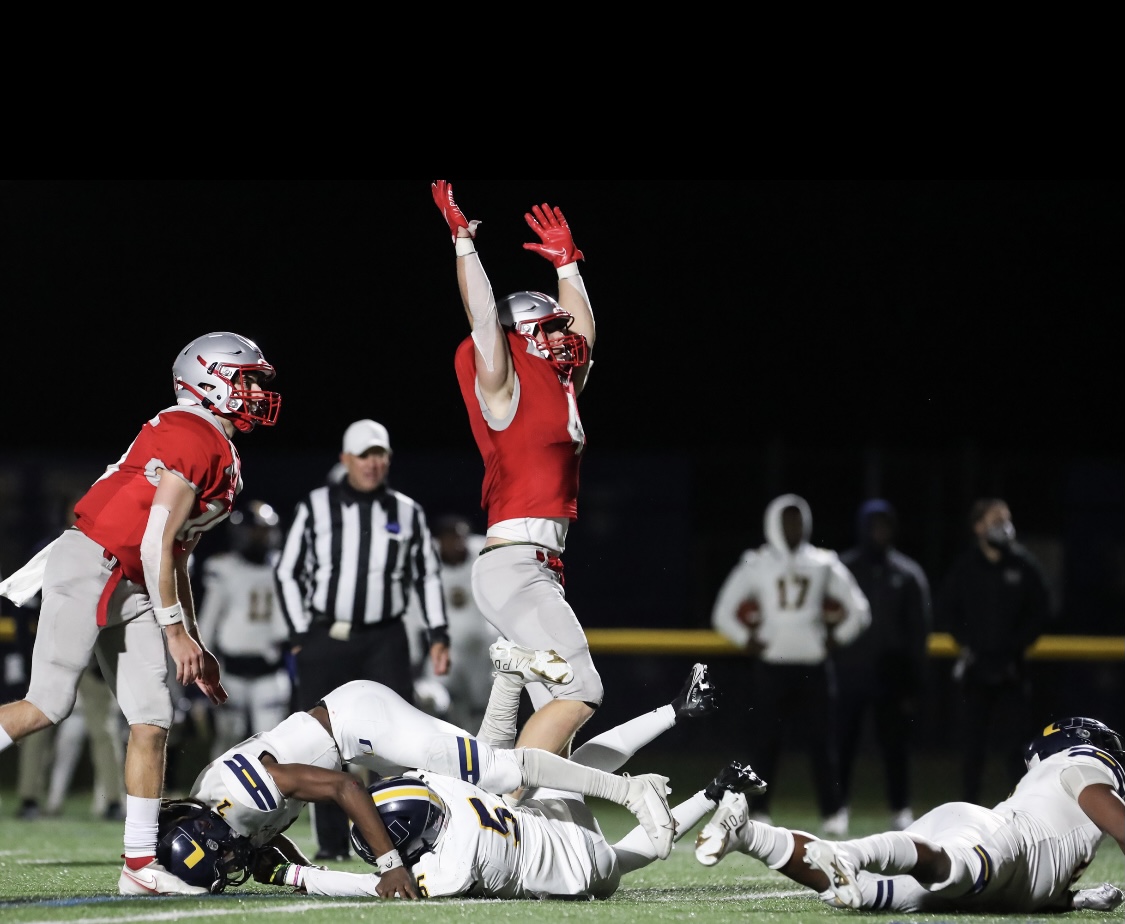 By CHUCKIE MAGGIO
Eric Platten knew UPrep was going to attempt to "ice" him, to make him think about his go-ahead-or-go-home field goal a minute longer.
"I wasn't really unprepared for it," Canandaigua's senior kicker, who also plays running back and linebacker, remarked. "Our coaches do the same thing [in practice], so I just kept telling myself, 'You've got this. You've got this.'"
Platten did "have it," booting a 25-yard field goal through the uprights that likely possessed the distance for a 35-yard try. The Braves defense turned UPrep over on downs on the ensuing drive, sealing a 16-14 victory at Webster Schroeder High School.
Head coach Jeff Welch's team punched its ticket to a second consecutive state tournament and improved to 11-0 overall this season.
"There aren't many other players I'd rather have in that situation," Welch said of Platten. "He doesn't 'rep' it very much, not to the point where we know he's gonna make it. But just who he is, I was pretty confident he was gonna make it.
"He didn't disappoint."
The Braves scored the first two touchdowns of the game and held a two-possession (13-0) lead until just before halftime. Brady Comella caught an 11-yard pass from quarterback Bryan Boldrin with 22 seconds left in the first quarter to draw the first points, while Elliott Morgan's 14-yard run with 5:27 left until halftime provided some momentary insurance.
UPrep thinned that advantage by capping a nine-play, 65-yard drive with a 10-yard Clyde Davis Jr.-Mark McClary connection with three seconds left before the break.
The Griffins held Canandaigua under 300 yards of total offense, outgaining them by 20 yards. The Braves' closest margin of victory this season had been a 17-point win at East. They are not used to playing nail biters, and are definitely not used to deficits like the one they faced with 9:56 remaining.
McClary's second touchdown, a 51-yard reception from regular running back Raykim Chenier after UPrep recovered a fumble near midfield, made it a one-point game. Christopher Jean caught the two-point conversion from Davis Jr. to give the Griffins a 14-13 lead.
"They were really well-coached," said Platten, who settled for a one-yard catch on a night Boldrin recorded more incomplete passes (10) than completed throws (nine). "They were ready for a lot of our plays that usually hit. I think that [defensive] line is really what disrupted us. We had people open, but their d-line just had insane pressure. Props to them; there's some real players over there."
"We haven't been in that situation in a long time, where we're losing late in the game," Welch acknowledged. "So that was brand new. But to have that experience moving forward is so invaluable, and I'm so proud of the way they responded in that situation."
Braves tailback Ryan Gavette did not find the end zone but led all rushers with 90 yards on 19 carries. Morgan rushed the ball five times for 33 yards and also received four passes for 68 more.
Todd Gillam Jr. and McClary combined to compile 233 all-purpose yards.
While the Canandaigua offense did not perform to its standards, the defense limited an explosive UPrep to its lowest point total of the season. The Braves will look to build on the performance in the state tournament.
"Our front seven did a really good job," Welch commented. "We stopped their run game, for the most part, and gave up some pass plays. But the overall effort, I thought, was very good defensively."