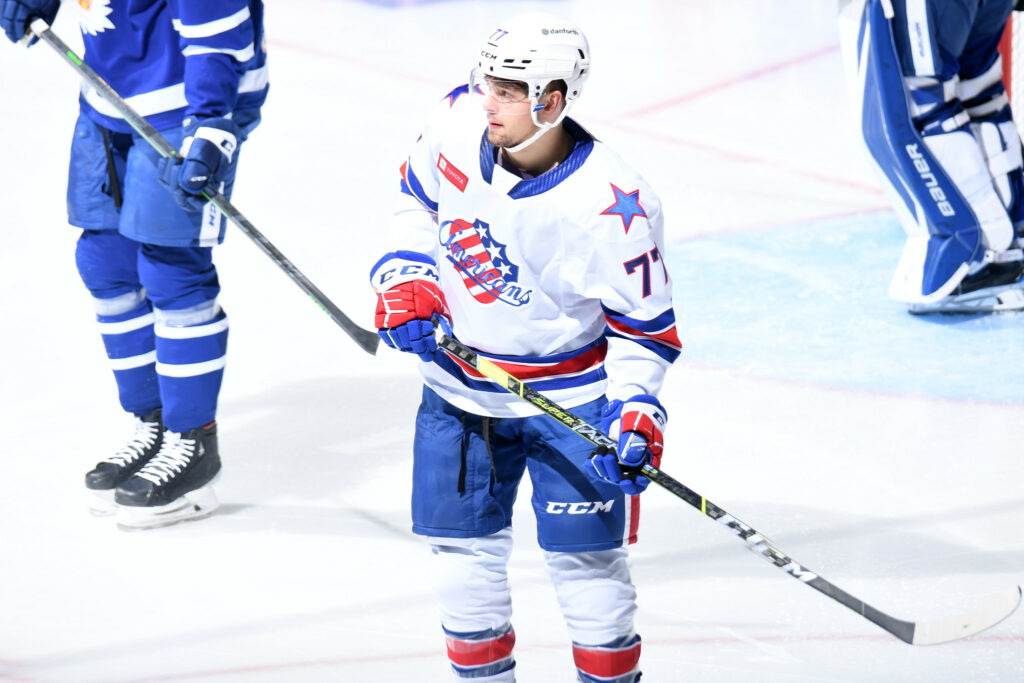 By KEVIN OKLOBZIJA
The eyes of Western New York hockey on Friday night all were focused on Peyton Krebs, the newest predicted rising star to join the Buffalo Sabres organization.
Krebs was obtained along with Alex Tuch and two draft picks in Thursday's blockbuster trade that sent Jack Eichel to the Vegas Golden Knights, and his organizational debut came about 34 hours later with the Rochester Americans.
But while Krebs wanted to make a great first impression, JJ Peterka seemed to be saying – with his play – that he's still very high on the prospect food chain.
Peterka scored the Amerks only goal and was dynamic in all facets of the game in a 4-1 loss to the Toronto Marlies at Blue Cross Arena at the War Memorial.
"That might have been his best performance," Amerks coach Seth Appert said of the rookie right winger, who has produced 2 goals, 7 assists and 9 points through eight games.
"People are going to write about the games he's getting multiple points and all these different things, (but) his willingness to compete for the puck today, to forecheck, to backcheck, things that he's going to have to do to be a great NHL player I thought were probably the most consistent today."
Was it just a coincidence that the 19-year-old native of Munich stepped up to an even higher level on the night Krebs arrived?
"That's a good question," Appert said. "I think that internal competition is healthy. I was fortunate enough to see it first-hand at the (U.S.) national program how healthy competition in practice and the weight room on a daily basis and in games pushes elite players to become special. I lived it first-hand there, so I think that's an important thing that we have."
Appert coached three seasons with USA Hockey's National Team Development program, working with players like Jack Hughes of the New Jersey Devils, Joel Farabee of the Philadelphia Flyers and Oliver Wahlstrom of the New York Islanders.
There's also just the maturation process, of a first-year AHL player understanding more and more what it takes to win and succeed.
"I also think JJ's game is just growing," Appert said. "He's a dynamic offensive player and he's only eight games into his North American pro career."
Krebs, a 20-year-old native of Calgary, had 13 NHL games (one assist) and seven AHL games (1-9-10) on his resume before Friday. He, too, has dynamic puck skills.
He had a chance to show them off against the Marlies. The Amerks dressed only 11 forwards (instead of 12) in order to get defenseman Josh Teves back into the lineup, Appert said. That also provided the coaches a chance to play Krebs in a variety of situations and with a often-changing set of linemates.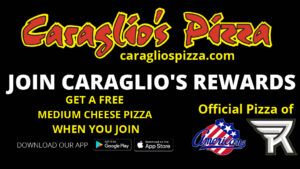 "There were moments he looked really good with a bunch of different guys," Appert said. "He made a ton of plays and put himself and his teammates in outstanding positions to score but sometimes the puck just doesn't go in the net.
"But you can see what a winner of a player he is; his competitiveness and his doggedness on the puck is very strong."
Krebs, the 17th overall pick in 2019 by Vegas, had a chance to become acquainted with fellow top prospect Jack Quinn on Thursday night upon arrival. He said Quinn took him to dinner and provided a chance "to get a lay of the land in Rochester."
On Friday night Krebs was the one trying to show what he's about.
"Obviously I want to do well but if I got traded or not traded, I want to do well, that doesn't change," he said. "Each and every night I'm going to play the same way. I know they traded for me for a reason and I got here for a reason and I just have to continue to do that and I'll be successful."
While the score indicates a lopsided game, it was anything but. The Marlies scored a pair of empty-net goals in the final minute to inflate the score, and the Amerks had by far the better of the scoring chances.
"I liked everything about our game except our finish," Appert said.
He wasn't too pleased with the referees with 1:19 to play when the Amerks were pressing for the tying goal with an extra attacker.
Casey Fitzgerald held the puck in at the right point with his shin or thigh but the officials called a hand pass.
"It was a bad call," Appert said. "But they're humans to. That's a play of critical importance and the official (who made the call) was behind the play."
As a result of the whistle, the faceoff came outside the Marlies zone, and they scored the clinching first empty-net goal with a minute to play.
Appert's complaint wasn't so much that the wrong call was made – as he said, to err is human – but the refusal of the two referees (Tyson Stewart and former Amerk winger Jordan Samuels-Thomas) and two linesmen (Adam Tobias and Brian Wasilewski) to huddle, agree a mistake was made and keep the faceoff in the offensive zone was why he was upset.
"That's a play of critical importance," Appert said. "A faceoff in the zone or out of the zone when it's six-on-five is critical."