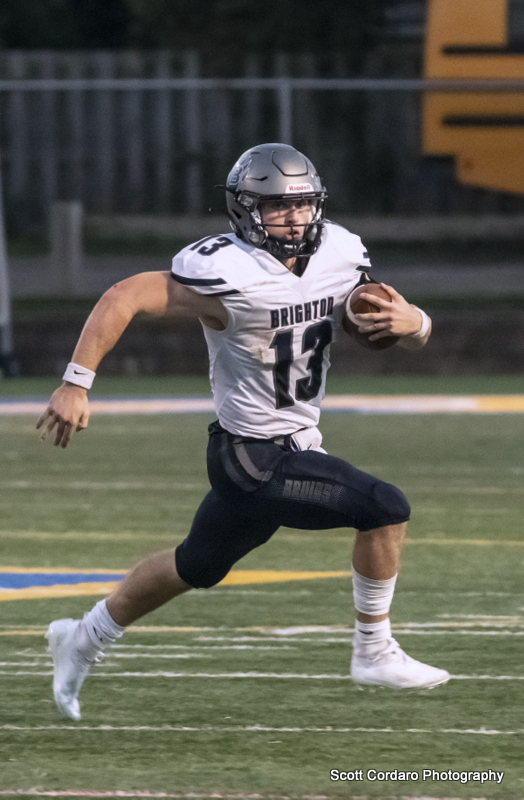 By CHUCKIE MAGGIO
The Brighton Bruins could not have predicted how advantageous a coin toss victory would become when their captains walked to midfield to meet the referees. Brighton won the toss, elected to defer possession of the ball until the second half and jogged back to the sideline to prepare for the opening kick against Irondequoit.
Irondequoit mishandled the return, allowing Brighton to jump on the ball and take possession at the opposing 25-yard line. Quarterback Brennan Clasgens and senior classmate Jackson Cypher connected for a third-down touchdown and the Bruins had a lead 22 seconds into Irondequoit's Homecoming.
Brighton also scored a touchdown on the opening drive of the second half, a 2-for-1 special that helped power the Bruins to a 30-15 victory. Head coach Stephen Lian's team is now 5-0.
"[Irondequoit] is a tremendous team, a tremendous coaching staff," Lian remarked, "so we knew it was gonna be one of those games where every possession mattered. We definitely wanted to be in a position where we could get the ball in the second half, because we knew it was gonna be a tight game."
VIEW MORE SCOTT CORDARO PHOTOS HERE. 
Clasgens and Tahj Jackson combined to rush for 239 yards on 38 carries, continuing the Bruins' commitment to a bruising running game. Elijah Lamonaco contributed 41 yards on six carries, including an 18-yard touchdown.
The matchup with the Eagles (3-3) featured a contrast of styles, as Irondequoit quarterback Erik Barr attempted 33 passes (completing 23) and Clasgens threw just three times. Corey Freeman, Barr's primary target, made 12 receptions and gained 109 of Barr's 239 passing yards. Barr did his share of scrambling, carrying the ball 15 times for 72 yards and two short-yardage scores, but Brighton's run-heavy attack was more efficient.
"I think our team's shown all season that they're very resilient," Lian assessed. "We've been in a lot of close games; we've been in adversity; we've been playing from behind. So we knew it was gonna be that way and we knew it was a contrast of styles. It's not the first time going through the gauntlet; playing both Webster [teams] is very similar, so we've been there before. I knew our kids would be resilient."
The Bruins led by just a 13-7 score after the first quarter but never trailed, scoring 14 straight points before Barr found Cameron Freeman with 5:10 left in the third. Irondequoit conducted a 17-play drive in the fourth quarter with a chance of cutting the Brighton edge to one touchdown, but Brighton kept the Eagles out of the end zone and regained possession at the 10-yard line.
Shane Strazdins recorded 8.5 tackles for the Bruins, who have not allowed more than 19 points in a single game this season.
Brighton earned the road victory despite playing without starting wide receiver Ellis Einbinder and starting lineman Alex Heininger, who were replaced by senior Emil Heagy and junior Chad Asante, respectively. The difference was imperceptible.
"We were excited to see some young guys move into some roles that they haven't had before, and they did a great job," Lian commented. "Our senior leaders continue to lead like they have all season. Very pleased to come into a homecoming game, a tough environment and be able to come out with a victory."