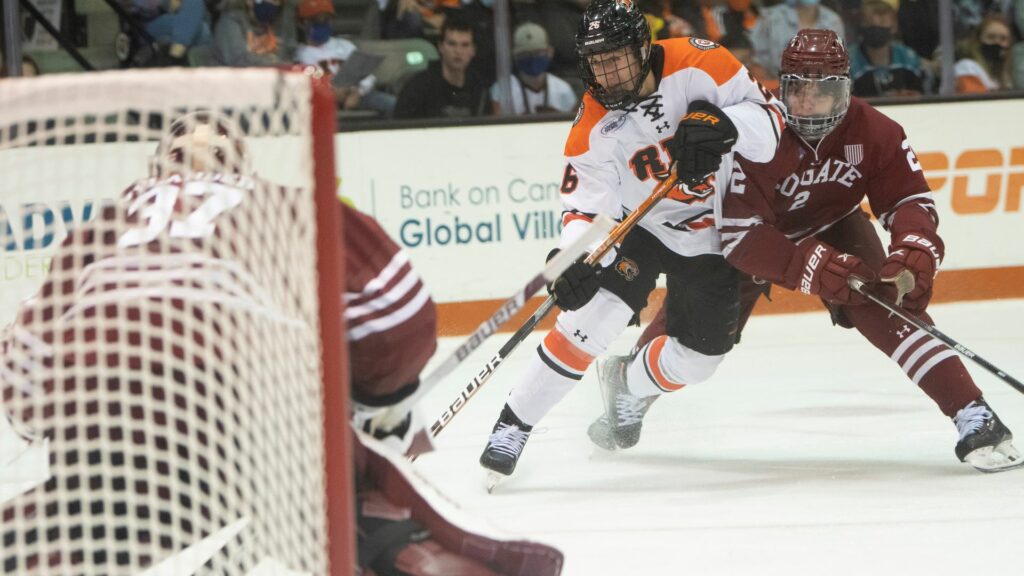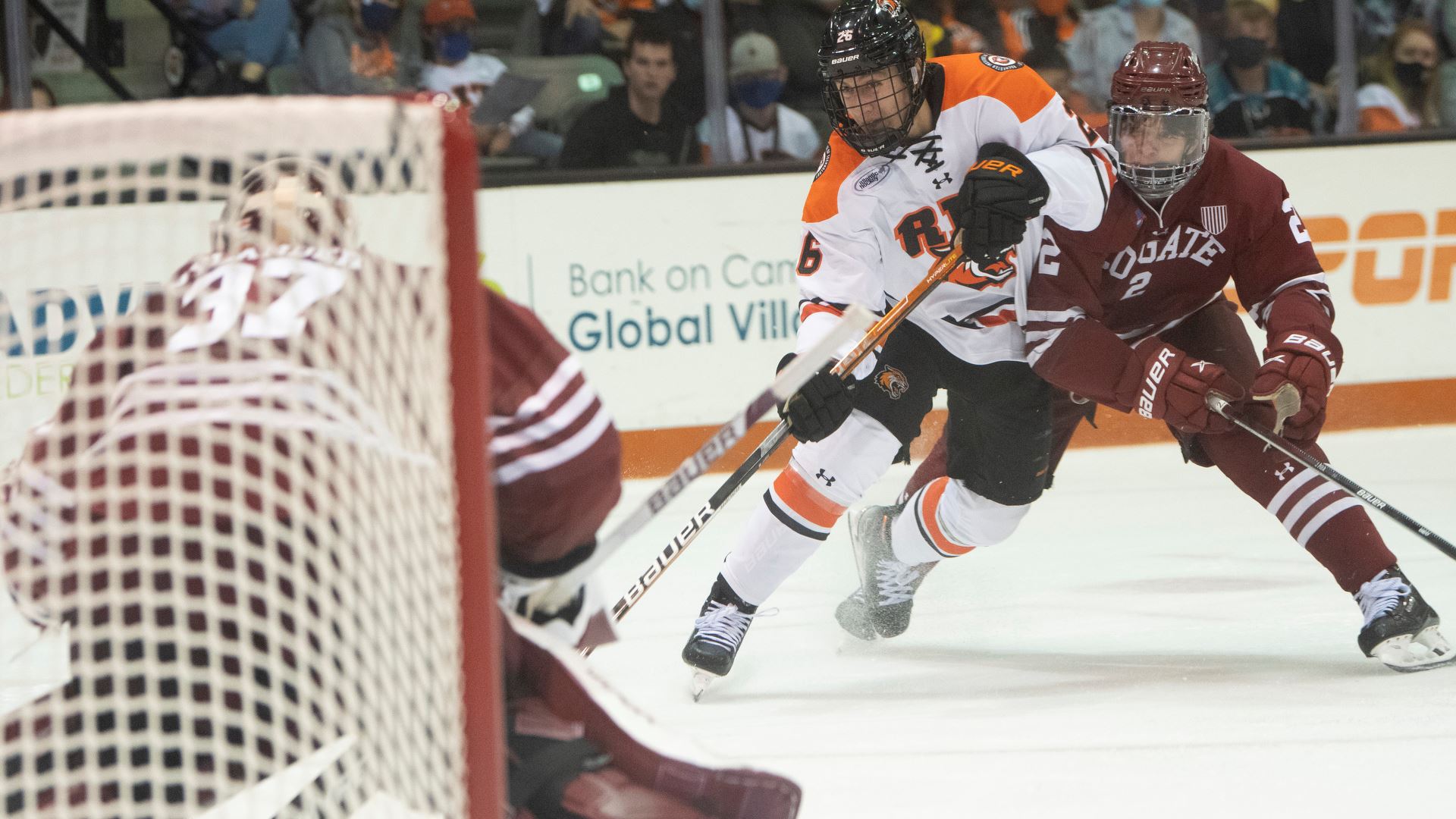 By CHUCKIE MAGGIO
There was no feeling-out process in the RIT men's hockey team's season opener against Colgate on Saturday night. Perhaps after 581 days of playing without a student section, neither team wanted to wait around long.
The Tigers and Raiders traded goals within the first 2:51, but Colgate eventually ran away with the proceedings. The Raiders overwhelmed the Tigers 5-2 in front of 3,176 fans at Gene Polisseni Center, making a case to earn more votes in the national polls in the process.
"I thought they out-competed us for most of the game," Tigers head coach Wayne Wilson remarked.
RIT held the lead for just 41 seconds, as Colgate freshman defenseman Nic Belpedio quickly countered Tigers junior Andrew Ronaldi's opening goal. Raiders junior Arnaud Vachon tallied the go-ahead score just 2:11 later, the second of five consecutive Colgate goals.
The Tigers had four power-play chances, including a 5-on-3 opportunity, but failed to capitalize on any of them and recorded just six total shots on the man advantage. RIT placed 25 shots on goal to Colgate's 23, but the Raiders beat the Tigers for the first time since Oct. 24, 2015.
RIT scored its second goal, with senior Jake Joffe assisted by freshman Evan Miller, a mere 7.1 seconds before the final horn.
"I thought our power play started off good in the first; second period they just outworked us. Their four were better than our five," Wilson assessed. "And then on the 5-on-3 we've gotta hit the net more, just do a better job. We didn't play on our toes; we didn't play with the authority we needed to play with. As a result of that… they won the battles, not necessarily physically but just stronger on their sticks. Any loose pucks, they got it."
Colgate beat RIT on 58 percent of faceoffs, which Wilson termed "uncharacteristic." Josh McKechney and Jeff Stewart won nine faceoffs apiece for the Raiders, while Paul McAvoy emerged victorious in seven of 10.
Four of the Raiders' five goals came after they won a faceoff. The arguable back-breaker occurred on the fifth, when freshman Ryan McGuire got the puck past Tigers goalie Ian Andriano just 32 seconds after classmate Cole Hanson. The first-year duo extended the Raider lead from 3-1 to 5-1, giving RIT under 17 minutes to tally four unanswered goals on 2019 Detroit Red Wings draftee Carter Gylander.
"It took the wind out of our sails," Wilson said of the sequence. "We're down 3-1, we needed to get the next goal; make it a game, get the crowd involved. I thought the crowd was still very good without the goals, but goals would've helped with the crowd- that's for sure."
It was a frustrating night for senior captains Will Calverley, who took a team-high six shots but did not score, and Dan Willett, who blocked a game-high four shots but still recorded a negative plus-minus like most of his teammates. But Wilson, whose team starts Atlantic Hockey Association play at West Point next week, tried to put the defeat in the proper perspective.
"I just don't think we were at the level we wanted to be from start to finish, but it's the first game. That happens," Wilson acknowledged. "I know my team very well and I know we're capable of doing much better."