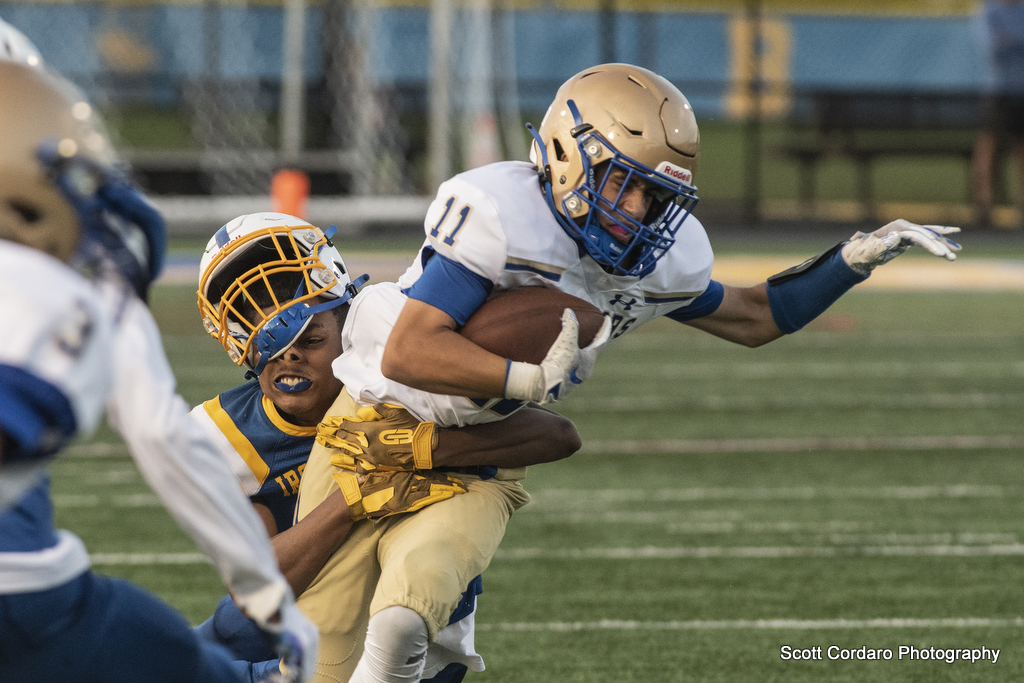 WEBSTER SCHROEDER (1-0) 16
IRONDEQUOIT (0-1) 13
Thompson's reception set up a first and goal at the three-yard line. Two plays later, DeRosa busted through to the end zone. After a successful point-after attempt, the Webster Schroeder Warriors had all the points needed on their way to a 16-13 victory over Irondequoit in the 2021 season opener for both teams. READ MORE.
CANANDAIGUA (1-0) 41
EASTRIDGE (0-1) 14
The Braves burst ahead with a 47-yard touchdown pass on their first play from scrimmage, scored 21 points in the first 7:55 and ran away with a 41-14 win at Eastridge High School. READ MORE.
GREECE OLYMPIA/ODYSSEY (0-1) 8
SPENCERPORT (1-0) 47
The deception of Spencerport's Wing-T offense befuddled Greece Olympia/Odyssey defenders while the Rangers swarming, get-after-it defense dominated from start to finish in a 47-8 victory at Spencerport High School. READ MORE.
RUSH-HENRIETTA (1-0) 32
FAIRPORT (0-1) 14
Rush-Henrietta junior Evan Brock ran for three touchdowns and threw for another as the Royal Comets fought off host Fairport, 32-14, to open the Section V football season. READ MORE.
MCQUAID (1-0) 42
HILTON (0-1) 14
John Mahar slung four touchdown passes, including three in the opening period, as McQuaid raced to a 21-0 lead and cruised to the road victory. Two of the senior quarterback's touchdown passes were to junior wide receiver Xaye Collier – one in the first quarter and the other in the third. Anthony Dimarco and Joey Leuzzi were the beneficiaries of Mahar's other scores. Leuzzi returned the game's opening kickoff 80 yards to the end zone as well. Overall, Mahar was 11-of-17 for 165 yards. Collier accounted for 101 of those yards as he only needed four catches to do so. Senior running back Sean Oberlies galloped for 120 yards on 10 carries and caught three balls for 23 more. Sophomore running back John Harding added a rush touchdown in the fourth quarter. Kendall Burno led the defense with 12 tackles. For Hilton, Trace Letcher and Aiden Locke both scored a touchdown on the ground.
SEE MORE SCOTT CORDARO PHOTOGRAPHY HERE.
AQUINAS (1-0) 19
VICTOR (0-1) 12 (OT)
The junior duo of Eimaj Giddens and Mykel White connected for a 15-yard touchdown in overtime to win the season opener for Aquinas. Senior running back Will Benjamin led the offense with 18 carries, 80 rushing yards and a score. Jahlil Johnson spearheaded the defense with 16 tackles, including three for a loss and a sack on fourth down in overtime to secure the victory. Lucas Leone followed up with 11 tackles and Brandon Gamble 10. Ben Kingsley chipped in seven tackles.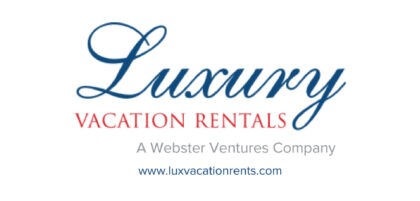 BRIGHTON (1-0) 44
CHURCHVILLE-CHILI (0-1) 0
Brennan Clasgens totaled four touchdowns – two through the air and two on the ground – as Brighton surged to a commanding 42-0 advantage at halftime and ran away with the victory. The senior quarterback only needed six carries to accumulate 143 rushing yards and completed 4-of-9 passes for 62 more. Ellis Einbinder hauled in a 44-yard touchdown, returned a punt 52 yards to the end zone and hustled for a 41-yard interception. Senior running back Tahj Jackson rumbled for 57 yards and a touchdown on his six carries. Jackson Cypher caught Clasgens's other touchdown pass for 18 yards.
UPREP (1-0) 27
PENFIELD (0-1) 7
Clyde Davis, Jr. accumulated 293 passes and three touchdowns as part of his 18-of-28 performance as UPrep avenged its lone loss from last season. Jordan Jackson was the beneficiary of two of the senior quarterback's touchdowns en route to seven receptions for 134 yards. Davis found Mark McClary for his other score. McClary reeled in three balls for 52 yards. Senior running back Raykim Chenier ran wild, finishing with 138 rushing yards and a touchdown on 21 carries. On defense, Sharod Watkins led with seven tackles, including four which caused negative yardage and a sack. Chenier followed up with six and a half tackles and a 43-yard interception. Jackson chipped in with one and a half tackles for loss.
GREECE ARCADIA (0-1) 0
EAST (1-0) 45
Dion Mather accumulated five touchdowns – four through the air and one on the ground – to lead East High to a season-opening shutout win. Mather threw two of his touchdown passes to Kenneth Edwards and one to Jamaree Gibson. Overall, Mather completed 15-of-25 passes for 261 yards. Along with his receiving touchdown, Gibson added a 78-yard pick-six. Edwards hauled in three balls for 73 yards. D'Angelo McGowan led the defensive effort with five tackles, including a pair for a loss and two sacks. Jeremiah Handy followed up with three tackles, including two which resulted in negative yardage.
WAYNE (1-0) 42
GENEVA (0-1) 8
Dylan Vance only needed 15 carries to accumulate 161 rushing yards and three touchdowns as Wayne dominated both sides of the ball in the season opener. Mason Blakenberg completed 4-of-8 passes for 121 yards and a pair of touchdowns. The senior quarterback added 40 rushing yards on seven scrambles. The Eagles' defense limited Geneva to 127 total yards.
LIVONIA (0-1) 8
HONEOYE FALLS-LIMA (1-0) 28
Senior quarterback Brody Young completed 7-of-9 passes for 133 yards and three touchdowns, including two for Ben Carson, as Honeoye Falls-Lima took down the reigning Class C sectional champions. Carson had five receptions for 90 yards. Junior wide receiver Nolan Smith caught Young's other touchdown pass as part of his three-catch, 21-yard performance. Senior running back Zachary Meacham led the ground game with 90 rushing yards and one touchdown on 10 carries. JT Killenbec made two catches for 65 yards. Defensively, Andrew Bovenzi had a team-high five tackles. Senior defensive lineman Mitchell Bulling added three tackles, including two for loss. Charlie Kirby accounted totaled one tackle for a loss and a sack. Aidan Goold hauled in an interception.
NEWARK/MARION (0-1) 6
DANSVILLE/WAYLAND-COHOCTON (1-0) 38
Nickolas Belanger totaled three touchdowns to lead a balanced Dansville/Wayland-Cohocton offense to a season-opening win. The junior quarterback completed all four of his passes, adding up to 90 yards and a pair of touchdowns. Christopher Glovine was the recipient of both of Belanger's scores, totaling 41 yards. Belanger, Evan Pruonto, Calab Rigdon and Ben Teed all scored a rushing touchdown. Collin Mehlenbacher led the ground game with 67 yards on three carries. Teed led the defense with five tackles. Glovine hauled in a pair of interceptions while Nathaniel Gardner added one. Jakil Fairley, Gardner, Evan Gotshall, Mehlenbacher and Pruonto all had four tackles. Fairley recovered a fumble as well.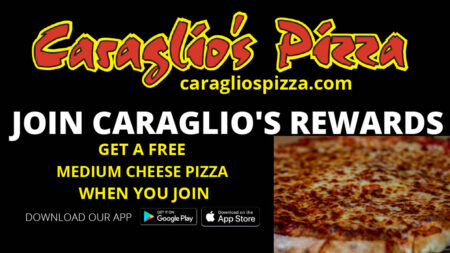 EAST ROCHESTER/GANANDA (1-0) 32
LETCHWORTH/WARSAW/PERRY (0-1) 14
Five different players (Caleb Carpenter, Michael Daniels, Carter Lathrop, Adrian Letta and Manuel Sepulveda) scored a touchdown as East Rochester/Gananda sprinted to a 32-0 lead and the victory. Letta led the balanced offense with 13 carries for 75 yards and one catch for six more. Carpenter followed up with 44 rushing yards and Daniels added eight yards on the ground. Nicholas Ricci led the defense with three and a half tackles, including a sack. Hunter Groh had a tackle which resulted in negative yardage. For Letchworth/Warsaw/Perry, Chris Shearing scored a pair of rushing touchdowns in the fourth quarter.
LE ROY (1-0) 21
CALEDONIA-MUMFORD/BYRON-BERGEN (0-1) 6
John Panepento, Drew Strollo and Jack Tonzi all scored a touchdown to lead Le Roy's balanced effort in the win. Strollo led with 17 carries and 105 rushing yards. For Caledonia-Mumford/Byron-Bergen, Robert Poles-Harrison broke the shutout with a four-yard run in the fourth quarter.
ATTICA (1-0) 36
MYNDERSE (0-1) 0
Five different players (Adam Bukowski, Jeremiah Donahue, Wyatt Kauffman, Levi Pearl and Landyn Thomas) scored a touchdown to lead Attica's balanced effort in the shutout victory. Kauffman led the offense with 74 rushing yards on seven carries. Bukowski (31 yards), Donahue (37 yards) and Pearl (22 yards) rounded out the ground game. Thomas's touchdown was his lone catch of the game for 65 yards. Senior quarterback Jake Dressel completed three passes for 110 yards. Donahue led the defensive shutout with 10 tackles. Andrew Newell followed up with eight while Thomas Strzelec chipped in seven.
MIDLAKES (0-1) 13
BATH-HAVERLING (1-0) 48
Anthony Brotz, Jr. exploded for five touchdowns as Bath-Haverling cruised to a season-opening win. Two of the wide receiver's three catches resulted in touchdowns as his receptions totaled 154 yards. Brotz added 79 rushing yards and three more touchdowns on six carries as well. In his first game back from an injury suffered during sectionals, junior quarterback Justin Yehl completed 4-of-7 passes for 161 yards and ran for 30 more. Senior fullback Keian McRae rounded out the Rams' scoring with a touchdown along with his 62 rushing yards. Damien Hall led the ground game with 10 carries for 109 yards. Defensively, Brock Brazie, Gavin Buckley and Will Clarke all had five tackles. Clarke compiled three sacks, two tackles for a loss and a fumble recovery. Buckley added a sack. McRae and Austin Thorius both had four tackles. Ethan Narby and Yehl both picked off passes. Narby's interception was a pick-six.
PENN YAN/DUNDEE (0-1) 25
MARCUS WHITMAN/BLOOMFIELD (1-0) 26
Carter Earl slung three touchdown passes and scored one on the ground to lead Penn Yan/Dundee. Overall, the junior quarterback totaled 175 passing yards and 96 rushing yards. John Bell caught all three of Earl's touchdowns as he only needed four catches to finish with 85 yards. Junior linebacker Nick Slavick led the defense with 15 tackles. Alexander Foster followed up with nine tackles, including a sack. Bell contributed with seven tackles and a pair of sacks. Tyler Bouchard, Kaden LaBar and Anthony Sciallo all had six tackles.
ALEXANDER (1-0) 7
BOLIVAR-RICHBURG (0-1) 0
Nick Kramer's two-yard rushing touchdown accounted for the lone score of the contest as Alexander grinded out a season-opening road win. Ricky Townley led a defense which forced three turnovers with nine tackles and an interception. Kramer contributed with four tackles and a fumble recovery. Tyler Marino recovered a fumble late in the game to secure the victory. Clayton Bezon and Gavin Smith Crandall both had five tackles. Bezon added a sack. Cole Dean collected a pair of sacks of his own. Brayden Woods led the offense with 30 rushing yards on 11 carries.
AVON (1-0) 25
GENESEO/MOUNT MORRIS (0-1) 16
Thomas Welch compiled four touchdowns as Avon charged to a commanding 25-0 advantage and held off a late rally for the win. The senior running back scored a touchdown in each period. Welch reeled in a pair of first-half red zone passes from Andrew Rowland. Then Welch found paydirt in both the third and fourth quarters. Overall, the senior running back carried 23 times for 144 rushing yards and caught four passes for 46 receiving yards. Rowland helped his own cause with 119 passing yards and 116 rushing yards. The senior quarterback spearheaded the defense with five tackles as well. Dylan Smith had a tackle for a loss and an interception. Nicklaus Antkowiak and Logan Austen both added a tackle for a loss. For Geneseo/Mount Morris, junior quarterback Ryan Whitney led an attempted late rally with two touchdowns in the fourth quarter: a seven-yard scamper and a 53-yard bomb to Rowen Gross.

NOTRE DAME BATAVIA (1-0) 15
YORK/PAVILION (0-1) 0
Evan Cummings and Jimmy Fanara both scored a touchdown as Notre Dame Batavia produced just enough offense and limited York/Pavilion to 60 total yards in the season-opening victory. Fanara completed 8-of-12 passes for 126 yards and a 38-yard touchdown to Cody Henry. Henry was the recipient of 96 of those yards as he only needed four catches to do so. The junior quarterback scrambled for 44 rushing yards on 10 carries as well. Cummings followed up with 14 carries, 76 rushing yards and a two-yard score. Defensively, Henry led the shutout effort with 10 tackles. Drew Edwards compiled nine tackles, two sacks and a fumble recovery. Overall, the Fighting Irish accumulated 48 tackles and three sacks. For York/Pavilion, Maverick Coffey, Austin Flynn, Robert Haberger and Brennan Royce all collected five tackles.
Quote from York/Pavilion head coach Kurt Schneider: "I'm really proud of the effort from our guys. While it was not the result that we wanted, there are several positives to take away, especially on the defensive side of the ball. We had some great plays and effort from seniors Austin Flynn and Robert Haberger and some young guys really stepped up and played well such as Brennan Royce and Carl Szczech. Offensively, we need to get better up front. Credit to Notre Dame; they brought a lot of pressure that gave us trouble. We will take a look at the film, learn and get back after it. Now it's time to move forward and prepare for Avon next Friday."
GREECE ATHENA (1-0) 34
BROCKPORT (0-1) 14
BISHOP KEARNEY/ROCHESTER PREP/ROCHESTER ACADEMY (0-1) 0
BATAVIA (1-0) 41
To report scores, please email photos of that night's scorebook pages to scores.pickinsplinters@gmail.com.