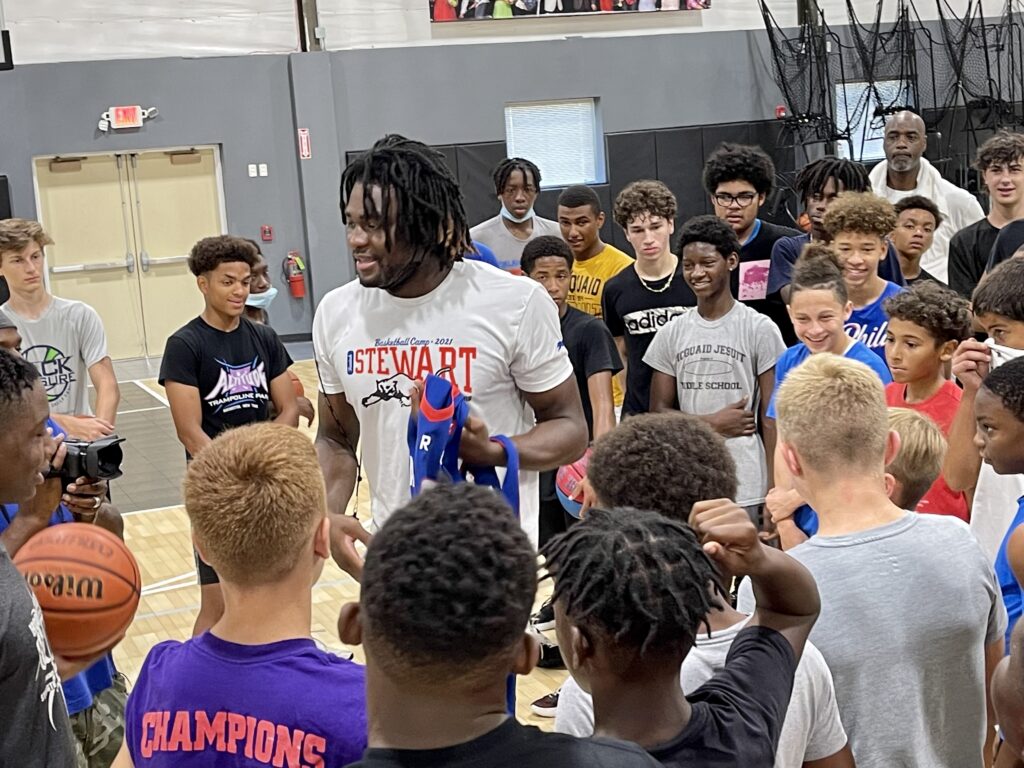 By PAUL GOTHAM
ROCHESTER, N.Y. — Isaiah Stewart played 22 games in 2020-21 before connecting from behind the 3-point arc. Don't expect the Detroit Pistons center to be as shy from long range this upcoming season.
The 6-foot-8 center finished the season 21-of-63 from long range. Encouraging success as he prepares for his second year in the NBA.
"I'm working on being able to stretch the floor with my 3-point shooting," Stewart said when asked about areas where he will look to improve.
It wasn't until his 24th game that Stewart found the measure from distance. He closed his rookie campaign hitting 6 of his last 15 attempts including a 3-of-7 performance in 32 minutes of action against Chicago. He credited head coach Dwane Casey and general manager Troy Weaver for the late-season improvement.
"Just my coach having the confidence in me. When your head coach and general manager have that kind of trust in you, and want you to shoot threes, you're going to take that confidence and shoot more."
A Second-Team All-Rookie selection, Stewart's 1.3 blocks led all first-year players. He also topped the rookie list with 2.3 offensive rebounds per game and 6.7 rebounds per game.
"When I first got to the league, I wasn't expecting the speed of the game," the former McQuaid Jesuit and University of Washington star explained. "I watched a lot of film. The game slowed down for me, and I became a smarter player through the course of the season."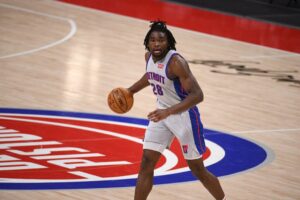 Stewart averaged 21.4 minutes in 68 games and scored 7.9 points per contest. He recorded his first career double-double on January 16th when he grabbed 11 boards and scored 10 points in a win over Miami. He finished with eight double-double performances. His 21 rebounds on April 16th served as a season-high, and he posted a season-best 20 points against Dallas in late April.
Stewart continues to train with Scott Fitch – the Fairport High School head coach who was also at the helm when Stewart played for the USA Basketball Junior National Select Team that won the 2019 Nike Summit.
"He is a tireless worker," said Fitch. "He has continued to develop his basketball IQ and skill set on the court. His shot continues to improve as he gains consistency and confidence. Shooting the "3" continues to be a focus and an area that will be a focus his whole career."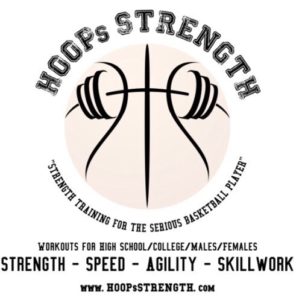 An ankle injury suffered in early July while training with USA Basketball Select Team slowed Stewart's progress this summer.
"The next month will be very important for him to get back to game speed before the season starts," Fitch said when referring to the injury.
Stewart was in Rochester this week to run the Isaiah Stewart Free Camp. The two-day camp with sessions for both boys and girls took place at Hoops Strength located on Jefferson in Henrietta. Fellow local stars Anthony Lamb (Greece Athena/Houston Rockets), Antwoine Anderson (Bishop Kearney/Swiss Central), Nahziah Carter (Bishop Kearney/Atlanta Hawks) and Quinton Rose (Bishop Kearney/New York Knicks) were on hand to help with camp instruction.
Isaiah Stewart brings campers together at the end of the morning session. pic.twitter.com/quBn3b8GzZ

— Paul Gotham (@PickinSplinters) August 26, 2021