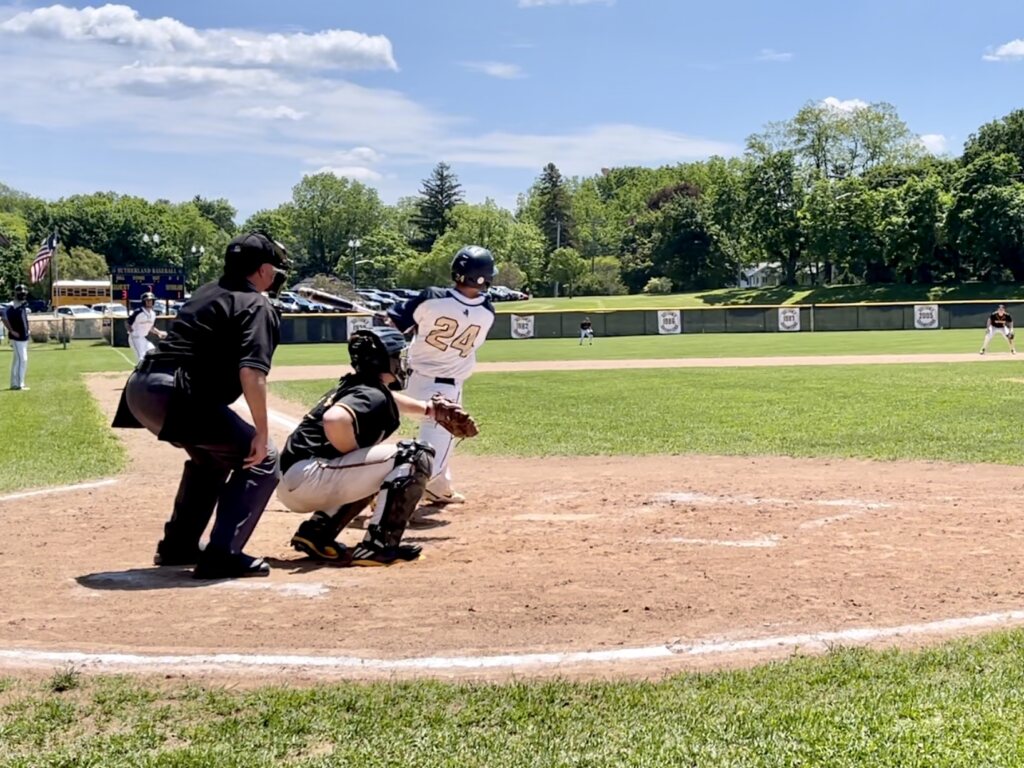 By PAUL GOTHAM
PITTSFORD, N.Y. — Jack Zawacki's two-out, two-run double plated the tying run in the bottom of the seventh inning, and the Pittsford Sutherland Knights went on to beat Greece Athena 4-3.
"I was just looking for a good pitch to hit," said Zawacki who finished 2-for-4 at the plate. "He threw one down the middle. I pieced it up well."
After falling behind two strikes in the count, the Sutherland catcher brought home teammates Joe Groark and Keeghan Cummings with his drive to left field.
"Zawacki has been an animal for us since his freshman year," Sutherland head coach Brandon DeRosa said. "He barrels so many balls up. He got a hold of it today and did a job."
Jack Zawacki turns on a 2-strike pitch for a 2-out, 2-run double to left. Keeghan Cummings scores from first. All tied at 3. pic.twitter.com/67OBtEkU7f

— Paul Gotham (@PickinSplinters) May 31, 2021
Trailing 3-1, pinch hitter Ethan Murray sparked the rally with a one-out double and gave way to Groark as a pinch runner. Alex Renzi's ground ball to the right side moved Groark to third before Cummings reached on a hit by pitch to set up Zawacki.
"We've had a lot of comeback wins this year," DeRosa noted. "We preach first pitch to last pitch, play all seven innings. You're never out of it."
Jake Fekete followed Zawacki and worked a base on balls. Ethan Hurwitz was hit by a pitch, and Nick Provenzale forced home the winning run with the third walk of the frame.

"These guys, they all pull for each other," DeRosa stated. "It's a full-team win. It's very even keel. It's one pitch at a time."
Jackson Newlands hurled a 3-hitter for his third win of the season. The senior right-hander struck out six and his only free pass of the day was an intentional walk to Athena's Casey Saucke II.
"He was throwing knees all day," DeRosa said of his starter's ability to locate down in the zone. "Jackson gives us a chance every time he's on the mound. He works quick. He's got great pace. He pumps strikes."
Newlands was at his best in the fifth. After surrendering two runs in the fourth, he needed just seven pitches to retire the side one frame later.
Jackson Newlands needs 7 pitches for a 1-2-3 5th. Athena 2 Sutherland 0 pic.twitter.com/jfN9OpG7Lb

— Paul Gotham (@PickinSplinters) May 31, 2021
"Nothing really fazes that kid too much," DeRosa stated. "He doesn't get too high, doesn't get too low. That's kind of our philosophy."
Using a curveball as his out pitch, Newlands retired nine straight before Athena took advantage of a two-out error to push across its third run in the seventh. He finished the game throwing 78 pitches – 56 for strikes.
"Earlier in the season, I had trouble getting it down, but I've really worked on getting on top of it," Newlands said of his curveball. "I didn't get behind too many guys (in the count). I didn't have any walks besides the intentional walk. Pitching outside and pitching to contact to some guys, getting the curveball over."
The win was the sixth straight for Sutherland (11-2) and ninth in the past 10 games.
Sutherland's victory spoiled an otherwise impressive performance from Athena starter, Donovan Wallace. The senior right-hander struck out four and walked three over 6.2 innings. Wallace gave up a leadoff hit to Alex Renzi to start the first before retiring the next nine he faced. He left the bases loaded in the fourth and fifth innings.
Donovan Wallace goes to the slider and leaves bases loaded for the second straight frame. Sutherland gets a run. Keeghan Cummings HBP with bases full. Heading to the 6th: Athena 2 Sutherland 1 pic.twitter.com/umX5iAaabI

— Paul Gotham (@PickinSplinters) May 31, 2021
Athena grabbed a 2-0 lead in the fourth. Sophomore second baseman Jaden Madrid singled to left, and Newlands issued the free pass to Saucke, a University of Virginia commit. After a double steal, Aleks Englert brought home the first two runs of the game with a single to left.
Aleks Englert gets Athena on the scoreboard with a 2-out, 2-run single. Trojans 2-0 Mid 3. pic.twitter.com/WVa7gPOqvz

— Paul Gotham (@PickinSplinters) May 31, 2021
Sutherland cut the lead in half in the fifth. Tyler Mullin reached on an error. Groark beat out a bunt. Renzi walked to load the bases, and Cummings brought home the first Sutherland run of the day when he was hit by a pitch.
TJ Kurtz brought home Connor Osier with a two-out RBI single in the seventh to give Athena a 3-1 lead.
Athena (12-2) had won six straight entering play on Monday.
The same two teams will meet again on Wednesday.