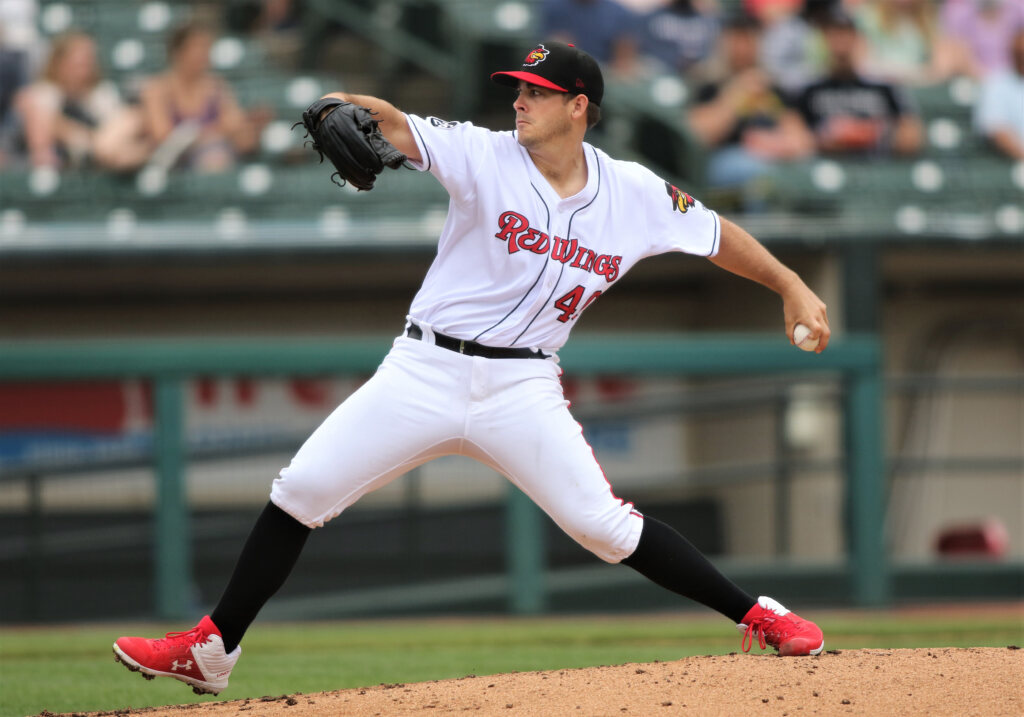 By KEVIN OKLOBZIJA
For Ben Braymer to be at his best, the Rochester Red Wings left-hander needs to know his fastball is fast enough and good enough.
He doesn't throw 99; most of the time his fastball is around 89. If he leaves one up in the zone to a high-quality hitter, there's a good chance the FAA will assign the ball a flight number.
For evidence, see Tuesday's third inning when Scranton/Wilkes-Barre's Estevan Florial mashed a Braymer offering 440 feet. Or Sunday's second inning, when RailRiders outfielder Socrates Brito hit one 451 feet.
But it's Braymer's ability to rebound, to maintain a belief that when he hits his spots with his fastball and then teases with his curveball, he will record outs on a consistent basis.
That's just what he did on Sunday afternoon, when he pitched six impressive innings for his first Triple-A victory as the Wings defeated the RailRiders 3-1 at Frontier Field.
"It all starts with fastball command," the 27-year-old Baton Rouge, La., native said. "I thought I did a better job of challenging with my fastball and pitching in. Tres (Barrera, the catcher) did a really good job of sticking with me and making sure I continued to attack guys, no matter what happened in the previous A-B."
The Wings used a Yasmany Tomas walk, an Alec Keller double, a balk by Scranton starter Brody Koerner and a ground out to score two runs in the fourth, and singles by Daniel Palka and Thomas, a walk to Keller and a double-play grounder by Brandon Snyder to score an insurance run in the sixth.
While the Rochester offense was far from explosive, the three manufactured runs were all that were necessary, thanks to Braymer and the near-perfect work from the 3M bullpen of Andres Machado, T.J. McFarland and Justin Miller.
"Our bullpen has been good all year," Wings manager Matthew Lecroy said. "We've used them a lot; our starters haven't gone deep at all. We've thrown a lot of innings out of the bullpen. We don't have a lot of electric stuff out there in terms of velocity but for the most part they pitch to contact. Today was perfect."
After starting the season with a 2-10 road trip, the Wings went 2-4 against the RailRiders in the first homestand. They're home again this week for six against the equally struggling Syracuse Mets (4-14) starting on Tuesday night. New York Mets right-hander Noah Syndergaard will make at least one start during the series as he continues his rehabilitation assignment.
Braymer was a big part of Sunday's victory. He was efficient, he worked ahead, and he let his defense do the work. He allowed five hits, walked two and struck out three.
Snyder's diving stop of a sharply hit grounder by Zack Zehner saved what would have been a second run in the second inning, turning it into a 4-3 groundout as Armando Alvarez held at third. Braymer then ended the threat by striking out Andrew Velasquez.
"I'm really happy for Ben Braymer," Lecroy said. "He's kinda been trying to find his way the last few starts. To see him execute the way he did today was really good. That's a tough lineup, they put the ball in play, they're really pesky at times.
"He elevated a couple balls and then made the adjustment, he started to slow it down and he started to locate his fastball better than he has. Hopefully is a good confidence-booster."
The execution by Braymer on Sunday certainly reinforced the belief that when he locates his pitches, he has the upper hand. It's a lesson Lecroy and pitching coach Michael Tejera hope he embraces, and will continue to preach when necessary.
"From a pitching standpoint, the most important thing in my mind is to try not to deviate from who you are," Braymer said.
If only he had that mindset in the third inning on Tuesday. After retiring the first eight batters, he walked No. 9 hitter Brandon Wagner on a 3-2 curve. If there's ever a situation that screams fastball, 3-2 to No. 9 is it. But Lecroy said Braymer didn't trust his fastball enough, threw a curve and issued the walk.
Florial hit the next pitch into orbit and RailRiders were on their way to a 11-6 victory.
"That to me wasn't the typical Ben Braymer that I knew," Lecroy said. "I think it was just a confidence issue, that he didn't trust his stuff, and we made sure to tell him his stuff is still good, it's good enough to get by people, it's good enough to get swings and misses. He's just got to believe in what he's doing every pitch."
Braymer was a believer on Sunday, when it actually would have been even easier for doubt to creep in. The advantage always tilts toward the hitters the second, and certainly the third time, through the lineup. But it's even a bigger advantage for hitters when they see the same starter twice in five days, which was the case for the RailRiders (13-5) with Braymer on Sunday.
"That can challenge me mentally to say, 'They've already seen me, they've already seen my best stuff, maybe I need to nitpick here and there.' That's probably the last thing I need to do," Braymer said.
He instead said he needs to say, "Attack with your best stuff and let the defense play behind you."
And that's just what he did, finishing his outing by retiring seven of the final eight batters he faced to earn win No. 1 at Triple-A. He went 0-6 in 13 starts with Fresno in 2019 and was 0-2 through his first three starts with the Wings this spring. He does, however, have one win with the parent Washington Nationals (five scoreless innings on Sept. 20 vs. the Miami Marlins).
He admits getting No. 1 at this level had meaning.
"It's reward for a long journey," he said. "A lot of lessons learned in Triple-A, a lot of highs and lows. After my last two starts, to come out this start and give the team a chance to win and try to save the bullpen as best that I can. To end the game with a win was just a great way for us to end the week. Everybody played well. It was a clean baseball game."