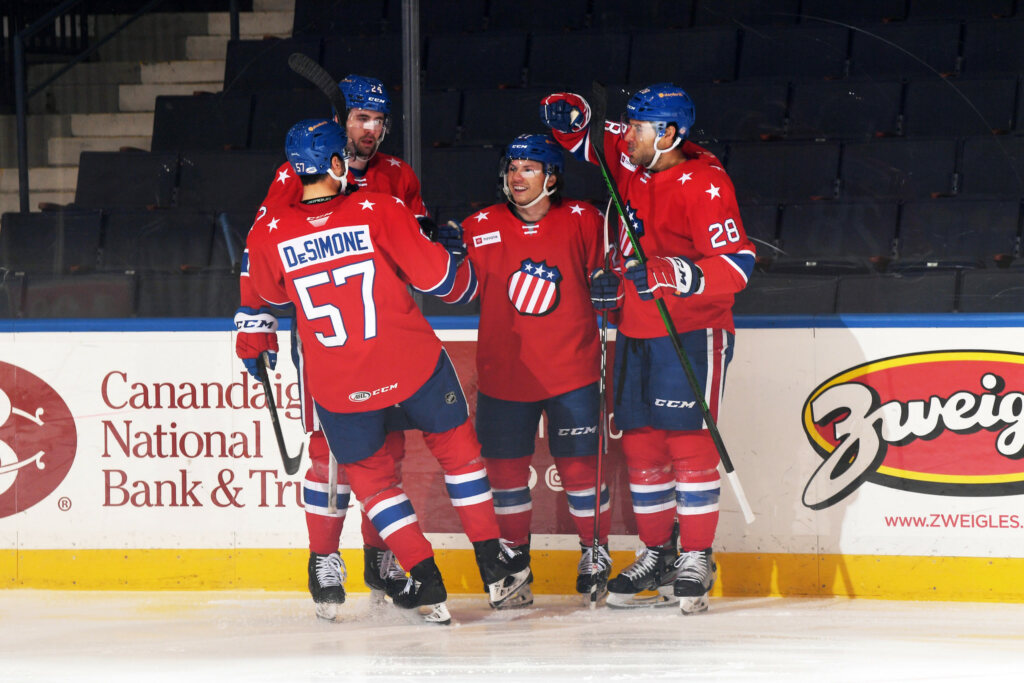 By KEVIN OKLOBZIJA
The strangest season in Rochester Americans history has come to an end.
With the start twice delayed as the coronavirus pandemic raged on during the fall and into winter, the American Hockey League was finally able to embark on an abbreviated season starting on the first weekend of February.
The Amerks played their first game on Feb. 5, a 3-2 loss to the Utica Comets. They played their finale Sunday evening, using goals by Dylan Blujus and Brendan Warren and 28 saves from Michael Hauser to defeat Utica 2-1.
Over those 100 days, the Amerks took the ice 29 times against just three opponents, and not once did it matter who won or who lost.
The record book will forever show Rochester went 11-15-2-1* in the 2020-21 AHL season, with the asterisk being far more important than any win, regulation loss, overtime loss or shootout loss. That little star was also more important than the three games canceled because of COVID-19 issues.
In a league where the most successful franchises walk the tightrope of player development and winning championships, there was no balance to maintain this year because no championship was at stake.
The Calder Cup will again remain in the league office in Springfield, Mass., this spring, all polished up with nowhere to go. There are no Calder Cup playoffs, no two-month test of skill, determination and endurance to produce a champion in this 85th anniversary season.
"It kinda stinks not having a little extra motivation playing for standings, the Calder Cup, but at the end of the day you're trying to promote yourself," Blujus said. "Every day is a tryout."
To Amerks rookie coach Seth Appert, his players took full advantage of that tryout, especially those who literally were signed to tryout contracts.
"Our opponents, Cleveland, Utica, Syracuse, were really deep, especially Syracuse (stocked by Tampa Bay and Florida) and Utica (stocked by Vancouver and St. Louis) because of the double affiliations," Appert said, "so most nights Syracuse and Utica were rolling out 16 to 17 NHL contracted players where a lot of nights lately we were rolling out four to seven.
"Not only did our guys get opportunity that they wouldn't have before, they got opportunity against what looked more like a normal AHL team."
In Rochester, fans haven't seen a game in person since March 11, 2020, and won't again until Oct. 15. Fans weren't allowed at the 15 games at Blue Cross Arena at the War Memorial. The music blared over the revamped sound system, the boat horn blare when goals were scored, but there was never a spontaneous cheer for a thundering check, never an ovation for an outstanding penalty kill, never applause for the post-game three-star curtain calls.
Oddities aside, these alterations to normalcy necessitated by COVID-19 actually have had some benefits. Appert was provided an opportunity to learn the pro game without any true pressure to win.
Appert, 46, spent 18 years coaching at the collegiate level and four more with USA Hockey's National Team Development Program. But he'd never been behind a professional bench, never guided or taught pro players, some of whom had played in the National Hockey League and all of whom were hoping he and assistants Adam Mair and Mike Weber could help them get back or get there for the first time.
It turned out that recalls were a common occurrence, either to the NHL taxi squad or right into the Sabres lineup.
"With my development background, I wanted to make sure that any player that was called up was prepared to go in and help impact the Buffalo Sabres in a positive way. For me as a development-minded coach, there would be nothing that would make me more disappointed in myself than if one of our players didn't look ready, from a habits or competitive standpoint. It doesn't mean they're all ready from a talent standpoint, but from a habits and competitive standpoint."
Just as important as getting prospects prepared for NHL duty, a foundation is being built in Rochester.
"It wasn't perfect, you always want to win more games," Appert said. "But we feel we established the things we need to, to give us a chance to succeed next year."
Those things weren't necessarily measured on a scouting report, either.
"We wanted to establish culture, competitiveness, work ethic and togetherness," Appert said. "We felt if we could implant those things in some of our young prospects through the veteran leadership that we had, that would be a great building block and foundation that we could go forward with as we hopefully get to more normal times next year."
Sunday's game was evidence of the progress made in this oddball season, with a sliding, sprawling block of a Sam Anas shot by rookie defenseman Mattias Samuelsson the prime example.
"To win this game was just real indicative of this group," Appert said. "I can't tell you how much fun I've had coaching this group. Mattias Samuelsson's blocked shot in the first period to keep it 0-0, that's a special block. That was a free goal and he sells out. That was basically a double-pad stack. That was emblematic of how hard our guys battled for each other and we probably had another 20 blocked shots tonight."