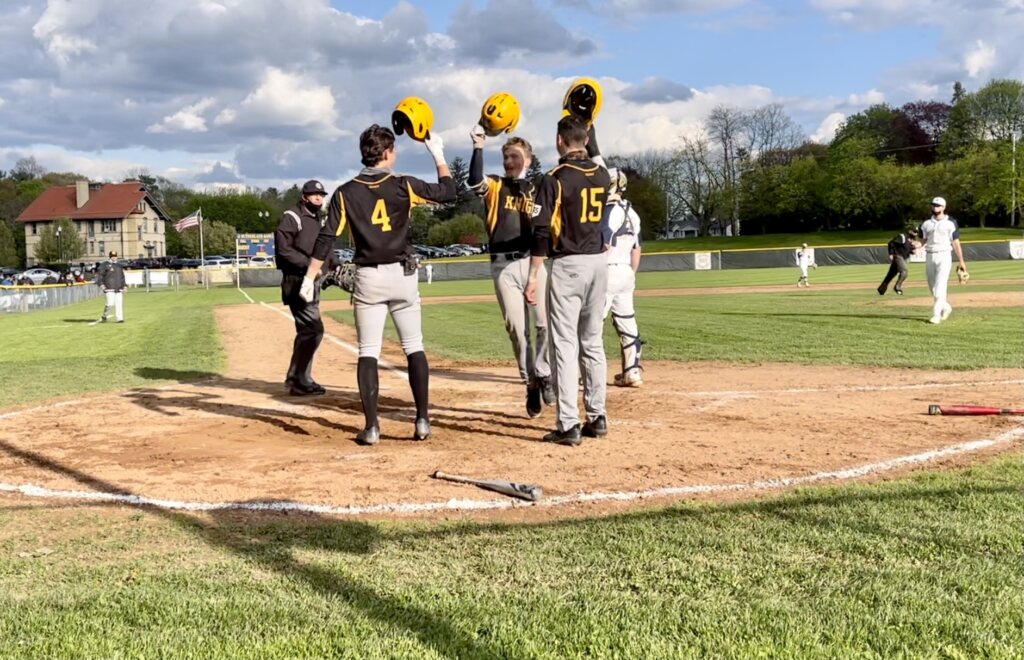 By PAUL GOTHAM
PITTSFORD, N.Y. — McQuaid's Jesuit Knights managed just one hit through the first six innings of Monday's non-league matchup.
They didn't need much more than that.
Aiden Stewart's two-out, two-run home run proved to be the difference as McQuaid rallied to beat Pittsford Sutherland, 5-1.
"I was just looking fastball, trying to get my pitch to hit," he said.
Stewart got that pitch, an outside fastball from Sutherland starter Nick Provenzale and the left-handed batter went opposite field for his second home run of the season.
"I knew it was going to get out," Stewart said when asked about how he felt when the ball left his bat. "The wind was blowing that way too."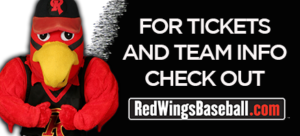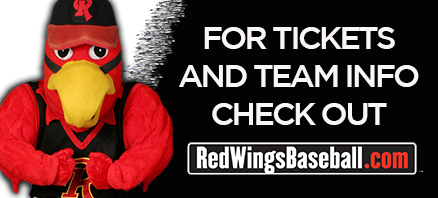 Teammate Ed Hall reached on full-count walk with two outs to bring up Stewart. Hall stole second to get in scoring position. Stewart made sure from there.
"Ed Hall worked a big-time walk with two outs," the Siena College commit said. "I knew I had to put it in play to score him. I hoped to make 1-1 and ended up putting it over the fence."
Stewart's blast helped Will Taylor win his second game of the season.
McQuaid's first hit of the day is a 2-out, 2-run HR off the bat of Aiden Stewart. pic.twitter.com/KUnpPFUAdj

— Paul Gotham (@PickinSplinters) May 10, 2021
"This year, he's been all over it," Taylor said of his teammate. "Hitting with him in the off-season, he's gotten way stronger and there's more to come."
Taylor struck out four and walked two over six innings to improve to 2-0 on the season. The Wofford College commit allowed one run on three hits.
"Curveball was really working today, more than usual, the left-hander said. "I kinda had a good feel. It just really helped me to find my location."
Will Taylor leaves a 2-out single on first. Heading to the 5th: Sutherland 1 McQuaid 0 pic.twitter.com/6Uon8NL0B5

— Paul Gotham (@PickinSplinters) May 10, 2021
Jake Fekete scored the lone Sutherland run in the third as he broke from second base on contact when Keeghan Cummings beat out an infield single.
Sutherland strikes first. Keeghan Cummings beats out an infield single, and Jake Fekete doesn't stop at third. Heading to the 4th: @SHSBSBL 1 @McQuaidBaseball 0 pic.twitter.com/BKwLHnghC3

— Paul Gotham (@PickinSplinters) May 10, 2021
Taylor went on to retire 10 of the final 12 batters he faced.
Matt Wilmarth finished off the game with a scoreless seventh inning. The freshman right-hander faced four batters and struck out two.

McQuaid added three runs in the seventh inning. Keeler Thomas led with a single. After Thomas stole second and moved to third on an errant pickoff attempt, he came home on a Max Stuver single through the right side of the infield. Stuver scored when Taylor reached on a fielder's choice. Wilson Brauer singled and gave way to pinch runner, Dominic Romano. Tanner Degrazia worked a bases-loaded walk to bring in Romano with the final run of the game.
Provenzale started and struck out 11 over 5.2 innings. The right-hander allowed two runs on one hit and five walks.
Nick Provenzale fans the side in order in the fifth. Senior RHP has 10 Ks on the day. Sutherland 1 McQuaid 0 pic.twitter.com/Zq4ddqv2XJ

— Paul Gotham (@PickinSplinters) May 10, 2021
McQuaid (5-0) starts a three-game set with St. Joseph's Collegiate Institute (VI) on Wednesday.
Sutherland (3-1) plays a home-and-home with crosstown rival Pittsford Mendon on Wednesday and Friday.