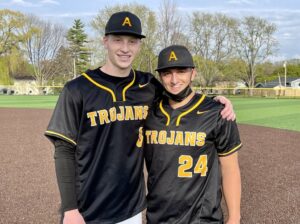 By PAUL GOTHAM
ROCHESTER, N.Y. — Not since January had Casey Saucke II played in a baseball game. The Greece Athena senior, who managed to stay active during the height of the pandemic playing Perfect Game showcases and the prestigious Area Code games, was limited to "scrimmages with friends" and "live at-bats" over the past four months. He couldn't remember the last time he's gone that long without playing a game.
So much for any rust buildup. 
Saucke hurled five perfect innings and combined on a no-hitter as Greece Athena opened the 2021 season with a 2-0 win over Honeoye Falls-Lima in Monroe County Division IV action, Tuesday. 
"It feels great to be playing for Athena again and being with all the guys that I've known for such a long time since middle school," he said. "School ball is my favorite."
Needing just 55 pitches, the right-hander struck out 12 of the 15 batters he faced. The University of Virginia commit opened the game with a three-pitch strike out and eventually fanned the side in the first on 12 pitches.
"I was 90 percent fastballs," he said when asked about his pitch selection. "I went to my slider sometimes. That's still developing a little bit.
"I also use a changeup which I've always thrown. That's my go-to secondary pitch."

With a handful of MLB scouts on hand for the game, the right-hander registered 87-91 MPH on the radar guns being used behind the backstop. Of the other three outs he recorded, one was a comebacker and another a ground ball to first that he covered the bag to complete the play. Only one ball left the infield off Saucke and that came on a fly ball to deep center from Reece Joint in the fourth. It was the only true barrel contact against 6-foot-2-inch Saucke on the day. 
55 pitches through 5, Casey Saucke has 12 strikeouts. Athena 2 HF-L 0 pic.twitter.com/nlOqqx0AMJ

— Paul Gotham (@PickinSplinters) May 4, 2021
"They were swinging pretty defensively against him because he was being so aggressive and pounding the zone," Athena head coach Jason Bunting said. "He's a fastball-slider-change guy, but it's the fact that he could live on his fastball because he was getting ahead. And he was not throwing it down the middle of the plate. He was hitting his spots."
Sophomore shortstop Jaden Madrid gave the Trojans all the offense they needed when he singled and scored in the second.
"I knew we had a horse on the mound," Madrid said. "We just had to get one across and that was my job."
Facing University of Richmond commit Brian Reinke in his first varsity at-bat, Madrid took a full-count fastball to the right side for the first hit of the game.
"I was a little anxious at first, but once I saw it, I knew I could hit it," Madrid said of facing HF-L's lefty ace. "I've seen 90 (MPH) before, so I just relaxed and hit the ball the other way."
The 5-foot-6 Madrid stole second and third before coming home on a throwing error.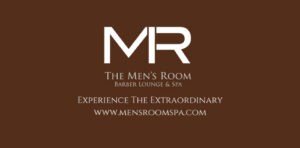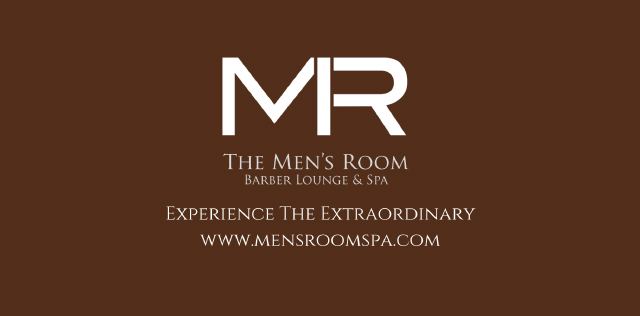 "He's the first 'generational player' in my career," said Bunting noting that Madrid's dad, Nelson, played for Athena during the skipper's first season at the helm. "His dad was a good player, and he's a good player. You can tell that he's been well-coached. He's a fireplug. He gives us a lot of energy."
Saucke helped his own cause when he led the third with a single. After a wild pitch, he stole third base and scored on a Vic Alongi sacrifice fly. 
Casey Saucke leads the 3rd with a single, moves 90 on a wild pitch, steals 3rd and scores on a Vic Alongi sac fly. pic.twitter.com/bRNmjTLgFC

— Paul Gotham (@PickinSplinters) May 4, 2021
Alongi took over for Saucke to start the sixth. The right-hander issued a pair of walks before retiring the side with one of his three strike outs. He worked a clean seventh.
"I was just trying to do a job and finish the game off," Alongi said. "That was my mindset.
"I wanted that one bad. It was a great start."
Athena lost in the 2019 Class A1 title game to eventual NYS semifinalist, Canandaigua. With Saucke as well as current St. Bonaventure Bonnie Jagger Nucci and Ryan Dineen returning from that team, the Trojans looked ready in 2020 to win the program's first sectional title since 2007. The pandemic changed that.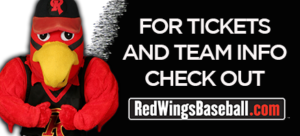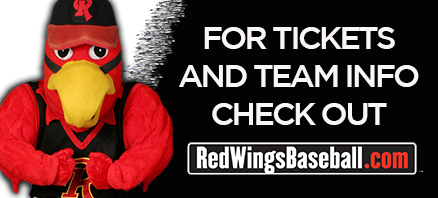 "I'm just happy that we have an opportunity to win sectionals this year," Saucke said. "I know states isn't a thing. If we can win a sectional title, that's my only goal as of right now."
Donovan Wallace, Alek Englert, Evan Smith and Connor Osier collected a hit apiece for Athena. Englert doubled. 
Reinke gave up two runs (one earned) on three hits over four innings of work. The senior left-hander struck out eight. Casey Wall worked two scoreless innings in relief. 
Brian Reinke leaves Casey Saucke on 2nd with his second strike out of the inning. Going to the 2nd: no score HFL and Athena. pic.twitter.com/yApuMYmLde

— Paul Gotham (@PickinSplinters) May 4, 2021
The same two teams meet Wednesday at HF-L. 
The no-hitter was the first combined effort in Bunting's 24-year career. Steve Taylor was the last Athena Trojan to throw a no-hitter. That feat occurred in 2002. 
On his "developing" slider, Saucke commented: "I've never thrown a slider before, and it's my first time really playing around with it. It's very new to me. Just because it's still a work in progress I don't throw it all that often, so I'm probably going to be ahead in the count when I throw as of right now. As the season gets further and further down the line, I'll probably start throwing it more once I get better control of it."