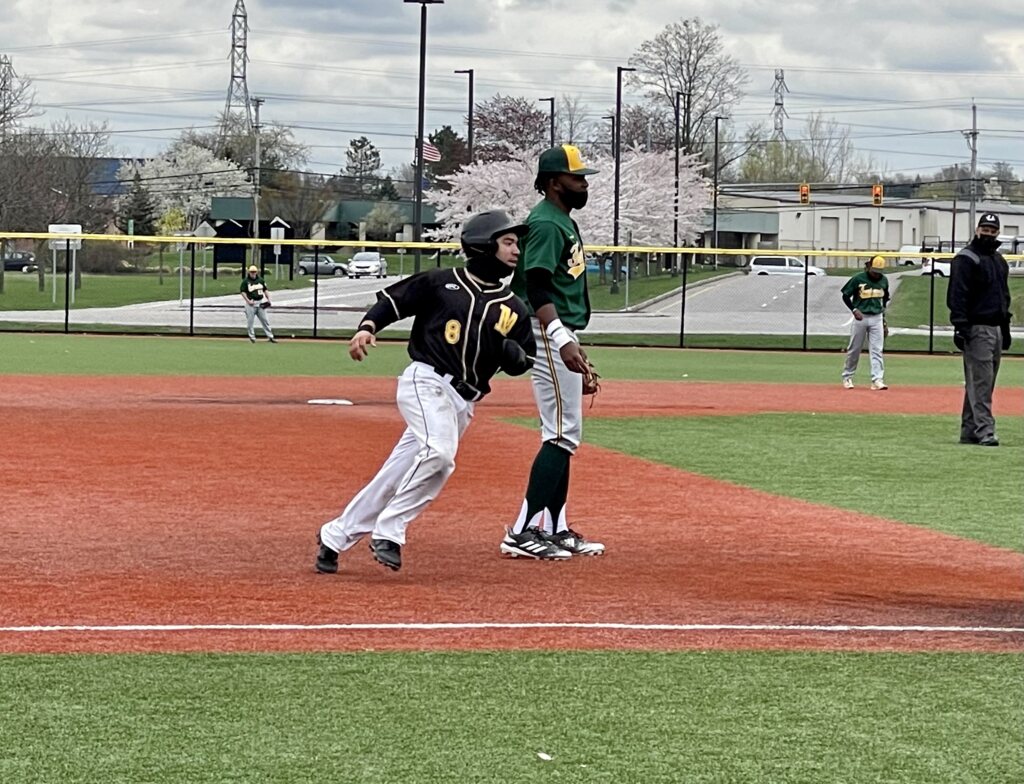 By PAUL GOTHAM
ROCHESTER, N.Y. — The chance for a perfect game disappeared in the first inning, but Tyler Smith (Fairport N.Y./Fairport) was good for the distance Saturday afternoon.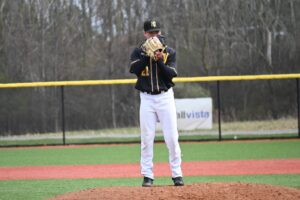 The right-hander improved to 4-1 on the season as the Monroe Community College Tribunes nipped Jamestown CC, 3-1 in the opener of an NJCAA doubleheader from Tribune Field.
"We battled," Smith said. "Our offense has been swinging it so well all year. That was a game that we needed to bear down on defense and pitch well. Little things win those baseball games."
Smith retired the first 18 batters he faced a week ago Friday before surrendering a leadoff hit followed by a walk in the seventh inning of a 4-0 win over Genesee CC. On Saturday, he hit the second batter he faced – his first of three hit batsmen on the day.
He struck out five in his fourth complete-game performance of the season, but faced the minimum in just one inning allowing five hits and one walk. He threw 94 pitches.
"Definitely didn't have my best stuff today," Smith admitted. "The biggest thing is having Evan Magill (Ajax, ON/Notre Dame Catholic) behind the plate. He will get me through anything. He saw very early on that the curveball wasn't great, so we threw a lot more fastballs than we normally do, mixing in and out, up-down."
Tyler Smith gets the start in game 1 as @TribuneBaseball takes on Jamestown CC. Updates to follow. pic.twitter.com/0RUAYMx8FT

— Paul Gotham (@PickinSplinters) April 17, 2021
The development of that curveball has been the difference this spring for Smith who allowed 10 runs (nine earned) over 3.2 innings in a season-opening 13-12 win over Genesee CC on March 11th.
Ben Beauchamp runs down the final out. @TribuneBaseball 3 Jamestown CC 1 pic.twitter.com/A9x5jA0U7c

— Paul Gotham (@PickinSplinters) April 17, 2021
"He needed more shape on the pitch," Monroe head coach Dave Brust explained. "We said something to him, and the next outing he had it. That's a testament to how hard he works."
In his 33 innings of work since then, 11 runners have reached home against Smith with five of those runs being earned.
Tyler Smith gets the ground ball, and Patrick May takes care of the rest. Mid 3: @TribuneBaseball 1 Jamestown 0 pic.twitter.com/4ZjvrB0kZp

— Paul Gotham (@PickinSplinters) April 17, 2021
"It's change of speeds," Smith said of the impact of the breaking ball. "So many are batters used to seeing velocity when they come up to the plate. My curveball helps me keep them off-balance.
"It's been the difference in speed of at least eight miles per hour. When it's less than that, it's not as effective."
Ryan Hill makes the play from short. Tyler Smith is through 6. @TribuneBaseball 3-1. pic.twitter.com/uK1Oo1S6cc

— Paul Gotham (@PickinSplinters) April 17, 2021
Max Schmarder (Buffalo, N.Y./Olmsted) drove in a pair of run including the go-ahead in the fourth inning. The Tribunes third baseman plated Magill with a single through the left side of the infield.
Max Schmarder gets the scoring started with an RBI single through the left side. pic.twitter.com/NGNc9WxG8W

— Paul Gotham (@PickinSplinters) April 17, 2021
In the fourth, Schmarder brought home Trey Brown (Rochester, N.Y./Aquinas Institute) with an RBI ground out when his ground ball up the middle bounded off the field umpire and was cleanly fielded by Jamestown shortstop Ethan Abegg for the out.

Ryan Hill (Webster, N.Y./Webster Thomas) followed with a two-out single to right field. Hill stole second, moved to third on a wild pitch and scored on a Dillon Higgins (Stratford, CT/Notre Dame Catholic) base hit.
Brown went 2-for-3 in the opener.
Hill and Dylan Wanat (Buffalo, N.Y./Williamsville North) paced a 12-hit attack with three base raps apiece as Monroe took the night cap, 16-9.
Also read: Devine wins second straight; Bonnies beat Saint Joseph's
The win was the 12th straight for Monroe.
Hill brought home Magill and Brown in a six-run first inning. Wanat followed with a two-run double that brought on Hill and Schmarder.
Hill finished 3-for-3 with two walks and two runs scored in the second game. Wanat was 3-for-5 with four RBI and a run scored.
Ben Beauchamp (Rochester, N.Y./McQuaid Jesuit) went 2-for-4 with triple, a walk, three runs scored and an RBI. Patrick May (Baldwinsville, N.Y./Baldwinsville) walked three times and scored twice. Brown walked twice, had a hit and crossed home three times.
Magill and Schmarder scored two runs apiece.
Justin Herrera (Stratford, CT/Bunnell) was 2-for-4 with a double and a run scored. Charlie Schager (Dewitt, MI/Dewitt) singled, walked and drove in a pair of runs.
Jamestown's Nick Rini was 2-for-3 against Smith in the first game. Abegg also had two hits in the opener. Bryce Jackson started and threw four innings.
Monroe (18-4) travels to play at Jamestown on Sunday. The Tribunes will play 12 games in eight days with home-and-home doubleheaders against Erie CC and Corning CC ahead on the schedule.