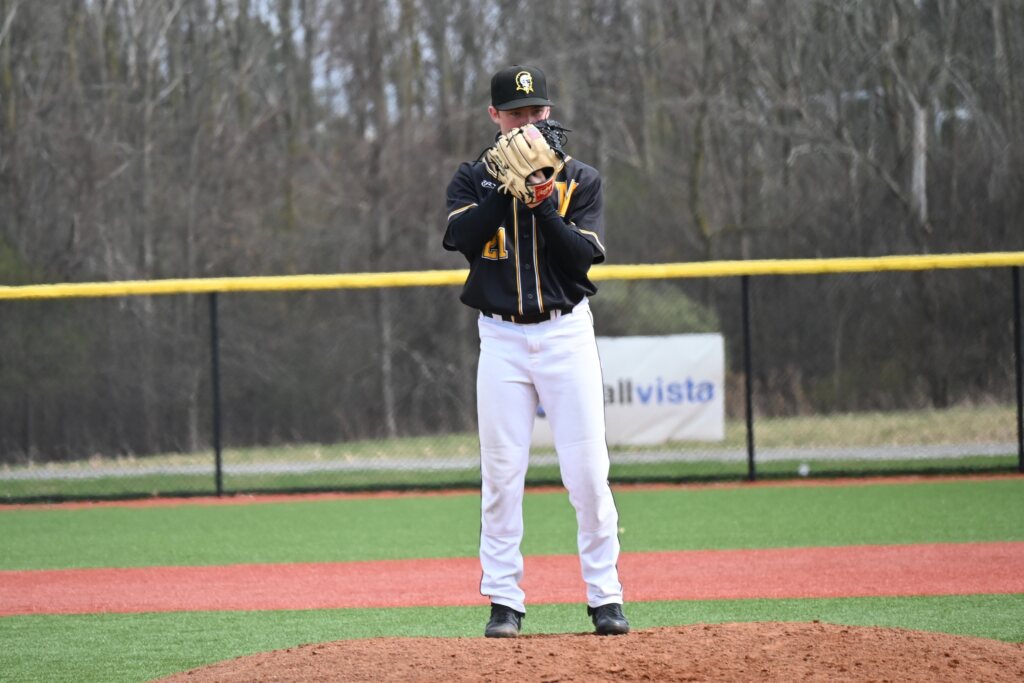 By PAUL GOTHAM
A weekend that started with a near-perfect pitching performance ended with a batter almost hitting for the cycle. The Monroe Community College baseball team did not come up short, though, in outcomes.
With a pair of road victories (14-5/17-10) on Saturday, Monroe completed a four-game weekend sweep of Genesee Community College and won its 10th straight game.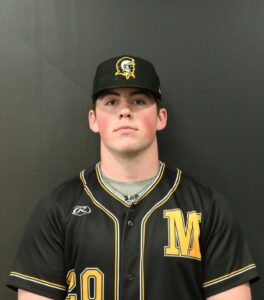 Evan Magill (Ajax, ON/Notre Dame Catholic) finished 4-for-4 with his second home run and second triple of the season to pace the MCC offense in the final game of the weekend. Magill drove in six runs and scored four more to cap a four-game set which saw the Tribune first baseman collect seven hits in 10 at-bats to go with four walks, nine RBI and nine runs scored.
Trey Brown (Rochester, N.Y./Aquinas) went 2-for-2 in Saturday's nightcap with two RBI and four runs scored. Ben Beauchamp (Rochester, N.Y./McQuaid Jesuit) doubled and finished 2-for-3 with a sacrifice, three RBI and two runs scored in the game. Dylan Wanat (Buffalo, N.Y./Williamsville North) was 3-for-4 with two RBI and two runs scored.
"Magill needed to make a couple of adjustments," Monroe head coach Dave Brust. "And he worked on them all week. Just mechanical things that collect over the course of a season."
MCC took a 7-0 lead into the bottom of the second before putting the game out of reach with four more in the fourth for a 14-2 advantage after three and a half innings.

Patrick Sherron (Henrietta, N.Y./Rush-Henrietta) started and allowed two runs (both unearned) on three hits and three walks over three innings of work.
Tyler Smith (Fairport, N.Y./Fairport) retired the first 18 batters he faced in Friday's opener. The right-hander struck out eight in improving to 4-1 on the season. He faced 23 batters in the game after allowing a leadoff single followed by a walk to start the seventh inning.
"Tyler is the hardest the working pitcher if not player in my eight years," Brust said. "An effective 11 to 5 (referring to shape of the pitch) curve ball with the pitches he already had has made him effective."
Friday's outing was Smith's third complete game in his last four starts – a stretch in which he has allowed 10 runs (five earned) in 26 innings of work.
"That's just a testament to Tyler taking to coaching."
ALSO READ: Devine notches win in first A-10 start
Max Schmarder (Buffalo, N.Y./Olmsted) drove in a pair of runs with a hit while Magill connected on his first home run of the season to support Smith's outing. Beauchamp singled, scored a run and drove in another.
Schmarder drove in three more runs with two hits in game two on Friday. Brown and Magill both collected a hit, an RBI and two runs scored. Beauchamp was 1-for-3 with an RBI and run scored.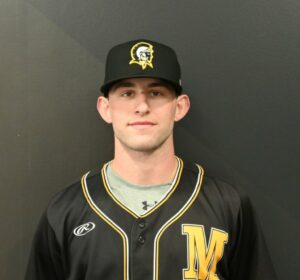 Dillon Higgins (Stratford, CT/Notre Dame Catholic) improved to 3-1 on the season with the win. The right-handed knuckleballer struck out four and walked two over 5.2 innings of work.
Ethan Putney (Churchville, N.Y. – Churchville-Chili) struck out three over an inning and a third of scoreless relief work.
Brown doubled and delivered his team-leading fourth home run of the season to jump start the MCC offense in game one on Saturday. Brown drove in two and scored twice.
Ryan Hill (Webster, N.Y./Webster Thomas) connected on his first home run in the win. The Tribs shortstop drove in three.
Beauchamp went 2-for-4 with an RBI and two runs scored.  The Black and Gold's leadoff hitter paces the offense with a .481 batting average, a .642 on-base percentage and 31 runs scored. Beauchamp and Brown are tied for the team lead with 26 hits.
Charlier Schager (Dewitt, MI/Dewitt) turned in a 3-for-5 performance with two runs scored.
Patrick May (Baldwinsville, N.Y./Baldwinsville), Magill and Schmarder each scored two runs in Saturday's opener.
Matthew Barron (Waterloo, N.Y./Waterloo) struck out five and allowed one run on one hit and two walks over four innings of work to pick up the win. The southpaw is 3-0 on the season.
Monroe (16-4) hosts a doubleheader with Jamestown CC next Saturday.  A 1 p.m. first pitch is scheduled.