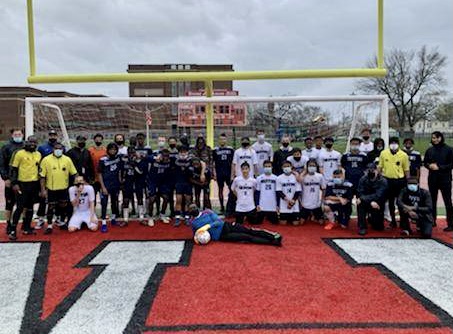 By PAUL GOTHAM
ROCHESTER, N.Y. — Isaac Hakizimana and Suheil Jeylani netted two goals apiece while Joe Mohamed added a tally and an assist to lead the "blue" squad past "white" Sunday afternoon at Trent Jackson Memorial Athletic Complex on the campus of Franklin High School.
That a game occurred preceded the importance of the outcome, though.
With their 2020 season nullified because of COVID-19 protocols, Sunday's match represented an opportunity for soccer players from various Rochester City Athletic Conference (RCAC) schools to play full field in front of spectators.
Opening kickoff: 2021 RCAC Spring Soccer Showcase pic.twitter.com/I76BSee0si

— Paul Gotham (@PickinSplinters) April 11, 2021
"It felt great to get out and play because we didn't have a fall season like the rest of the schools," said Mohamed a senior at World of Inquiry. "We were happy to at least get on the field and play"
Organized by Rochester City School District coaches Bill Cybulski (East), Rich Paufler (World of Inquiry/School of the Arts) and Josh Schipper (Wilson Magnet), the spring season started on March 8th. Since then, student-athletes have trained five days a week with practices taking place Monday through Wednesday including a clinic with the ROC City Boom of the UPSL's Western New York's Premier Division. Small-sided 8v8 games have been played on Thursdays and Fridays.
Hakeem Saleh takes advantage of a giveaway to level the match at one in the 12th minute. pic.twitter.com/9OxRRQNMuK

— Paul Gotham (@PickinSplinters) April 11, 2021
"I give these guys a ton of credit," Paufler said. "They show up every day. I'm just really proud of all of them."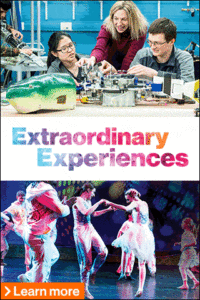 Jeylani's goal broke a 1-1 tie with 9:55 remaining in the first half of Sunday's contest. Mohamed assisted on a marker from East's Ben Ali Mfaume with :15 seconds remaining before the break.
Ben Ali Mfaume runs down a Joe Mohamed restart for a blue 3-1 lead. pic.twitter.com/TS2ZvtG1E8

— Paul Gotham (@PickinSplinters) April 11, 2021
Hakizimana, Mohamed and Jeylani each scored in the first 10 minutes of the second half to put the game out of reach.
Isaac Hakizimana slots a ball side netting to give blue a 4-1 advantage. pic.twitter.com/E2ICgqipol

— Paul Gotham (@PickinSplinters) April 11, 2021
"Nah," said Jeylani when asked if the score mattered. "It was about being able to get out and play again."
And it was important to have coaches from area colleges among those in attendance to watch Sunday's game.
"It was about seeing what we can do for those coaches," Jeylani stated. "That helped me to get ready for the game."
Isaac Hakizimana one times a Joe Mohamed diagonal for a 7-1 blue lead. pic.twitter.com/f34qtgmvyT

— Paul Gotham (@PickinSplinters) April 11, 2021
After several days of pleasant weather, Sunday brought a hint of fall with wind and rain and temperatures in the low 50s.
"Every fall season is cold and rainy," Mohamed noted. "It felt good to be back and see how it used to be. At least we got on the field to enjoy what we like to do most."
The forecast called for heavier rain.
"We were worried," Paufler said. "Weather is like the wild card. We were really fortunate so far this season. We've had pretty nice weather. You get a day like today, but hey it could have been worse. We made it through. We're happy."
Raliq Moore denies Max Lamora pic.twitter.com/dlSN24GH10

— Paul Gotham (@PickinSplinters) April 11, 2021
Oluwatobi Badmus started Sunday's scoring. Hakeem Saleh leveled the match for white in the seventh minute.
With the RCSD using fully remote classes in the fall, student-athletes lost their chance to compete in inter-scholastic athletics. The spring program gave those students a chance to compete.
Nicole Hercules organized a group of RCSD girls soccer players that played against a team from Syracuse.
Players will continue to participate throughout this week. On Friday, the teams will celebrate senior day.
"We're giving them tomorrow off," Paufler noted. "These guys, to get here to the soccer field for them is a challenge from the jump. When school's not in session, it's up to them to get themselves here. We have a lot of bus riders that have to make a couple different transfers to get here."