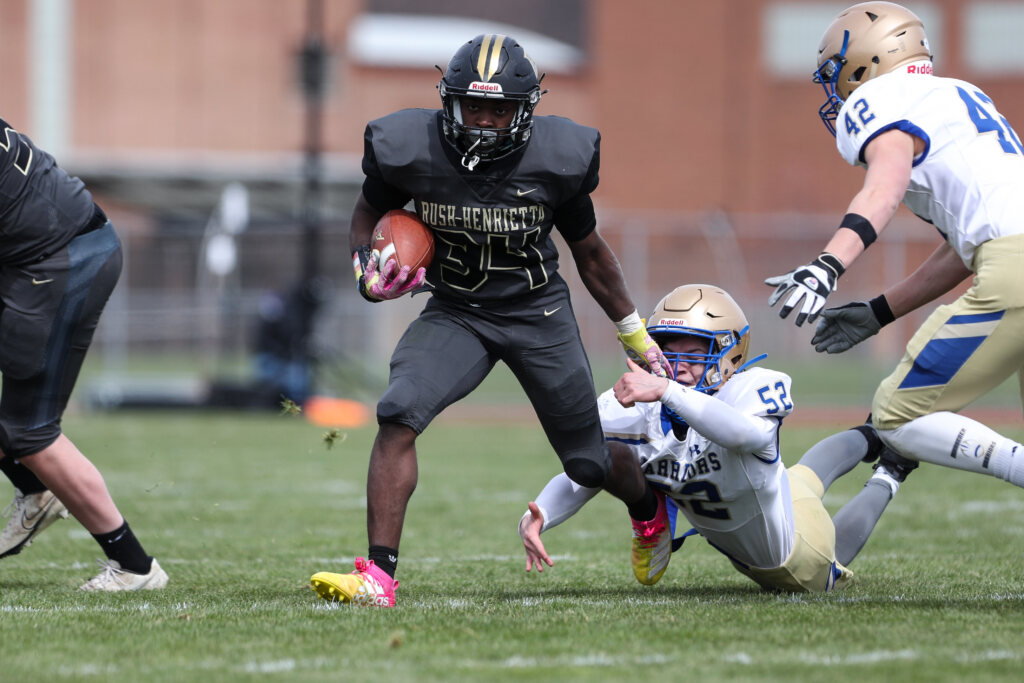 By PAUL GOTHAM
ROCHESTER, N.Y. — Late in the fourth quarter of a game that was already well in hand, the Rush-Henrietta football team faced a fourth and short deep in opposing territory.
The ensuing pass elicited a dismayed response from Royal Comets' head coach Jason Collins.
"What are we doing?"
Call it youthful indiscretion. A particularly acute case in this situation considering Jayden Scott was left standing in the backfield.
Scott heard his number called on more than half of Rush-Henrietta's offensive plays on Saturday, and the 5-foot-8 junior tailback responded by gaining seven-plus yards per carry.
Rushing for 224 yards on 29 carries, Scott scored three touchdowns to lead R-H past Webster Schroeder, 41-13.
"That was a good team win," Scott said. "You can't run without your blockers. You can't run without your wide receivers running their routes and keeping the outside guys wide. They all do what they're supposed to do and I stay with what works."
VIEW MORE CHRISTOPHER CECERE PHOTOS HERE. 
Scott capped a six-play 84-yard drive with a six-yard run to give Rush-Henrietta a lead it did not surrender at 14-7.
Jayden Scott punches it in from 6 yards. PAT is good @RushAthletics 14 @SchroederSports 7 pic.twitter.com/p8Srk4i1Bb

— Paul Gotham (@PickinSplinters) April 3, 2021
After a fumble on the ensuing kickoff, the Royal Comets needed two plays, both from Scott. He scored on a 20-yard run.
"He runs with a low center of gravity," Collins said. "He's very shifty. Not only on the big cuts but the small cuts inside behind the offensive line. They keep working down field because they know he just needs a little piece for a big gain. He does a great job for us."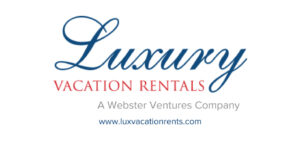 Scott carried the ball five times on Rush-Henrietta's first drive of the second half breaking off runs of 8, 5, 7, 6 and 8 yards to set up quarterback Jamari Johnson from one yard out.
"We knew coming into the game that he was going to be tough to contain," Webster Schroeder head coach Mike Stumpf said. "He's so elusive."
First down yardage from Jayden Scott. pic.twitter.com/8HJ2doOnr2

— Paul Gotham (@PickinSplinters) April 3, 2021
A NYS champion and two-time runner-up, Scott credits his work on the wrestling mat for his success on the football field.
"Those two sports complement each other," he said.
He is ranked No. 17 nationally by The Open Mat at the 132-pound class and No. 16 by FloWrestling.
"Wrestling helps with balance. You got to think fast. That's where wrestling helps with football."
Quick enough to get around the end, Scott makes opposing tacklers miss in one-on-one situations in the open field. At the same time he is able to move the pile for extra yards when the situation warrants.
More Jayden Scott pic.twitter.com/Knf2lZ8OwC

— Paul Gotham (@PickinSplinters) April 3, 2021
"He never stops working," Stumpf added. "You can see that he's a wrestler because he is so tough and never stops on a play."
Webster Schroeder opened the game with a nine-play drive for 80 yards. Braden Pumputis hit Nathan DeMay for a touchdown, After Abigail Neill converted the point-after-attempt, the Warriors led 7-0 less than four minutes into the game.
2nd and 15 from the 22: Braden Pumputis connects with Nathan DeMay @SchroederSports SchroederSports 7 @RushAthletics 0 pic.twitter.com/0FTXHlwxOf

— Paul Gotham (@PickinSplinters) April 3, 2021
Zion Powell took the ensuing kickoff and went 81 yards for a touchdown.
Schroeder responded with a 10-play drive that ended with a fumble on the Rush-Henrietta 16-yard line.
The Royal Comets didn't waste the opportunity.
"They're a good team; they're always tough," Collins said of Schroeder. "All week we talked about starting fast and finishing faster. "I think we're very dynamic all over the field. We have a solid O-line that's come together nicely over the last few weeks. That allows us to pound the ball."
Pumputis connected with Julian Cunningham on a nine-yard touchdown to make it a 20-13 game heading into halftime.
Johnson completed 9-of-16 passes for 146 yards. The sophomore quarterback also rushed 31 yards on 10 carries with two touchdowns.
Jamari Johnson to Zion Powell sets up first and goal for @RushAthletics pic.twitter.com/uUQMh7OMuV

— Paul Gotham (@PickinSplinters) April 3, 2021
Scott also collected six tackles, two for a loss, along with one fumble recovery. Sophomore safety Tyler Bernaduci had 9.5 tackles with two pass break-ups, an interception and two forced fumbles. Sophomore linebacker Kaden Johnson finished with 5.5 tackles.
R-H had four takeaways.
Pumputis completed 25-of-33 passes for 294 yards.  Cunningham made seven receptions for 87 yards. DeMay had five catches for 61 yards.
Rush-Henrietta (2-1) will travel to play against Monroe next Thursday.
Schroeder (0-3) will host Victor also on Thursday.