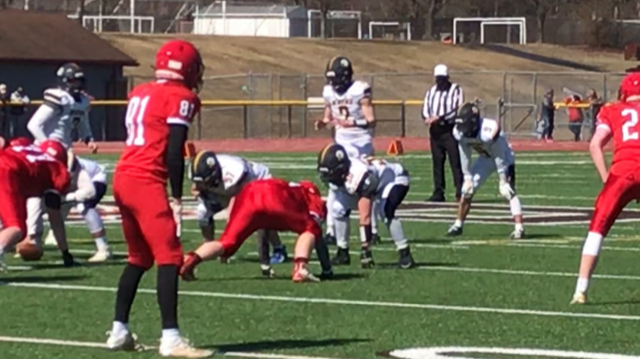 By PAUL GOTHAM
EAST ROCHESTER, N.Y. — Eight days ago, Mason Blankenberg and his Wayne Eagle teammates celebrated a Section V Class B1 basketball championship. Saturday afternoon Blankenberg and the Wayne football team hosted Palmyra-Macedon.
The field of play changed from hardwood to gridiron; the result didn't.
Well, almost.
Blankenberg needed last-second heroics to secure a win on the court. Saturday, the junior quarterback scored a pair of touchdowns including one on the opening drive as the Eagles jumped to a 21-0 halftime lead and defeated Pal-Mac, 24-7 at Don Quinn Field.
"It feels good," he said. "My body's a little bit sore but other than that it feels great to be outside playing football."
The 6-foot-2 signal caller capped the 11-play opening drive with an eight-yard rush for a touchdown and eventual 7-0 lead.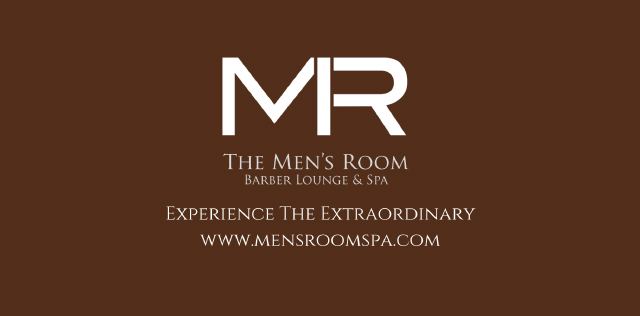 "He's like another coach on the field," Wayne head coach Dave Marean said. "He gets it. The transition mentally, to go from winning a sectional championship to winning at football, he made it look easy."
Blankenberg rushed for more than nine yards per carry for the game gaining 47 yards on five carries.
More importantly, he directed an offense which scored on three straight drives. Marean pointed to his player's willingness to take responsibility for understanding the team's offense.
Football began practices on March 1st. Blankenberg physically attended two practices during the first week and the same the second week. Mentally, though, it was like he was there everyday at practice.
"His passion is basketball and it has always been basketball," Marean noted. "He's a detail-oriented kid. He would call me on the phone or text our OC (offensive coordinator, Scott Briggs) and ask 'Hey, what did I miss today?' He'd watch film and when he stepped in there, it was like he never missed anything except physically taking reps."
The significance of executing on the first drive of this unusual season was not lost on Marean.
"In a normal year, you've got a spring camp, and summer has double sessions," Marean said referring to schedule adjustments caused by COVID-19 that moved the football season from fall to spring. "The first game every year is such a measuring tool for the kids. Everybody puts so much weight into that first game. Now you've got that first game and you're wondering 'is everybody ready?'
"It really is the fear of the unknown. We know who we're bringing back. We know who they're bringing back, but we haven't been with each other enough. What are they really bringing back? It was really the fear of the unknown. The butterflies went out for everybody after we had that first snap."
Mason Blankenberg on the keeper. 2:22 to go in the half: @WCSD_Athletics 21 @palmacsports 0 pic.twitter.com/V20yjBSqag

— Paul Gotham (@PickinSplinters) March 20, 2021
Blankenberg completed 7 passes in 16 attempts for 94 yards. Of the nine incompletions, at least five were drops – evidence of the lack of practice that teams have had in preparation for the season. Any chance, that the quarterback allowed those shortcomings to impact his approach was non-existent.
"He has such a short-term memory," Marean said when it comes to his player's approach to the mistakes of others. "His character speaks volumes. His work ethic and athletic ability just go through the roof because of his character. Kids want to play hard for him. He understands that there's not one kid who will intentionally drop a ball. He's harder on himself than he will be on somebody else."
Dylan Vance led Wayne with 84 yards gained on 13 carries. Vance scored the game's second touchdown on a one-yard rush to cap a seven-play, 59-yard drive.
Dylan Vance pushes it across the goal line. 6:28 remaining in the second quarter: @WCSD_Athletics 14 @palmacsports pic.twitter.com/rcjWJxCjKM

— Paul Gotham (@PickinSplinters) March 20, 2021
Alek Reynolds converted a 39-yard field goal six minutes into the second half to give Wayne a 24-0 lead.
Alek Reynolds connects on a 39-yard field goal. 6:00 to go in the third. @WCSD_Athletics 24-0. pic.twitter.com/Oyuat4eOIQ

— Paul Gotham (@PickinSplinters) March 20, 2021
Pal-Mac mounted a six-play, 87-yard drive for its only touchdown of the game with 6:05 remaining in the fourth quarter. Ivan Reynolds-Diaz had rushes of 62, 10 and 9 yards on the drive. Ayden Lonneville-Lent scored on a quarterback keeper from two yards out.
Ayden Lonneville-Lent on the keeper gets @palmacsports on the scoreboard. Six-play drive goes for 87 yards including 3 rushes for a total of 81 yards from Ivan Reynolds-Diaz. 6:05 to go @WCSD_Athletics 24-7. pic.twitter.com/MgSC2RdNnj

— Paul Gotham (@PickinSplinters) March 20, 2021
Blankenberg hit a 15-foot jump shot with 7.8 second remaining to left Wayne to a 56-55 victory over Batavia in the B1 boys' basketball championship game. The title was the third in five years for the program. Wayne basketball finished the 2021 season 15-0.
Blankenberg paced the basketball Eagles with 16 points, eight rebounds and five assists per game.
"That's what he does," said Devon Forrest who started at center on the school's basketball team and is the left tackle on the football squad. "His work ethic and his commitment for football is just there. That's why he's able to succeed.
"Mason and I have been playing together a long time, basketball and football. We just got good chemistry. We're hoping to bring what we did with basketball to football."
The game was played on East Rochester's turf field. Wayne will not be able to play games on their home grass field for the early part of the season.
The Eagles will host Batavia next Saturday for a noon kickoff.
Pal-Mac travels to Geneva for a 1 p.m. Saturday start.