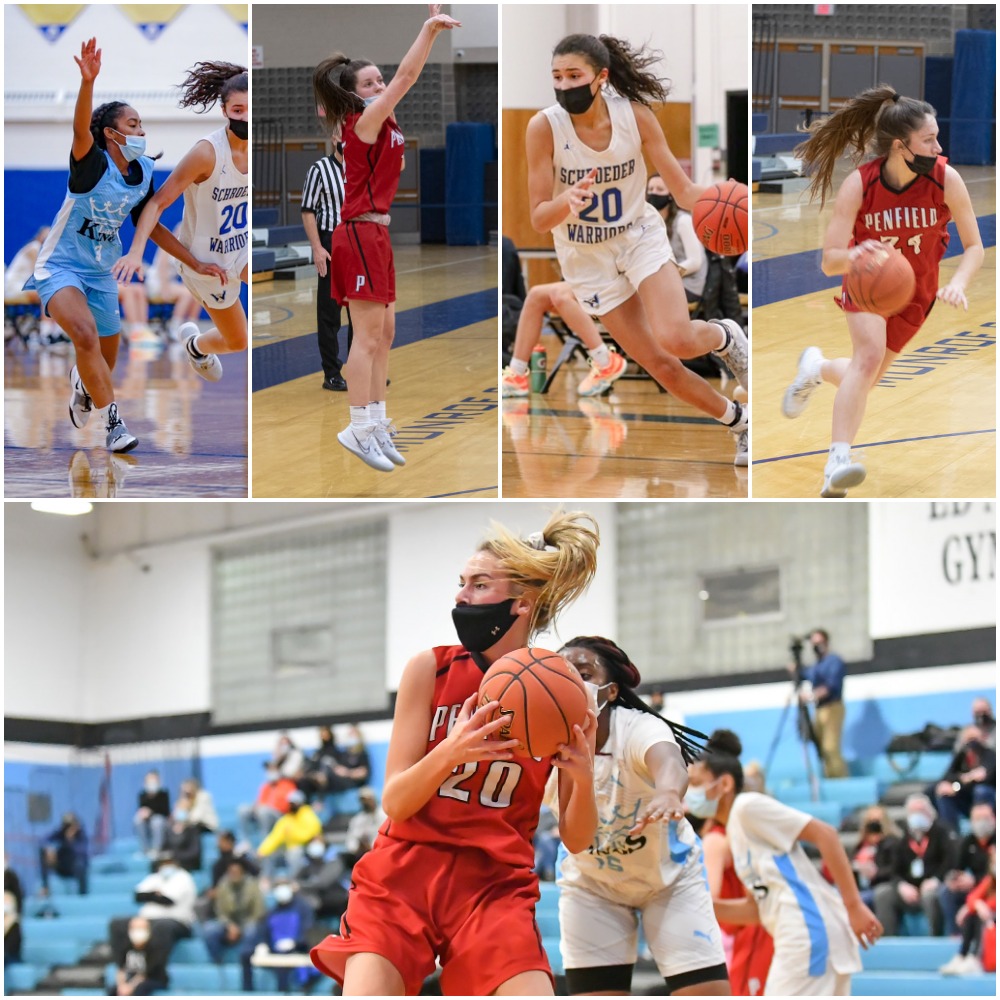 By BILLY HEYEN
Penfield claimed the Section V Class AA girls' basketball championship behind a solid mix of experience and youth. The Patriots weren't regarded as the favorite, but the play of Haley Emmick, Elisa Faklaris, Emma Blumenstock and the rest of Mark Vogt's bunch overcame that anyway.
Due to COVID-19, Section V couldn't name all-tournament teams for sectionals. Instead, this is the Pickin' Splinters all-tournament team for the Class AA girls' tournament, starting with the MVP Emmick.
MORE: 'Everyone doubted us': Penfield validates self-belief to win Class AA sectional title
MVP: Haley Emmick, Penfield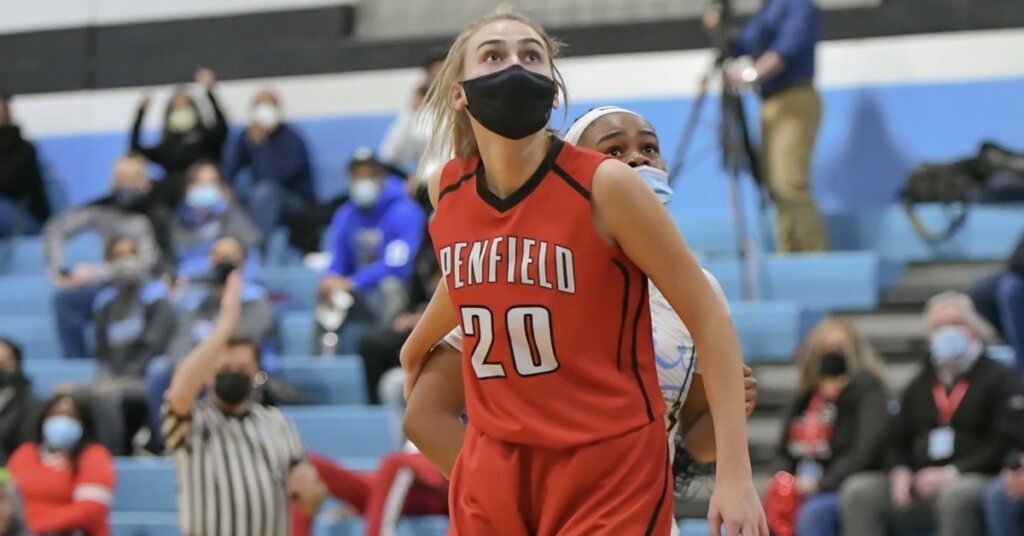 Penfield entered sectionals as the sixth seed and ended up playing all three of its matchups on the road. In the first, Emmick scored 10 points as the Patriots pulled out a tight win over three-seed Fairport.
VIEW MORE DENNIS JOYCE PHOTOS HERE. 
Two days later, Emmick dropped 22 points at two-seed Gates Chili to send Penfield to the final. And against top-seeded and undefeated Bishop Kearney, Emmick scored 10 points and grabbed 17 rebounds despite a matchup with Division I-bound forward Taylor Norris inside.
"It's what I'm down there to do," Emmick said after the title game.
Emmick spent much of her Penfield career operating alongside star players who scored the ball a ton, and that was never the focus of her game. But in the final three games of her Penfield career, Emmick made all the big plays — including what turned out to be the game-clinching free throws in the final.
MORE: Haley Emmick shows big-game chops in AA title game
Elisa Faklaris, Penfield
Faklaris had the most important defensive assignment of the sectional final, guarding BK's Niagara-bound guard Marianna Freeman. With well-principled help defenders around her, Faklaris held Freeman to three points in a three-point victory.
"(Faklaris) did a really good job," Emmick said after the title game. "Marianna's not easy to defend, and Elisa definitely stepped up."
Faklaris also came on strong in the scoring department, accounting for 13 points in the quarterfinal, nine in the semifinal and then a Penfield-high 14 in the championship game. She scored nine of those 14 in the first half as Penfield stormed out to an early lead.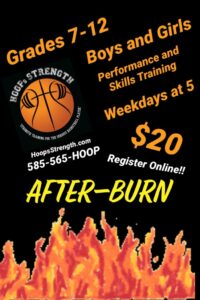 Emma Blumenstock, Penfield
Blumenstock ran the show for Penfield all year as its senior point guard. Her passes up the sideline and over the top in transition allowed the Patriots to control the pace against a Bishop Kearney team that frequently uses full-court pressure.
VIEW MORE SUE KANE PHOTOS HERE. 
An average of 8.7 points across the three postseason games made Blumenstock a consistent contributor for a Penfield team locked in three close contests. When the Patriots won the semifinal in large part thanks to free throws, Blumenstock was a clutch 6-for-8 from the charity stripe.
Blumenstock also was the first Penfield player to grab the sectional trophy.
The block for @mvogtpenfield pic.twitter.com/4kjOA4OFTr

— Billy Heyen (@BillyHeyen) March 13, 2021
Kaia Goode, Bishop Kearney
If Kearney had pulled off a comeback in the final, it may have been Goode receiving the biggest accolades. Her defensive prowess has keyed BK's approach at that end of the floor for years, but Goode's offensive game grew a ton this season.
Whether it's 3-pointers or scoop-shot layups, Goode finds ways to score against defenders that are almost always taller than her. She put up a Kearney-best 14 points in the sectional final after eight in the semifinal and 11 points and eight assists in the quarterfinal.
Goode also made the defensive play of the game in a tight semifinal game to grab one of her seven steals in that contest and score at the other end to put BK up four. That marked the second-straight sectional game Goode finished with seven takeaways.
Steal by @KaiaGoode leads to a bucket, then @MariannaFreem12 copies it.

All of a sudden, 58-52 @BKHS_Sports the other 45.8 seconds left in this AA semi. @PickinSplinters pic.twitter.com/KSDY7PJQph

— Billy Heyen (@BillyHeyen) March 10, 2021
Mariah Watkins, Webster Schroeder
Watkins, a freshman, is the future of Webster Schroeder basketball. In many ways, she also proved to be the present during sectional week.
When the Warriors came back to beat Mercy in the quarterfinal, Watkins finished with 20 points. Then she led Schroeder with 17 points against Kearney to go with 12 rebounds. Watkins was often tasked with bringing the ball up the floor against BK's pressure, and she rarely was fazed by the stage.
Her older sister, Anya, is graduating, but Watkins will get to team with her eighth-grade sister Bria for years to come at Schroeder.
Other notables
Marianna Freeman, Bishop Kearney: Freeman scored 24 points in the semifinal to get BK to its 11th consecutive sectional final.
Anya Watkins, Webster Schroeder: The senior scored 13 points with 16 rebounds in the final game of her high school career, a semifinal loss to Kearney.
Paris Anthony, Gates Chili: Anthony led the Spartans with 15 points in defeat in the semifinal against Penfield.
Miriam Ibezim, Gates Chili: Ibezim joined the rare career 1,000-point, 1,000-rebound club during the sectional tournament.
Lill Northrup, Webster Schroeder: Northrup bounced back from a brutal eye injury to lead Schroeder to a comeback in the quarterfinal.
Libby McDonough, Mercy: McDonough carried her hot finish to the regular season into sectionals with 19 points in a quarterfinal defeat.
Ella Meabon, Fairport: Meabon scored 20 in the quarterfinal loss to Fairport, as her "Ella and Bella show" partner Bella Pucci dropped 17.
Eva Elliott, Penfield: Elliott finished with an 8.0 points per game average in the Patriots' sectional triumph.