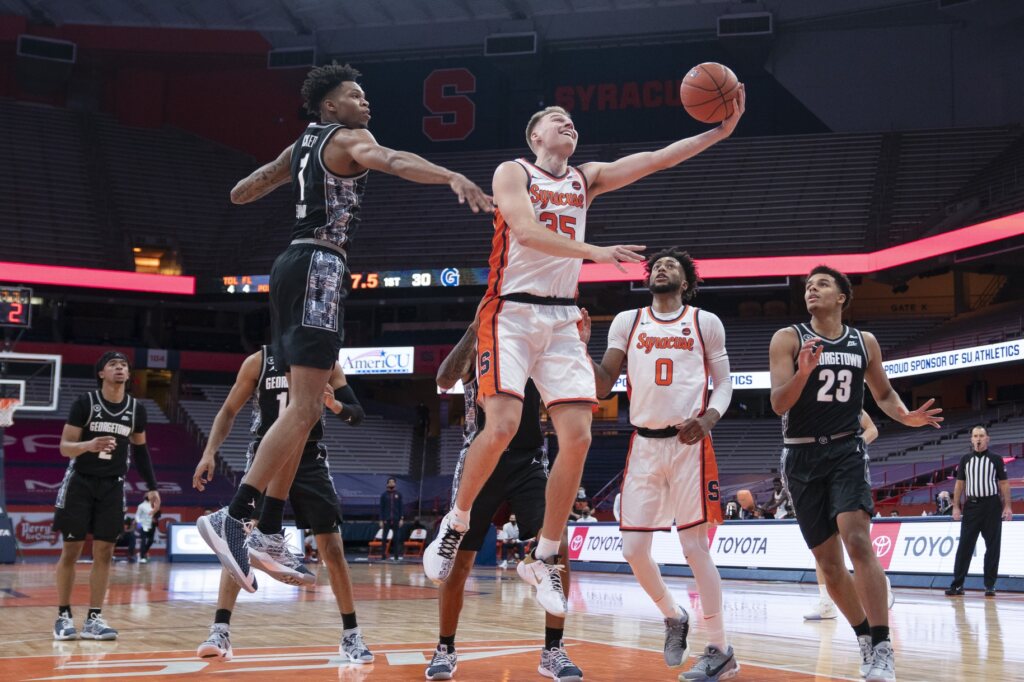 By PAUL CIFONELLI
On what ended up being a banner night for him, Buddy Boeheim's 26 points led Syracuse to a 72-70 victory over North Carolina. Syracuse needed the victory after dropping its last two games to Duke and Georgia Tech, which keeps the Orange in the bubble conversation.
Boeheim netted 17 of his points in the first half, including 11 in the final five minutes before halftime. His surge led a 14-2 Orange run, which gave them a 34-28 halftime lead. North Carolina jumped out to an early lead, holding an 11-2 advantage 4:33 in.
The Tar Heels bounced back to begin the second half, using an 8-1 stretch to retake a one-point lead. Syracuse countered with a 15-2 run of its own to take the lead for good. At the end of that run, the Orange slowed the pace down and worked the clock.
North Carolina made a final attempt to steal the win, winning the final 3:11 12-5 to make it a two-point defeat. Joe Girard III helped seal the game with free throws, but left the door open by missing two of his four foul shots in the last 13 seconds.
Buddy Buckets at it again! 🔥

Five 1st half 3s and 1000 career points for @Buddy_Boeheim35

ESPN: https://t.co/dow5vgJh9s pic.twitter.com/qTeg5522vH

— Syracuse Basketball (@Cuse_MBB) March 2, 2021
Boeheim's 26 points led Syracuse's offense and also put him over 1,000 for his career. He is the 64th player in program history to reach the 1,000-point mark. Boeheim knocked down six of 13 threes in the contest. Quincy Guerrier nearly had 20 points as well, netting 18 points to go with six rebounds. Kadary Richmond and Jesse Edwards provided quality minutes for the Orange off the bench, with Richmond playing 31 minutes and Edwards logging 24. Both players scored with points, but Richmond added nine assists and four steals, while Edwards had eight rebounds and four steals. Marek Dolezaj also stuffed the stat sheet with eight point, five boards, five assists, three blocks and three steals. Alan Griffin (4) and Girard (4) rounded out Syracuse's scoring.
Armando Bacot had his second double-double against the Orange this season with an 18-point, 15-rebound performance. Garrison Brooks' 11 points and Caleb Love's 10 aided Bacot's efforts. R.J. Davis netted nine points off the bench and both Leaky Black and Day'Ron Sharpe scored six. Walker Kessler (4), Andrew Platek (3), Kermit Walton (2) and Anthony Harris (1) also scored for the Tar Heels.
Syracuse gets another chance at a season split on Wednesday in its regular-season finale, when the Orange host Clemson at 5 PM. North Carolina's final regular season game is on Saturday, when it hosts Duke.