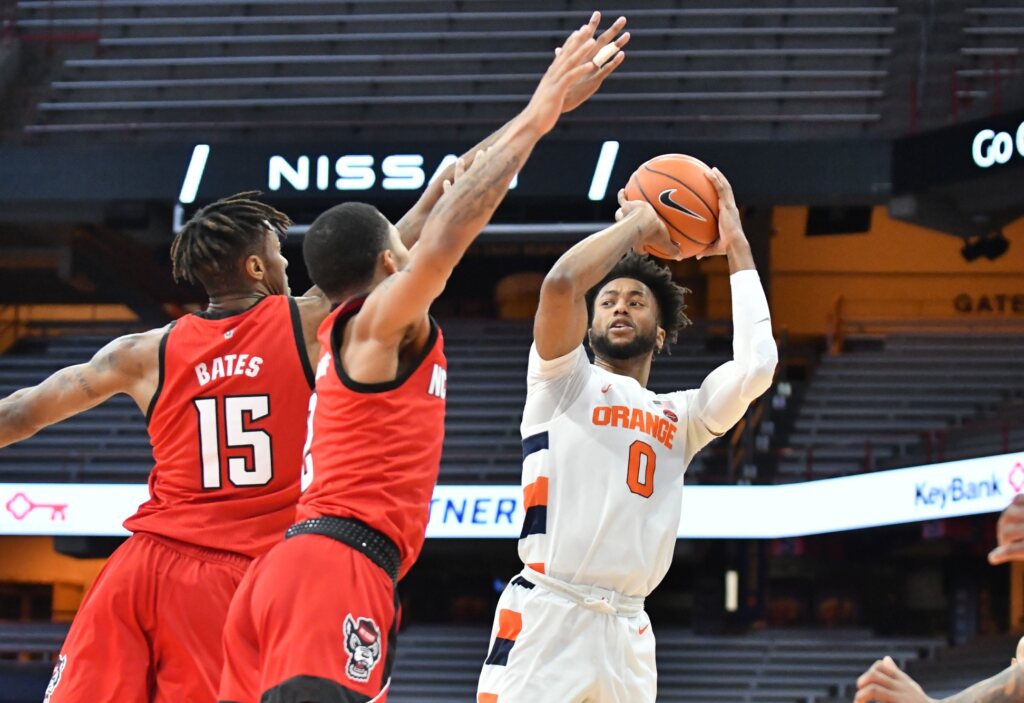 By PAUL CIFONELLI
In a game with serious bubble implications, Georgia Tech controlled the beginning and end of the game, which led to an 84-77 victory for the Yellow Jackets.
Georgia Tech got out to a 17-5 lead just four and a half minutes in. This included two fouls on Marek Dolezaj, a technical foul on Jim Boeheim and six points from Moses Wright. Wright was the key to the Yellow Jackets' success throughout the game with his offensive rebounding and presence in the paint.
Syracuse was down for most of the first half and it hit its worst point when Georgia Tech took a 29-16 lead. The Orange followed that up with a 23-5 run to end the half with a 39-34 lead. Alan Griffin scored 20 points in the half, including eight in the final stretch.
Halftime came at just the right time for Georgia Tech, as the Yellow Jackets weathered Syracuse's early efforts and went on an 18-4 run to regain control of the game for good. The Orange got the game back to six points on two occasions, but Georgia Tech built a lead as big as 14.
Griffin cooled off in the second half but still led Syracuse with 26 points. The junior went 9-for-15 from the field and 4-for-7 from three. Quincy Guerrier, Buddy Boeheim and Joe Girard III all went into double digits as well, scoring 13, 12 and 10 points, respectively. Dolezaj only played 10 minutes due to foul trouble and was held to two points and three rebounds with four turnovers before committing his fifth foul. Jesse Edwards played most of Dolezaj's minutes, scoring seven points and grabbing eight rebounds. Kadary Richmond added two points, four boards and six assists and Robert Braswell scored five points.
Wright scored a season-best 31 points for Georgia Tech, marking his second consecutive game with 30 or more points against Syracuse. He netted 33 in the teams' second meeting last season. Wright finished off the double-double today with 16 boards, including nine on the offensive end. Jordan Usher and Michael Devoe backed up Wright's scoring, with Usher pitching in 19 points and Devoe finishing with 18. Usher had seven rebounds and he, Devoe, Jose Alvarado and Khalid Moore all dished out six assists apiece. Moore (9), Alvarado (4) and Bubba Parham (3) rounded out the Yellow Jackets' scoring.
Syracuse will likely need to win its last two regular season games and make a deep run in the ACC Tournament to enter the NCAA Tournament conversation. Its next chance to get in the win column is Monday at 7 PM, when the Orange host North Carolina. Georgia Tech's next game is on Tuesday at home against Duke.