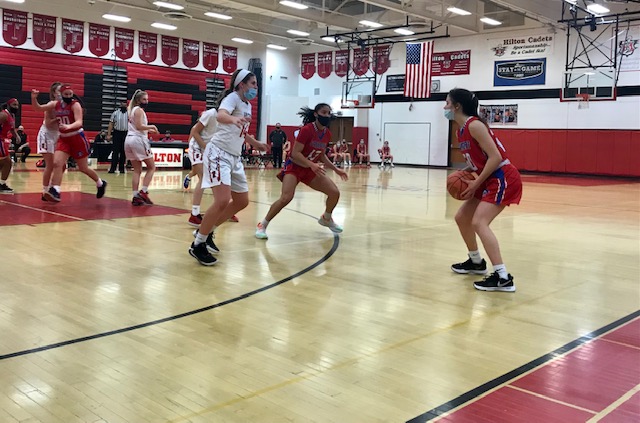 BOYS

MCQUAID (3-3) 61
AQUINAS (4-2) 68
Aquinas sent frequent double teams to McQuaid star Keith Warren in a win, Monday night. READ MORE.
PAVILION (2-3) 45
CALEDONIA-MUMFORD (6-0) 56
The Red Raiders won the game in the fourth, outscoring Pavilion (2-3) 22-11 over the final eight minutes. Mark Poles-Harrison aided Raniewicz's scoring in the fourth quarter with six points to go along with multiple rebounds and blocks, including the block that sealed the game. READ MORE.

EDISON TECH (1-3) 71
LEADERSHIP ACADEMY (3-2) 72
In their first home win of the season, senior captain Maurice McKinney Jr.'s 27 points sustained Leadership outlasting the Inventors. McKinney Jr. had 20 of his points in the first half, connecting on 6-7 free-throws and two triples. Fellow senior Jared St. Louis added 19 points, making eight total field goals. Sean Smith had 14 points on four three-pointers. For Edison Tech, senior Shaheem Ellis Jr. lead all scorers with a 30-point effort. Ellis Jr. was responsible for 26 of Edison Tech's 41 first-half points. Guards Alvion Williams and Mike Morgan both eclipsed double-digit points. Other Scorers- Leadership: Rayshawn Boyd (6), Shamirr Brooks (3), Khalid Ortiz-Price (3); Edison Tech: Davijon Lipscomb (7), Chaheim Fowlks (7), Jabari Johnson (6)

MONROE (4-1) 62
WORLD OF INQUIRY (3-2) 54
After producing a 15-4 run at the end of the first quarter, Monroe did not look back as senior Ezekiel Williams led the way with 27 points. Williams accounted for 11 of the Red Jacket's 15 first-quarter points, also piling 10 points late in the fourth to secure the victory with four clutch free-throws. JaH'meir Speed contributed with 16 points, on three three-pointers. WOIS stormed back to outscore Monroe 50-47 in the final three-quarters of play. Jeshua Shaw was critical in the Griffin's attempted comeback with 21 points making a game-high four shots beyond the arc. Senior guard Romel Brown netted 14 points, and Dorian Smith had 11. Other scorers- Monroe: Amariyon Johnson (8), Davion Jones (6), Ty'Jayh Cole (3), Bruce Stewart (2); WOIS: Toney Henton (4), Rodney Nunnally (2), Kevonne Fountain (2)
FRANKLIN (2-4) 63
EARLY COLLEGE (0-3) 43
Freshman guard Juelz Nelson netted a game-high 17 points leading the Quakers to their second straight win. Maintaining a slim two-point lead coming out of halftime Franklin had 40 second-half points as Nelson was credited with 11 of those points down the stretch. Jaylin Jordan contributed with 13 points, converting on both free-throw attempts and one three-pointer. Chauncey White-Oliver had six of his seven points in the fourth quarter and Davion Scott added nine points. For Early College, junior Jahan Richetts had 13 points, and forward Myqyng Arline netted seven of his 11 points in the second half. Tyrone Sanders had eight points while Jamezs Brown had seven, making three free-throws.

NE DOUGLASS (1-3) 47
SOTA (3-2) 79
Senior captain Ke'Vion Mitchell recorded a program first quadruple-double with an impressive 19 points, 12 rebounds, 10 assists, and 12 steals. Mitchell got his teammates involved early, as Ethain Clarke-Desouza, Reggie Smith, and Keshaun Chatman were responsible for 32 of SOTA's 46 first-half points. Leading 46-11 going into the second half Mitchell, who had a triple-double in SOTA's previous game, netted 12 of his 19 points in the third quarter. Smith finished with 20 points, Clarke-Desouza with 17, and Chatman with 10. For NE Douglass, junior guard Chris James had 16 of his 18 points in the second half. In the fourth quarter, James netted two triples and three other makes from the field. Seniors Je'Keim Mosley (10) and Delzair Hanks (7) also had solid contributions for the Panthers. NE Douglas outscored SOTA 36 to 33 in the second half.
CHESTERTON ACADEMY (0-6) 52
NORTHSTAR CHRISTIAN (8-0) 86
In Northstar Christian's second win over Chesterton this season, Gage Wheaton scored a career-high 26 points, and David Gucker scored a career-high 12 points while also hauling in 12 rebounds. Wheaton scored 13 points each half making 11 total field goals, including four three-pointers. Other double-digit scorers for the Knights were Turner Marris with 14 points and Ryan Garwood with 12. Jerry Marchand led Chesterton with 26 points, 18 of those coming in the second half. Other scorers- Northstar Christian: Larry O'Neal (7), Andrew Eschner (5), Eli Sluk (5), Justin Robinson (5); Chesterton: Mike Moneynski (8), Matt Boher (8), Paul McLaughlin (7)
ROCHESTER PREP (2-3) 51
VERTUS (3-3) 47
Rochester Prep picked up their second straight victory behind junior Javier Flowers' monster performance with 14 points and 20 rebounds. Tonight was Flower's first double-double of his career. Junior Jami Walker also chipped in with 14 points for the Tigers.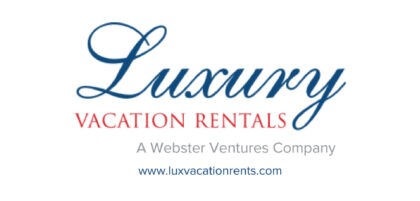 ROCHESTER ACADEMY (2-4) 65
C.G. FINNEY (7-1) 75
Sophomore star Markus Robinson poured in 47 points in C.G. Finney's second defeat of RACS after their narrow 70-67 win on February 10th.
HAC (5-1) 70
SOUTH SENECA (4-2) 59
Junior Forward Max Brown recorded a 23 point-11 rebound double-double in the win for HAC as they increase their winning streak to four. Brown also dished out six assists, poked away four steals, and had one shot block rejection. Teammate Theo Colosimo had a strong performance with 17 points, five assists, two rebounds, and three steals. For South Senaca, senior guard Ira Aman netted 19 points and Nick Houck finished with 17. Other scorers- HAC: Owen Tindell (7), Noah Mendola (7), Eli Curwin (5), Quinn Hartman (5); South Seneca: Damar Russ (6), Kenyan Russ (6), Lukas Day (5) 
MIDLAKES (1-5) 49
DUNDEE (2-3) 71
Dundee exploded for a season-high point total behind senior Blake Machuga's 20 points, five rebounds, and four steals. Logan Salvatore netted 16 points, seven rebounds, and eight assists, while Steven Webster has 15 points and nine rebounds. Senior forward Chris Weston was Midlakes highest scorer with 10 points.
CLYDE-SAVANNAH (4-2) 71
MARION (0-6) 21
Leading scorer for the Marion Black Knights was sophomore Mike Phillips with eight, and junior Logan Evans recorded seven. 
BATH-HAVERLING (1-3) 29
LIVONIA (6-0) 75
Livonia went on an 18-0 run late in the first quarter and led 45-14 at the half, sealing their victory during the third quarter with a 15-0 run. Bulldogs center Steffan Gwyn led Livonia with 14 points, and the Minnehan's chipped in with a combined 25 points. (Shawn scored 13 and Alex finished with 12)
YORK (4-1) 61
GENESEO (3-2) 60
As York built a 45-37 point lead heading into the fourth quarter, Geneseo went on a 23-16 run that fell just short resulting in York's fourth straight win after losing their season opener to Cal-Mum. The Knights were led by James Kennedy's 18 points, as well as 12 point performances from Maddoc Timothy and David Cuozzo. For Geneseo, senior forward Adam Wright scored a game-high 19 points. Other scorers- York: Tyler Brady (9); Geneseo: Ethan Bennett (11), Josh Perez Silva (8)
PERRY (1-4) 32
AVON (4-1) 63
Avon rode a 50-22 lead after the first two quarters with contributions from freshman Michael Rowland and junior Zach Colvin. Rowland finished with 21 points and Colvin scored 14. For Perry, senior John Michael Grover netted 20 points.
KESHEQUA (0-5) 79
MOUNT MORRIS (1-4) 88
Coming out of halftime, Mount Morris had a 10-point deficit but rode a second-half run outscoring Keshequa 50-31 in the final 16 minutes to pick up their first win of the season. Junior Stephen Somers scored a career-high 37 points, hauled in 15 rebounds, along with eight assists for the near triple-double. Senior Alexis Crespo Lazu finished with 12 points and three steals. Owen Yencer, Mason Santini, and Chase Young all chipped in with nine points. Bryson Constantino added eight points. For Keshequa, Tyler Mallaber scored 21 points, Resse Powers had 17, Riley Reese with 14, and Jacob Gibson with 13 points.
NORTH ROSE-WOLCOTT (1-5) 54
EAST ROCHESTER (4-3) 67
WILLIAMSON (3-2)
GANANDA (4-1)
LYONS (6-0) 87
SODUS (1-5) 44
JC Walker accounted for four of his game-high 22 points in the third quarter when Lyons outscored Sodus 27-5. In all, 11 different Lions figured in the scoring column with Jay Battle adding 13 and Jahtezz Barber 12. Jaiden Lopez, Horace Betts IV and Ahmir James scored six apiece. Justin Smith Jr. (4), Nate Henry (5), Quintin Franklin (5), Matt Briggs (3), Jymeer Linzy (3) and Aaron Rouse (2). Jaiuan Ortiz and Ray Baldwin scored eight apiece to lead Sodus. Cam Hughes added seven. Brady McCarthy, Marcellus Burton, Darin Barber and Shane Smith Smith each scored five. Kyle Zerbe converted a free throw.
LEROY (3-2) 66
LETCHWORTH (2-3) 35

WAYLAND-COHOCTON (2-3) 62
WARSAW (1-4) 52
BELFAST (3-1) 48
SCIO (2-2) 43
FILLMORE (5-1) 60
GENESEE VALLEY (0-5) 50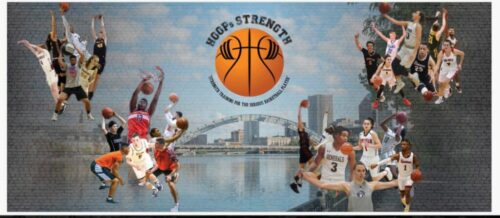 GIRLS
FAIRPORT (6-1) 63
HILTON (1-4) 57
Early foul trouble forced Patrick Muldowney's Fairport girls' basketball team to play out of character. The Red Raiders took advantage of a second chance that halftime can provide.  Four different players contributed to a 14-0 run to start the third quarter, and Fairport went on to win its fifth straight. READ MORE.
PENFIELD (5-1) 54
CHURCHVILLE-CHILI (3-2) 30
Penfield girls basketball coach Mark Vogt was impressed with his defense in a 54-30 win over the Saints. READ MORE.
PITTSFORD SUTHERLAND (3-3) 58
GREECE OLYMPIA (2-4) 30
Sophomore guard Ellie Bergin accumulated 21 points, nine boards, five assists and four steals as Pittsford Sutherland notched its second straight road win. Freshman guard Leora Cook contributed 10 points, three rebounds and three steals. For Greece Olympia, senior center Abby Dewar led with 14 points. Other scorers – Pittsford Sutherland: Lara Brandt (8), Caitlin Bergin (6), Abby Cappotelli (5), Dylan Madigan (4), Brooke Pestorius (2), Annie Refermat (2); Greece Olympia: Taylor Jung (7), Giana Dimora (3), Elazja Miller (2), Tehilyah Murray (2), Olivia Grant (1), Macie Vetter (1)
CANANDAIGUA (5-1) 47
GREECE ATHENA (2-3) 26
Senior forward Kate Stocker netted 15 points as Canandaigua reeled off its third consecutive victory. Sophomore guard Mya Herman followed up with 13 points. Abbey Herod (6), Kyleigh Chapman (4), Sophi LaBarge (4), Liv Schorr (3) and Macy Bacon (2) rounded out the scoring for the Lady Braves.
GREECE ODYSSEY (0-6) 32
BATAVIA (4-3) 63
For Greece Odyssey, senior guard Serenity Rodgers posted a double-double of 13 points and 11 boards along with four steals, three assists and a pair of blocks. Sophomore forward Asia Philip scored 12 points and hauled in seven rebounds. Junior forward Sienna Tyo had seven points to round out the scoring for the Lady Leopards.
SPENCERPORT (0-5) 35
BRIGHTON (2-3) 58
Junior guard Kiara Anglin stuffed the stat sheet with 20 points, nine rebounds, three assists, three blocks and two steals to lead Brighton. Lucy Lederman and Sadie Scott both scored 11 points. Scott grabbed eight boards, handed out an assist and swiped a steal. Lederman collected five rebounds, three steals and an assist. Kaiya Larkins (7), Katie Hardie (3), Kadence Ferris (2), Allie McInroy (2) and Olivia Rush (2) rounded out the scoring for the Lady Barons.
VICTOR (2-3) 42
WEBSTER SCHROEDER (4-2) 54
Freshman guard Mariah Watkins produced 18 points to lead Webster Schroeder to its third consecutive victory. Senior forward Anya Watkins finished right behind her with 15 points. Lill Northrup chipped in 10. Olivia Reschke (6), Sarah Ferruzza (3) and Julia Perales (2) rounded out the scoring for the Lady Warriors.
CHESTERTON (2-3) 35
NORTHSTAR CHRISTIAN (3-0) 54
Senior guard Bria Danesi netted 20 points and collected nine rebounds as Northstar Christian swept the season series with Chesterton. Freshman center Alayna Garwood recorded a double-double of 13 points and 15 boards. Junior guard Breona Jones posted 11 points and seven rebounds. Amber Eades (6), Deaveon Rhodes (3) and Molly Livecchi (1) rounded out the scoring for the Lady Knights.
RED CREEK (2-4) 45
CLYDE-SAVANNAH (5-1) 35
Senior guard Isabella Wilbur filled the box score with 12 points, eight boards, two assists, two blocks and a steal as Red Creek snapped a three-game skid and handed Clyde-Savannah its first loss of the season. Mady Sanzotta (7), Mackenzie Ferguson (6), Abigail Sanzotta (6), Riley Shaffer (6), Jessie Bolton (5), Madeline Smith (2) and Tamara Crawford (1) rounded out the scoring for the Lady Rams.
OAKFIELD-ALABAMA (3-2) 50
BYRON-BERGEN (2-4) 42
Junior forward Kelsey Schlagenhauf recorded a double-double of 17 points and 15 boards along with one assist and a steal to lead Oakfield-Alabama to its second straight road victory. Sophomore guard Brooke Reding contributed 16 points, three steals, two rebounds and an assist. Caitlin Ryan (7), Emma Wray (4), Danica Porter (3) and Karly Smith (1) rounded out the scoring for the Lady Hornets.
CANISTEO-GREENWOOD (5-0) 68
ADDISON (1-4) 30
Brooke Burd scored scored 12 of her 18 points in the first half as Canisteo-Greenwood surged to a 38-17 advantage and cruised to its third road win of the season. The sophomore center made nine field goals from inside the arc and corralled 12 rebounds. Senior guard Savannah Ambuski converted seven shots for 14 points. Freshman guard Lillian Mullen netted all 12 of her points in the first 16 minutes of game play. For Addison, senior guard Isabella Benjamin connected on four long-range shots as part of her 15 points. Other scorers – Canisteo-Greenwood: Peyton Peters (9), Elaine Roach (6), Ashley Allen (5), Destiny Reese (4); Addison: Anna Carlineo (6), Kihara Gotshall (3), Jenna Benton (2), Gabby Coletta (2), Hailie Stuart (2)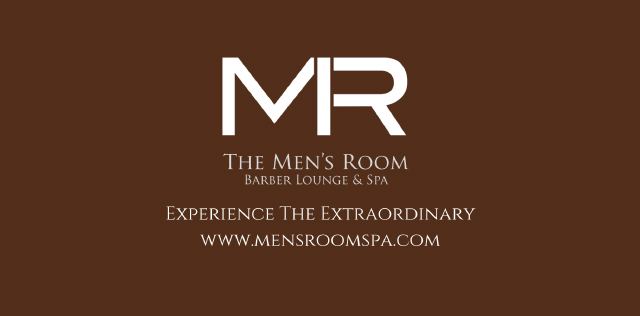 GANANDA (3-3) 56
WILLIAMSON (1-5) 42
EAST ROCHESTER (6-1) 54
NORTH ROSE-WOLCOTT (4-2) 33
EAST (2-2)
EDISON TECH (1-1)
IRONDEQUOIT (2-1)
BROCKPORT (3-2)
PITTSFORD MENDON (5-0)
WEBSTER THOMAS (1-3)
GATES-CHILI (3-3)
RUSH-HENRIETTA (0-5)
SODUS (0-6)
LYONS (2-2)
ATTICA (3-2)
ELBA (6-0)
PEMBROKE (4-1)
NOTRE DAME BATAVIA (4-2)
LYNDONVILLE (1-4)
WHEATLAND-CHILI (0-5)
SCIO (0-5)
ARCHBISHOP WALSH (VI)
To report scores, please email photos of that night's scorebook pages to scores.pickinsplinters@gmail.com.