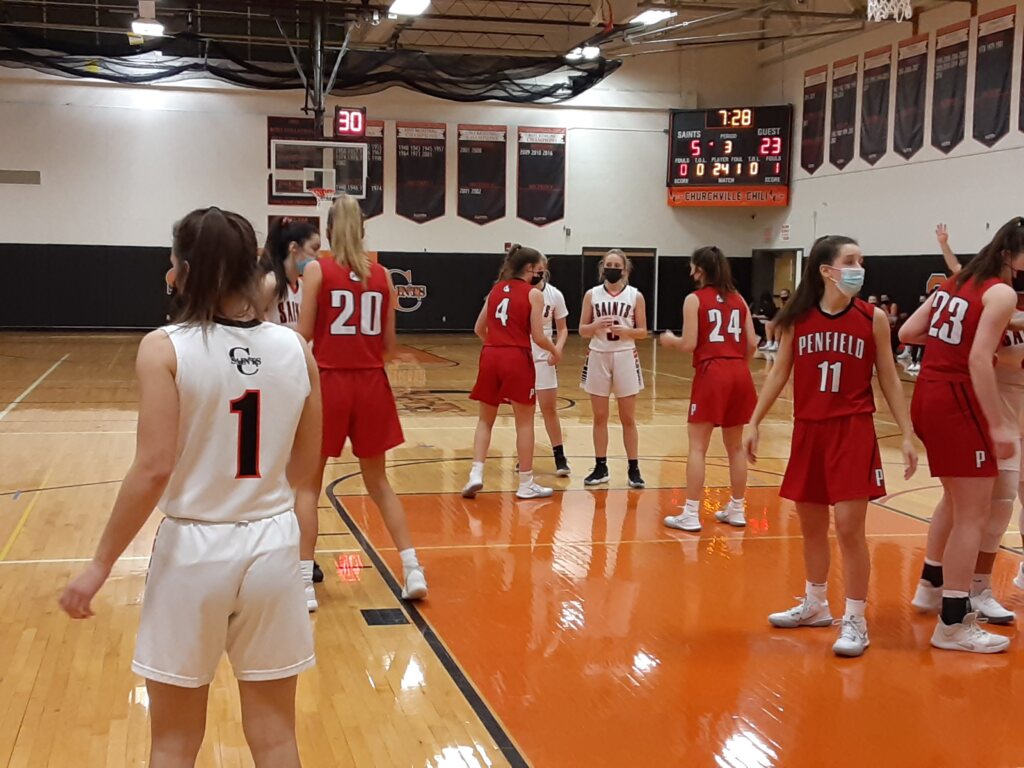 By TIM IRVING
"Over the course of games, we try and wear teams out and go on a run because Churchville's a good team."
Penfield girls' basketball coach Mark Vogt was impressed with his defense in a 54-30 win over the Saints. For nearly three quarters, the Patriots held Churchville without a basket.
And while the Saints struggled to score against the speed of guards Elisa Faklaris and Emma Blumenstock and the size of Haley Emmick and Kennedy Cone, Churchville got in passing lanes and prevented the game from getting out of hand.
"I like their 2-3 (zone), I think they play it really, really well, they spread it out, they've got good athletes," said Vogt of the Saints defense, adding, "Our talk was good, we got through the screens and we were rebounding well."
Penfield led 15-1 after one quarter and 23-5 at halftime, holding the Saints to only free throws. Faklaris had six points on three driving lay-ups and Blumenstock had five points.
Late in the third quarter, senior Jordan Loewke put in a rebound for the Saints and Sydney Postell followed with a lay up but misses were one and out with the Patriots dominating on the boards.
Churchville made a fourth quarter run with Postell scoring 12 of her game-high in the final eight minutes.
Penfield (5-1) had 11 players score points, led by Faklaris with 12.
SCORING:
Penfield:
Eva Elliot (4), Leah Fusilli (4), Emma Blumenstock (7), Summer Cisco (2), Jackie Funk (2), Haley Emmick (7), Kennedy Cone (7), Elisa Faklaris (12), Grace Alexander (4), Kylie Bell (2), Katie Baumer (3).
Churchville-Chili:
Mikayla Shipley (3), Hannah Shipley (3), Esa Smith (1), Jordan Loewke (4), Jasmine Gibbs (1), Sydney Postell (18).