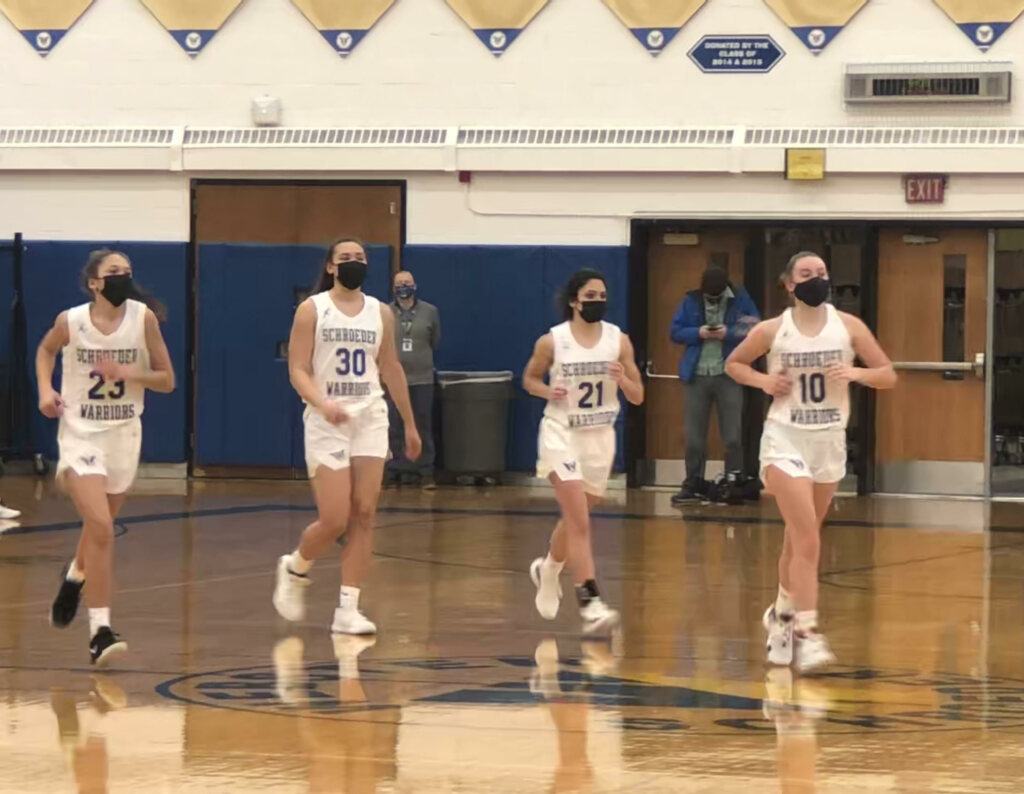 By BILLY HEYEN
WEBSTER, N.Y. — Webster Schroeder took control of Friday night's game in the third quarter but risked losing all its hard work early in the fourth. Hilton had closed within a bucket midway through the final frame, and the Warriors needed a timeout.
Schroeder head coach Mike Grasta drew up a play for his senior forward, Anya Watkins. Point guard Lill Northrup drove right before swiveling and pitching a pass back to Watkins on the left wing. After keying the third-quarter dominance on the interior, Watkins let this one fly from deep. 
Swish.
"I just drew up a play for (Watkins), and it made me look good for a minute," said Webster Schroeder head coach Mike Grasta while chuckling. 
Out of the timeout, Anya Watkins hits the 3. She's got 16 and @schroedergbball goes up 36-31 with 4:30 left. @PickinSplinters pic.twitter.com/vf4ngnormN

— Billy Heyen (@BillyHeyen) February 20, 2021
The Warriors (3-2) came back from early offensive struggles to beat Hilton (1-3), 44-39. Watkins finished with 18 points and 14 rebounds, with her younger sister Mariah adding nine points and Julia Perales contributing eight. Schroeder's defense kept it in the game long enough for its offense to deliver in the biggest moments, giving the Warriors two wins in a row after a two-game skid.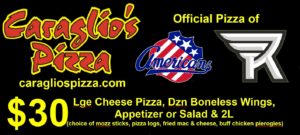 "This definitely helped our confidence," Anya Watkins said. "We went on a little losing run. It was little. We know that we're much better than that, and that will not happen again. I think it just showed us even more that we are the team that we know we are, and we are capable of beating almost anybody."
MORE: 'We all eat': East boys beat Leadership, 107-82
Early in Friday's game, Webster Schroeder could hardly buy a bucket. Anya and Mariah Watkins combined for five points in the first quarter, the entirety of the Warriors' total. 
It's something that Anya Watkins said has been a theme with Schroeder — they come out with plenty of energy but can't find an offensive rhythm right away. For the Warriors to remain competitive in those early dry spells, defense has to be locked in.
For the most part Friday, it was. Schroeder mixes up a number of looks — 2-3 zone, 1-3-1 zone and three-quarter court zone pressure among them. Hilton was better offensively in the first half, including eight points from senior Sydney Carpenter, but Schroeder generally closed out well enough to keep things close.
"It can be hard to switch your defense so much," Watkins said, "and you can get confused really easily. But I think we do a really good job of knowing what we're supposed to do, giving 100 percent effort, going for steals. Just the energy on defense is what keeps us in the game."
Carpenter did send the Cadets into halftime with a 3-pointer and a one-point lead, but Schroeder's offense had already begun to find itself by that point. 
Before the halftime buzzer, @sydcarpenterr cut middle before fading to the corner. She nailed the 3 to give @ladycadetshoops @hiltoncadets a 20-19 halftime lead.

Carpenter has 8 points and 8 rebounds at the break. Anya Watkins leading Schroeder with 7pts/6rbs. @PickinSplinters pic.twitter.com/8UoThWZsN9

— Billy Heyen (@BillyHeyen) February 20, 2021
Perales hit a deep 3-pointer, then Liv Reschke hit two of her own. It wouldn't be obvious until after halftime, but those triples let Anya Watkins go to work in the third quarter.
Deep 3 from @juliaperales11. 12-11 Hilton in the second. @PickinSplinters @SchroederGBball pic.twitter.com/LxH77fTYbG

— Billy Heyen (@BillyHeyen) February 20, 2021
Because the Warriors finally forced Hilton to respect their 3-point attempts, Watkins could work on the block. She said afterward that she's always been more of a post player and only recently expanded her game to the outside. Watkins returned to the basics out of the break.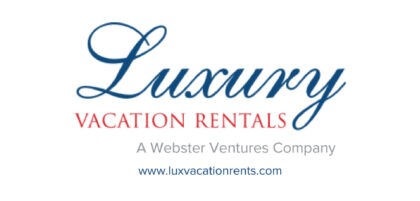 Posted up on the right block, Watkins took two dribbles left before a drop step to the baseline freed up a right-handed hook shot. Then, a Lill Northrup entry pass led Watkins into a one dribble power move with her right hand. Finally, Watkins grabbed two offensive rebounds on the same possession before finishing with her strong hand once more.
"If they're hitting shots on the outside, it opens up things for (Watkins) on the inside," Grasta said. "In the beginning, we didn't hit any shots, so they were kind of packing it in, but once her teammates started hitting some shots, it opened the inside up for her."
Work from Anya Watkins on the block —24-20 @schroedergbball in the third. @PickinSplinters pic.twitter.com/FzrpbUbMki

— Billy Heyen (@BillyHeyen) February 20, 2021
What turned out to be a 12-3 advantage in the third quarter looked like it could decide the game in Schroeder's favor, but Hilton found life in the fourth. Eighth-grader Mallory Heise led a comeback charge to within two.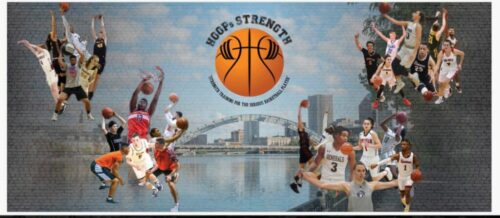 That's when Watkins came out of the timeout huddle and swished her left-wing 3-pointer. About two minutes later, Perales nailed another deep right-wing 3, putting herself right in the middle of two key Warriors' spurts and giving Schroeder a 40-33 lead with only 2:30 to play.
"(Perales) is a kid every coach would want," Grasta said. "She shows up to work every day. Her attitude is always positive. She's just one of the hardest-working kids. She shoots the basically every single day, so she's ready."
Huge shot by @juliaperales11 to put @schroedergbball up 40-33 with 2:31 to play, and @lill_northrup is fired up. @PickinSplinters pic.twitter.com/YOW2GmkKt9

— Billy Heyen (@BillyHeyen) February 20, 2021
The Cadets got within three late but couldn't catch all the way up playing the fouling game. The final couple foul shots came from Watkins, too.
One of the game-icing freebies was immediately declared "long!" by Watkins. She was right, but it banked off the glass and in. It was that kind of night for the Warriors' senior forward.
"I just think about how hard I've played, I work so hard," Watkins said. "I don't know anybody else who has worked as hard as me, who plays as hard as me. Nobody has earned it more than me."

Scoring totals
Webster Schroeder: Anya Watkins (18), Mariah Watkins (9), Julia Perales (8), Liv Reschke (6), Lill Northrup (2), Bria Watkins (1)
Hilton: Sydney Carpenter (10), Mallory Heise (10), Lea Thompson (7), Ella Clark (7), Maddie Manetta (5)