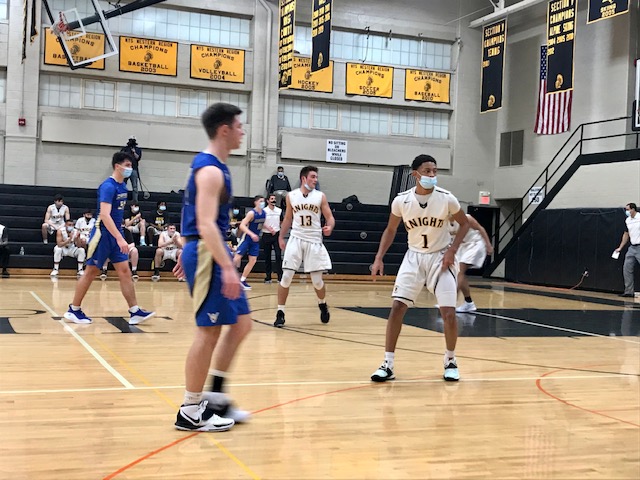 By PAUL GOTHAM
ROCHESTER, N.Y. — Keith Warren took advantage of the opportunity to clean out his locker. With limited access to the team room since the start of the COVID-19 pandemic last March, Warren didn't get a chance to go through his usual end-of-the-season routine.
On Monday night with one week of practice and the home opener behind, the senior guard left McQuaid Jesuit's John H. Ryan, Jr. Memorial Gymnasium with one pair of sneakers draped around his neck and four more cradled in his arms.
Scoring points seemed to pose less than difficulty than crating those kicks.
Warren finished with a game-high 30 points, and McQuaid held off Webster Schroeder for a 58-52 season-opening win.
"It felt good to get that win," he said.
Warren connected nine times from the floor including five 3-pointers and converted on 7-of-10 free throws. The 6-foot-3 guard also delivered when the Jesuit Knights needed it most.
With Schroeder jumping to an early 7-1 lead, Warren connected on back-to-back 3-pointers. His third triple of the night gave McQuaid a 12-11 lead heading into the second quarter.
Keith Warren drills a corner 3, his third of the first quarter to help @McQ_Bball take a 12-11 lead going into the second. @WebWarriorBball jumped to an early 8-1 lead. pic.twitter.com/ArIl5Wdhyt

— Paul Gotham (@PickinSplinters) February 8, 2021
He set up teammate Ryan Broderick for a trey early in the second quarter and then used a hesitation dribble to get in the lane for two more.
McQuaid had a lead it did not surrender at 17-13.
"I'm proud of Keith because he's really worked his butt off to get where he's at," McQuaid head coach Jack Leasure said. "He's always been the guy who is intent with his work habits."
A year ago, Warren played in a lineup with then seniors Kobe Long and Jermaine Taggart who combined to average more than 45 points per game.
On Monday night, it was Warren who shouldered the scoring responsibility.
When Schroder cut a double-digit deficit to six late in the third quarter, Warren connected twice more from distance. On two occasions in the fourth quarter, he was able to get to the rim and score to slow Schroeder runs.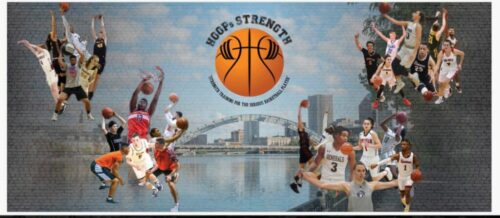 "I knew I had to give the response when it was needed," he said. "We were down a little, and I needed to provide the spark for my team to get going. They look for me to lead and to score."
The output fell four points short of a career-high 34 points that he scored in a win over Franklin a year ago January.
Keith Warren goes with the hesi to get to the cup. @McQ_Bball 17-13. 6:31 left in the 2nd. pic.twitter.com/Yap6ucc6Wk

— Paul Gotham (@PickinSplinters) February 8, 2021
"He's really improved and gotten better," Leasure added. "He deserves having a chance this year to show what he's accomplished. I'm proud of him and love seeing him playing hard."
Joe Cairns added 10 points in the win. The senior forward also matched a career high taking five charges in the contest.
"He's always bought into just doing the little things to help his team win," Leasure said of Cairns. "He's so fun to watch. He sees some of those things in advance defensively. It's really fun to watch."
Broderick and Jordan Brongo finished with five points apiece. Colin Bavibidilia and Bryce Barber both scored three points. Max Schalm had two.
Joe Cairns breaks out the Euro to give @McQ_Bball a 42-34 lead late in the 3rd. pic.twitter.com/d6tgL6uR5e

— Paul Gotham (@PickinSplinters) February 9, 2021
Ky'Mere Meeks scored four points in the early going to help Schroeder to an 8-1 advantage. The senior forward's and-one gave the Warriors their largest lead of the day.
Schroeder trailed by as many as 11 midway through the third quarter.
Luke Insley gets ahead of the defense for the game's first bucket. @WebWarriorBball with an 3-1 lead pic.twitter.com/C1P0nniAOe

— Paul Gotham (@PickinSplinters) February 8, 2021
Nick Hauman scored six of his team-high 15 points in that stanza to help the Warriors pull within six at 40-34.
Ben Carey converted a pair of free throws with 1:16 remaining in the game to pull Schroeder within four at 54-50. The Warriors had a chance to make it a one-possession game in the final minute but could not get any closer.

"If you don't get a win out of your first game of the season, you at least want to finish like that," said second-year Schroeder head coach Rashaad Stokelin. "You want to know that you've got fight in you. We learned something on the floor that we can build for the next game."
Luke Insley added 13 points for the Warriors. Meeks had eight. Carey and Tyler Race chipped in five apiece. Evan DeMocker (3), James Knox (2) and Mike Salina (1) also contributed.
Schroeder plays at Gates-Chili, Tuesday night.
McQuaid hosts Wilson Magnet on Wednesday.