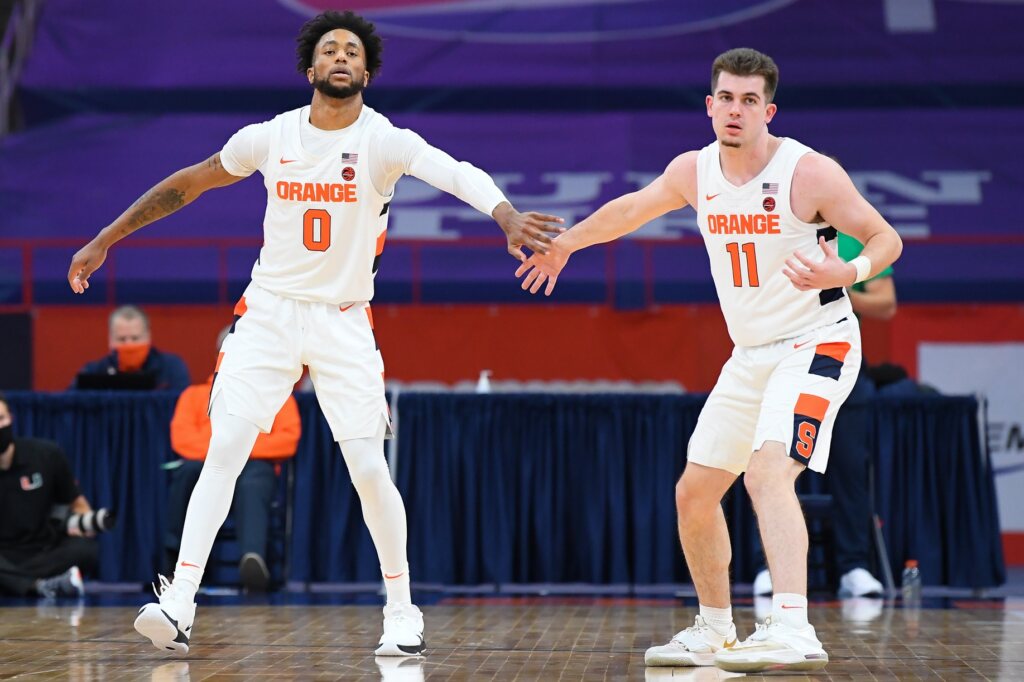 By PAUL CIFONELLI
Syracuse needed a win to enter the conversation for a spot in the NCAA Tournament, but shot itself out of the game early to fall at Clemson, 78-61. The Orange only scored 19 points on 12 percent (3-for-25) shooting in the first half to effectively put the game out of reach early on.
Clemson, a squad that has scored at least 70 points in five of its 17 games, put up 39 points in the first 20 minutes to cruise into the break with a 20-point cushion. The Tigers didn't play a perfect half, turning the ball over 10 times and sending Syracuse to the line 15 times. However, Clemson outrebounded the Orange 24-11 and made 48.1 percent (13-for-27) of its field goals.
During this timeout let's take a look back at how Nick got us started as he dropped three-straight baskets from deep in the first half 😳👌 pic.twitter.com/ff1yCVY8WU

— Clemson Basketball (@ClemsonMBB) February 6, 2021
Nick Honor and Aamir Simms did most of the early damage for Clemson. Honor scored 12 points on four made triples, while Sims posted 13 points and seven rebounds in the half, both of which were higher than his season average.
The second half was more closely contested, but it was too little, too late for the Orange. Joe Girard III put on a show for Syracuse in the final half, putting up 19 points on 7-for-12 shooting. Girard scored 12 of the Orange's final 18 points to help them get the deficit to below 20 when the game ended.
Clemson ended up outrebounding Syracuse 42-25, with the Tigers grabbing 11 offensive rebounds to the Orange's 12 defensive boards. Additionally, Clemson's defense held Syracuse to a season-low six assists.
Girard ended up leading Syracuse with 19 points. Alan Griffin and Marek Dolezaj also ended up in double figures with 12 and 10 points, respectively. Buddy Boeheim and Quincy Guerrier scored eight points apiece, Kadary Richmond provided three and Bourama Sidibe scored one points in his return to the lineup.
Quincy still fighting in there.

He has 8 and 6.

📺 ACCN pic.twitter.com/Q3NwXmpiQX

— Syracuse Basketball (@Cuse_MBB) February 6, 2021
Simms, Honor and Clyde Trapp powered Clemson to victory in different ways. Simms finished with 18 points and 11 boards, while Honor added another three in the second half to give him 15 points. Trapp only scored two points, but dished out 11 assists and ripped down eight boards. Olivier-Maxence Prosper (9), Al-Amir Dawes (8), Alex Hemenway (7), PJ Hall (6), Jonathan Baehre (6), John Newman III (5) and Hunter Tyson (2) all contributed to the Tigers' scoring.
Syracuse's next game is on Tuesday, when the Orange travel to take on NC State at 6:30. Clemson will host Georgia Tech on Friday at 8 PM in its next outing.