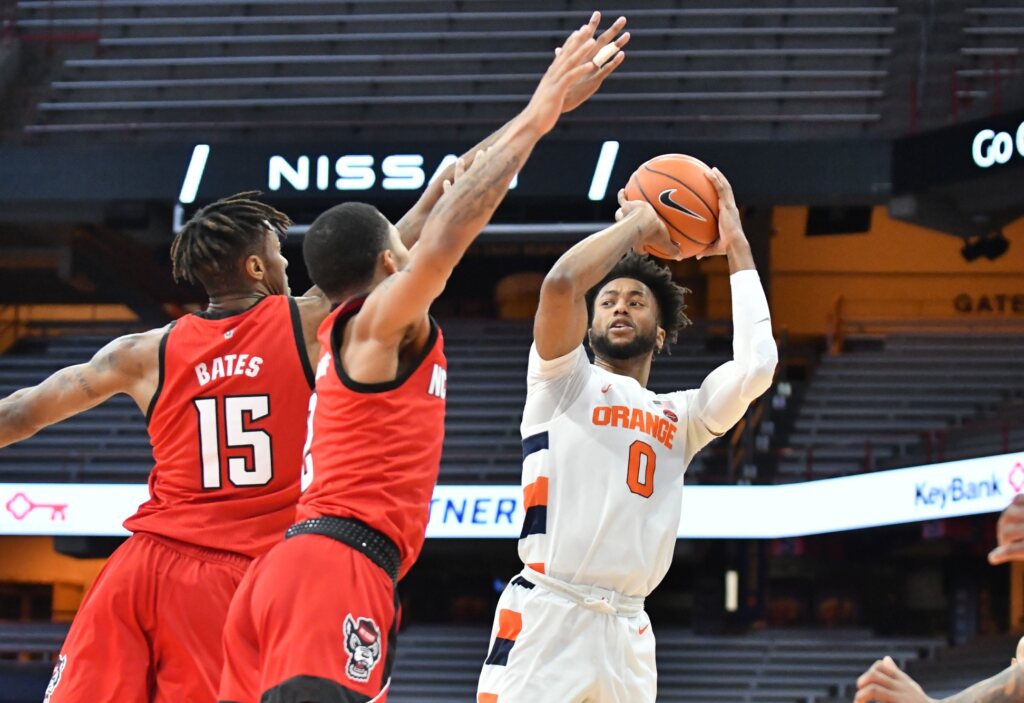 By PAUL CIFONELLI
At points throughout the game, it looked like Syracuse was destined for another loss that would come back to haunt it in March. The Orange couldn't pull away from North Carolina State, which was missing its two leading scorers. Despite the struggle, Syracuse escaped with a 76-73 win that puts the Orange at 10-5 on the season.
A pair of free throws from Marek Dolezaj with 18 ticks remaining and Alan Griffin with five seconds left helped to secure the Syracuse win. The Orange led by one before Griffin stepped to the line because Thomas Allen sank three free throws of his own for the Wolfpack. Allen got the shots after Quincy Guerrier committed his fifth foul on an attempted three.
🎥 Highlights

Syracuse 76
NC State 73 pic.twitter.com/aq9i3iiIzO

— Syracuse Basketball (@Cuse_MBB) February 1, 2021
Syracuse coach Jim Boeheim wasn't thrilled with his team's execution down the stretch, but Dolezaj and Griffin made shots when they needed to.
"We made a couple bad offensive mistakes at the end of the game," Boeheim said. "Alan kept the ball and they took it instead of just hitting the open guy. But Marek went to the foul line and made his two and Alan went and made his two. That doesn't always happen. We're a good free throw shooting team. We aren't getting to the line enough, but we tried to get there."
Syracuse found itself in a hole toward the end of the first half after a 13-2 run gave NC State a 10-point advantage. The Wolfpack ended up with a lead as large as 11 with 17 seconds left in the half, but went into the break up nine thanks to a layup by Kadary Richmond with time expiring.
Boeheim was not happy with his team's defensive performance on a night when the Orange allowed 47 points in the first half.
"In the first half we just didn't play defense," Boeheim said. "We let them inside for dunks or to the foul line. Or we gave them wide open looks from the three-point line. It was probably as bad of a defense that we could play."
The Orange got themselves back into the game with a 12-3 that lasted nearly five and a half minutes. That spurt tied the game at 54 and no team led by more than five after. The five-point lead came in the way of a 70-65 Syracuse advantage with 4:24 left that NC State couldn't come back from.
Take over Q! 😤@quincyguerrier has 10 points, 8 coming in the 2nd half.
Cuse leads 58-56, 9:51 left.

ACCN: https://t.co/ieaO1Ks3rR pic.twitter.com/0DX2lOYniv

— Syracuse Basketball (@Cuse_MBB) February 1, 2021
Both Syracuse and NC State had similar team stats, with the total rebounds, assists, steals, blocks, turnovers and fouls all separated by no more than two. Also, both teams assisted on a large portion of their field goal attempts. The Orange had 17 assists on 29 field goals and the Wolfpack had 19 assists on 27 makes.
The major difference came from the three-point line, where Syracuse shot 38.1 percent (8-for-21) and NC State went 26.1 percent (6-for-23).
Griffin led Syracuse in scoring with 19 points, with Buddy Boeheim trailing close behind with 17. The duo combined to make seven of Syracuse's eight triples. Guerrier pitched in a 10-point, 10-rebound double-double to give him seven on the season. Dolezaj went for 11 points, eight rebounds, six assists and four steals. Griffin matched Dolezaj's steal total and they accounted for eight of the Orange's nine. Richmond contributed 14 points off the bench on 6-for-7 shooting and Joe Girard III notched five to round out Syracuse's scoring.
AG heating up early 👌👌

ACCN: https://t.co/ieaO1Ks3rR pic.twitter.com/cGrc4gDxc0

— Syracuse Basketball (@Cuse_MBB) January 31, 2021
Manny Bates and Jericole Hellems powered the Wolfpack with Devon Daniels and DJ Funderburk out. Bates scored 17 points, ripped down 14 boards and blocked four shots. Hellems had 24 points but came a rebound short of the double-double. Braxton Beverly (11), Dereon Seabron (9), Allen (6), Shakeel Moore (5) and Cam Hayes (1) also scored for NC State.
Syracuse will look to pick up its fourth win in its last five games on Wednesday, when the Orange host No. 25 Louisville at 7 PM. NC State's next game is also on Wednesday at home against No. 8 Virginia.