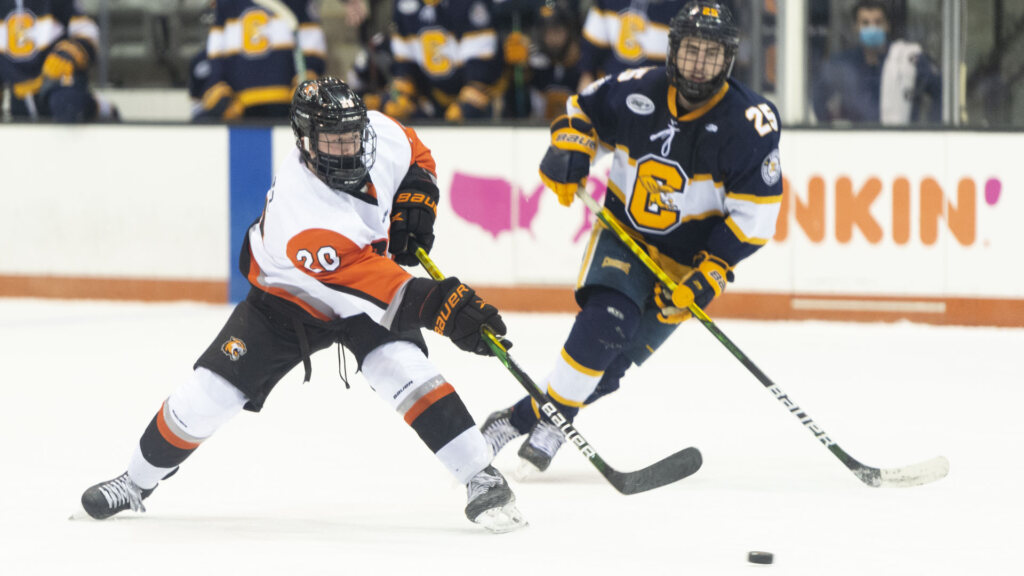 By PAUL GOTHAM
ROCHESTER, N.Y. — On Thursday night, the RIT Tigers shed the rust of a 25-day layoff to beat Mercyhurst. On Saturday, the Tigers hosted a team playing its first game in 27 days.
And Wayne Wilson's squad made sure to avoid the fate of their previous opponent.
Caleb Moretz scored once and assisted on another in a three-goal first period as RIT went on to defeat the Canisius Golden Griffins, 3-2 in Atlantic Hockey action.
"The difference was they'd been off and hadn't played a game," Wilson noted. "We got one game under our belts, so I think we jumped them a little bit. They came out strong in the second, but I thought we had a good third period."
Will Calverley notched his team-leading 10th goal of the season less than two minutes into the game. Andrew Petrucci added to the lead with 3:24 to go in the first, and Moretz converted on a power play to give the Tigers all the offense needed for their second win in as many outings.
Will Calverley picks up where he left off Thursday. The junior forward gets @RITMHKY on the board with assists from Nick Bruce and Spencer Berry. pic.twitter.com/dZQZ1LBUrn

— Paul Gotham (@PickinSplinters) January 30, 2021
"We didn't give up a lot," Wilson noted. "We limited their shots. We like to keep teams under 25. We do score pretty well."
Andrew Petrucci adds to the @RITMHKY lead. Junior forward takes advantage of the rebound for a 2-0 lead. 3:24 to go in the first. pic.twitter.com/Xg56lltGts

— Paul Gotham (@PickinSplinters) January 30, 2021
RIT opened the game aggressively forechecking the Golden Griffins and peppered Canisius goalie Matt Ladd with 15 shots in the first period.
Moretz delivered a pair of stiff checks during that first stanza. The sophomore forward assisted on Petrucci's goal when he let fly from the right point with a blast that Ladd could not corral. Petrucci took advantage of the rebound.
"He's a very strong skater and a strong kid," Wilson said of Moretz. "He's very conscientious as well, so he's working really hard."
Moretz's goal and assist were his second each. This coming after he missed five games earlier in the season.
"He kinda suffered through the first half of the season with some quarantine things and stuff like that," Wilson explained. "It's really kept him from getting into a rhythm. His line, we expect a lot out of them. He's just really getting in rhythm, so this is good for him to get these games in."
Caleb Moretz converts on the power play with assists from Jake Hamacher and Elijah Gonsalves. 1:24 to go in first. @RITMHKY 3 Canisius 0 pic.twitter.com/iGD6JRVz0p

— Paul Gotham (@PickinSplinters) January 30, 2021
RIT (6-4-2) outshot Canisius 39-22. The Tigers' power play, though, struggled to get clean looks on goal against a Golden Griffins' penalty kill unit that built in front of Ladd..
"They packed it in pretty tightly," Wilson explained. "We tried to work the puck behind the net. There was nothing in front of the net that we could do.
"We were trying to get them away from the net. Even on one of our faceoff plays we tried to move the puck high to see if someone would come out. They didn't. You somehow have to go from low to high and get them away and then get it back down low again. Easier said than done sometimes."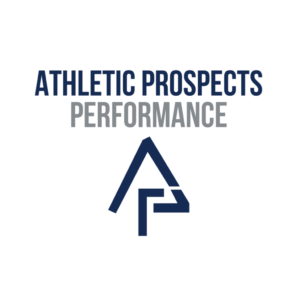 Nick Bruce and Spencer Berry collected assists on Calverley's goal. Bryson Traptow along with Moretz assisted on Petrucci's tally. Jake Hamacher and Elijah Gonsalves collected helpers on a Moretz's score.
Logan Drackett made 20 saves for the win. The senior denied Canisius on a pair of power play opportunities late in the third.
RIT played the game without senior defenseman Regan Seiferling who has now missed the past two games. Wilson pointed to the improvement shown by his young defensive corps.
"We have a lot of young guys," Wilson said referring to Calvon Boots, Diarmad Dimurro, Dimitri Mikrogiannakis and Alden Hansen-Bukata. "They're growing up right before eyes. They're really doing a good job.
RIT came into the game fourth in the nation averaging 4.00 goals per game as well as seventh in the country with 10.36 points per outing.
Jami Virtanen and Max Kouznetzov scored for Canisius (3-2-0) early in the second period.
The game was the first of three in four days between conference foes. The series shifts to the Harbor Center in Buffalo on Sunday. A 7:05 puck drop is scheduled.
"I've got to get more fourth line out there a lot more than I have, for sure. Four games in six (days), it's going to be difficult."