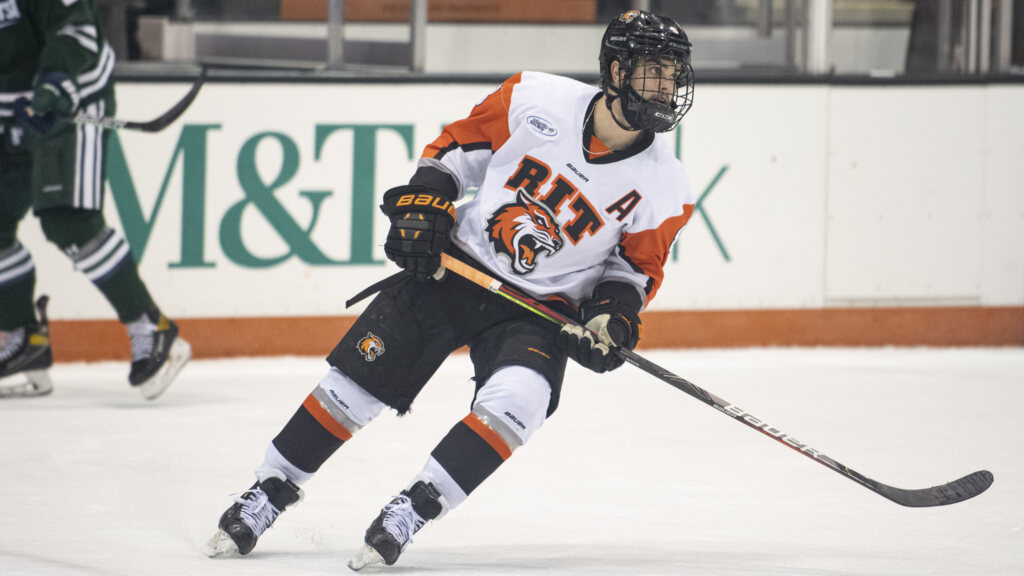 By PAUL GOTHAM
ROCHESTER, N.Y. — Playing their first game in more than three weeks, the RIT Tigers found themselves in a familiar hole.
And a reliable source fueled the comeback.
Will Calverley delivered his second hat trick of the season, and the Tigers put the brakes on a three-game winless skid.
"It felt good to finally play and to get that one makes it special," Calverley said after RIT's 6-4 win over Mercyhurst in Atlantic Hockey action at the Gene Polisseni Center.
The junior forward tallied RIT's first goal of the night, later converted on a short-handed situation and then provided the go-ahead score in the middle of three unanswered to finish the game.
"He does everything for us: kills penalties, goes on the power play, takes faceoffs, scores big goals," Tigers' head coach Wayne Wilson said. "He just gives a strong effort."
Trailing 2-0, Calverley got the Tigers on the board late in the first. His second goal came early in the second period and started to shift the game's momentum.
Playing two man short, Calverley won a faceoff in RIT's zone and then scooted past an opposing blueliner before going the length of the ice to beat Mercyhurst netminder Hank Johnson on the short side.
"The draw was a scramble," the Scarborough, Ontario native explained. "It bounced kinda to the middle. The D was in between and didn't know whether to pinch or not.
"I was just lucky enough to chip it over his stick. I had all the momentum going forward. I was able to win the race from there."
🚨A SHORTY! A 5-ON-3 SHORTY!🚨@Wcalverley8 #GoTigers #RITvsMercyhurst pic.twitter.com/GTDb22auRw

— RIT Men's Hockey (@RITMHKY) January 28, 2021
Calverley gave the Tigers their first lead, an advantage they did not surrender, less than two minutes into the third period when he scored on a breakaway.
Teammate Nick Bruce intercepted a clearing just outside the Mercyhurst blue line and fed Calverley along the right wing for his third marker of the night.
"You hope to bury a breakaway on a two-on-o," he said.
Calverley's second hat trick of the season, though, almost didn't happen. When the junior center saw the play developing, he figured to return the favor and set up his linemate. That is until Bruce fell to his knees in the Mercyhurst end. From that compromised position, Bruce gathered himself enough to send a pass.
"I was a little concerned," Calverley said laughing. "As soon as a I saw the two-on-o, I was getting ready for a pass. Honestly, I was probably going to give it back. When I saw him fall, I got nervous that he was going to lose it. It was funny to see him do that. He made a great recovery and a great pass."
🚨HAT-TRICK FROM CALVERLEY🚨
WHAT A PASS FROM BRUCE!! RIT TAKES THE LEAD!! #GoTigers #RITvsMercyhurst pic.twitter.com/uy5VNSerTl

— RIT Men's Hockey (@RITMHKY) January 28, 2021
As for his teammate's folly, Calverley put to rest any chance that the Gene Polisseni Center staff was to blame for a poor ice surface causing the fall.
"That one's on him," Calverley said of his teammate. "I think he just toe-picked. Got a little excited I guess."
With Thursday's effort, Calverley increased his team-leading total to nine goals to go with 10 assists. He is tied for fourth nationally with 19 points, this despite playing at least three fewer games than any of the top 20 individual scorers in Division I men's hockey.
"He's a coach's dream," Wilson said. "I depend on him a lot. Hopefully, I give him some confidence because he gives me a lot of confidence behind the bench."
Calverley notched his first hat trick in RIT's season-opening win over Clarkson.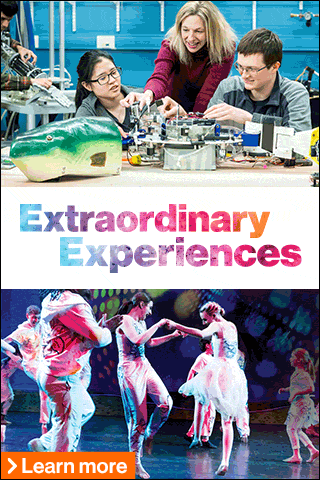 Logan Drackett made 23 saves for his fourth win of the season and 42nd of his career – breaking a tie in that category with Jared DeMichiel for the program lead in the Division I era. Drackett also appeared in his 95th game between the pipes – another program record.
After allowing two goals on Mercyhurst's first three shots of the game, the senior made 11 saves in the third period including a pair of point-blank stops in short-handed situations.
"He showed a little rust early," Wilson said of his goalie. "He got into the game in the third period. That was his best period."
Alden Dupuis converted on the power play for RIT's third goal. Bruce and Jake Joffe assisted on the play.
This time on the power play: Alden Dupuis one-times a Nick Bruce pass to light the lamp. Jake Joffe also gets a helper on the play. 14:50 to go in the second Mercyhurst 3 @RITMHKY 3 pic.twitter.com/nTehIaOxEd

— Paul Gotham (@PickinSplinters) January 28, 2021
Elijah Gonsalves evened the game at four with 24.4 seconds remaining in the second period. Dan Willett and Jake Hamacher were credited with assists.
Elijah Gonsalves evens the score at 4 with 24.4 remaining in the second. @RITMHKY pic.twitter.com/vEBKEAkOMS

— Paul Gotham (@PickinSplinters) January 28, 2021
"The timing of the goal obviously was really big and gave us a lift," Wilson said. "I thought the biggest thing was getting the puck to the net because we had been playing around the horn, a puck-control game. But you got to get the puck to the net, and I thought Hamacher and Willett ddi that. Really a second-effort goal."
Hamacher scored on a penalty shot in third period to provide some insurance.
Jake Hamacher takes advantage of the penalty shot to give @RITMHKY a 6-4 lead with 8:18 left in the third. pic.twitter.com/qgVo8bPsZt

— Paul Gotham (@PickinSplinters) January 29, 2021
RIT (5-4-2) has allowed the first goal in each of its six Atlantic Hockey games this season.
The Tigers, which had not played since January 3rd because of COVID-19 protocols, were without five players Thursday night including senior defenseman Regan Seiferling and junior forward Kobe Walker.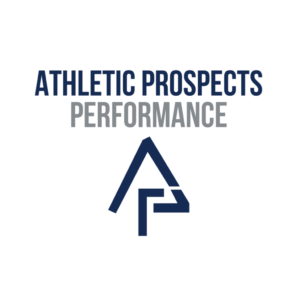 Mercyhurst (6-6-1), currently in third place in the Atlantic Hockey standings with 16 points, came into the game winners of four straight including a pair over Robert Morris which is tied for first in the league. Mercyhurst last played on January 23rd.
The Lakers feature freshman center Carson Briere, the son of former NHL player Daniel Briere.
RIT hosts Canisius this Saturday.