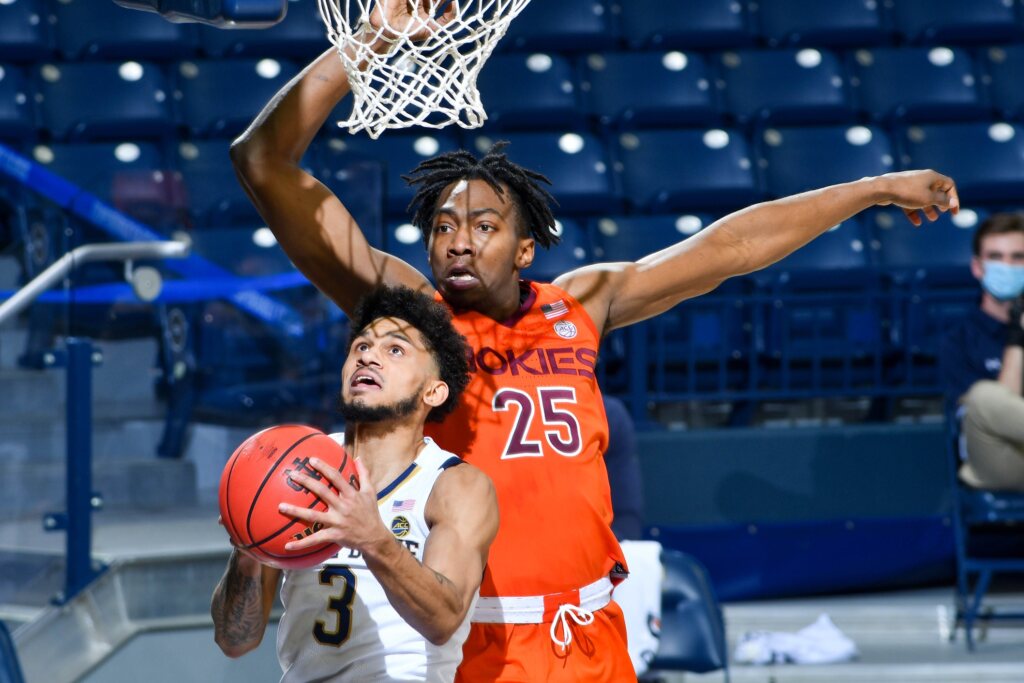 MIAMI (6-9) 59
No. 16 FLORIDA STATE (10-2) 81
Florida State held its in-state rivals to 37 percent shooting (20-of-54) and corralled 45 rebounds en route to a sixth straight victory in the head-to-head matchup. Sardaar Calhoun, Malik Osborne and M.J. Walker all scored 11 points each to lead a balanced Seminoles offense. Osborne snatched 10 boards for a double-double while Walker made 5-of-6 field goals. RaiQuan Gray chipped in 10 points and grabbed 11 rebounds as 11 total players scored for the Seminoles. For Miami, Isaiah Wong knocked down three of his six shots from behind the arc as part of his game-high 21 points. The sophomore guard added three assists and one rebound as well. Kameron McGusty and Anthony Walker both contributed 13 points.
PENN STATE (5-7) 79
No. 13 OHIO STATE (13-4) 83
E.J. Liddell made four straight free throws, including a pair with 1.9 seconds left, as Ohio State ended the contest on a 6-0 run. Trailing 79-77 with two minutes remaining, Justice Sueing tied the contest with two foul shots before Liddell made his four. The Buckeyes forced three missed field goals and one turnover in the final two minutes as well. Overall, Liddell converted 10-of-10 free throws and 6-of-9 field goals for 22 points. The sophomore forward corralled seven rebounds as well. Sueing recorded a double-double of 13 points and 10 boards. Zed Key made all five of his shots as part of his 11-point performance. Kyle Young went 3-of-3 from the field for 10 points and grabbed five rebounds. For Penn State, Seth Lundy scored 17 of his game-high 26 points in the first half. Izaiah Brockington netted 18 points and John Harrar 15 plus 10 boards. Myreon Jones chipped in 10 points.
No. 17 CREIGHTON (12-4) 85
SETON HALL (9-7) 81
Mitch Ballock made the go-ahead three-pointer with 41 seconds left to lift Creighton to a comeback victory. Tied at 81, the senior guard swished his seventh long-range shot of the game from the left wing. Denzel Mahoney iced the contest with a free throw with five seconds remaining. Ballock led the 16-point comeback with a game-high 29 points. Marcus Zegarowski netted five three-pointers as part of his 18-point performance. Damien Jefferson posted 14 points and five rebounds while Mahoney had 13 points and seven boards. For Seton Hall, Bryce Aiken converted seven of his 10 field goals and 4-of-4 free throws for 21 points. Myles Cale finished just shy of a double-double with 20 points and nine rebounds. Jared Rhoden scored 13 points and grabbed six boards. Sandro Mamukelashvili chipped in 11.
No. 20 VIRGINIA TECH (12-3) 62
NOTRE DAME (5-9) 51
Virginia Tech held Notre Dame to 17 percent shooting (20-of-56), including 3-of-18 from behind the arc, to grind out the road victory. The Hokies confined the Fighting Irish to 22 and 29 points in the first and second halves, respectively, as well. Nahiem Alleyne led with 15 points, nine rebounds and five assists. Keve Aluma and Justyn Mutts both netted 14 points. Aluma hauled in 12 boards and Mutts 11. Hunter Cattoor made four long-range shots as part of his 13 points. For Notre Dame, Prentiss Hubb scored 17 of his game-high 22 points in the first half.
KANSAS STATE (5-12) 59
No. 2 BAYLOR (15-0) 107
Davion Mitchell poured in a career-high 31 points as Baylor cruised to its 15th consecutive victory. The junior guard knocked down seven long-range shots and 12-of-16 field goals overall. Mitchell dished out five assists, swiped three steals and collected two rebounds as well. MaCio Teague had 18 points, six rebounds, five assists and a steal. Jared Butler contributed 13 points, seven boards, five assists and three steals. Matthew Mayer chipped in 10 points off the bench. For Kansas State, Nijel Pack led with 11 points, five rebounds and five assists.
No. 14 WISCONSIN (13-4) 61
MARYLAND (9-8) 55
Micah Potter posted a double-double of 23 points and 12 rebounds as Wisconsin surged to a 38-20 halftime advantage and held on for the victory. The senior forward made 8-of-12 field goals, including 4-of-6 from beyond the arc and 3-of-3 free throws. Potter added two assists as well. D'Mitrik Trice netted 13 points, corralled eight boards and handed out three assists. For Maryland, Aaron Wiggins led with 18 points, two rebounds, an assist and a steal. Donta Scott had 13 points and eight boards while Darryl Morsell added 11 points and five assists.
No. 25 LOUISVILLE (10-4) 50
CLEMSON (10-4) 54
Four players scored during a 12-4 run as Clemson pulled away and held on for its 10th victory of the season. Tied at 37 with eight minutes remaining in the contest, Hunter Tyson netted the go-ahead jumper. Aamir Simms made a layup and two free throws. Clyde Trapp nailed a mid-range jumper and foul shot. Al-Amir Dawes capped off the run with a three-pointer to extend the Tigers' lead to 49-41 with 2:51 left in the game. The Tigers forced seven missed field goals and a turnover during the run as well. Simms led with a game-high 16 points, nine rebounds and four assists. Dawes netted four long-range shots as part of his 15 points. Tyson chipped in 10 points. For Louisville, Carlik Jones had 11 points, five rebounds and three assists.
OTHER SCORES
RHODE ISLAND 73
LA SALLE 60
DUQUESNE 86
FORDHAM 62
EAST CAROLINA 64
UNIVERSITY OF CENTRAL FLORIDA 71
MARQUETTE 63
PROVIDENCE 72 (OT)
BOWLING GREEN 91
KENT STATE 96
VANDERBILT 71
FLORIDA 78
GEORGIA 59
SOUTH CAROLINA 83
WAKE FOREST 67
NORTH CAROLINA STATE 72
OLE MISS 59
ARKANSAS 74
WASHINGTON STATE 58
COLORADO 70
ST. JOHN'S 81
DEPAUL 68
DRAKE 78
MISSOURI STATE 73