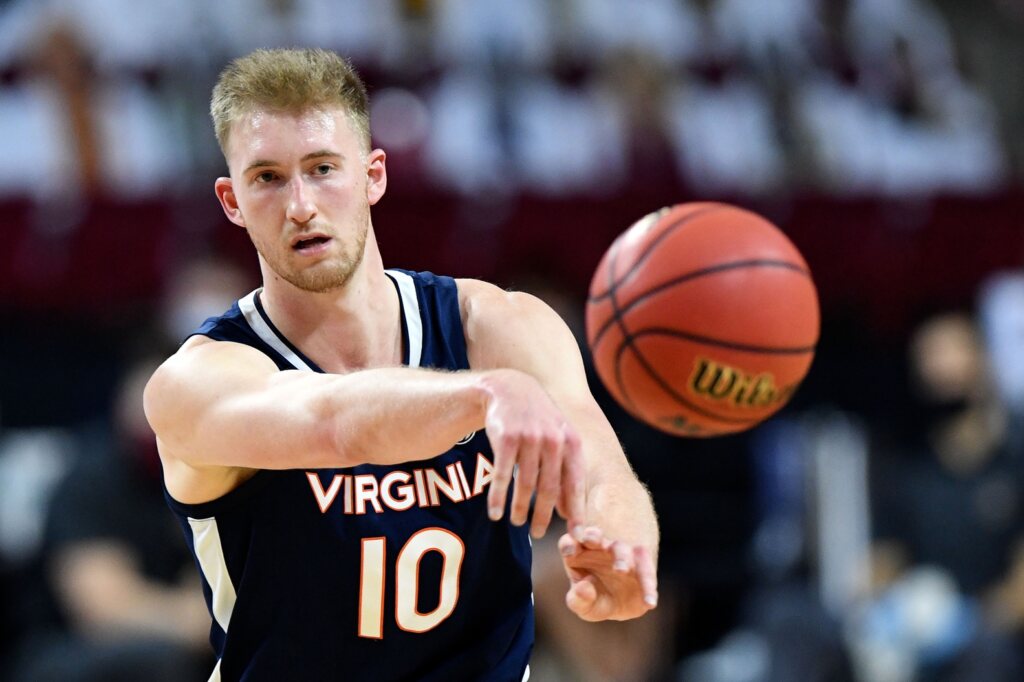 By PAUL CIFONELLI
Virginia basketball is known for its defense. According to College Basketball Reference, the Cavaliers have led the NCAA in points allowed per game in six of the last seven seasons. The one time they didn't, they finished second. Virginia used that vaunted defense, combined with some hot three point shooting, to blow out Syracuse, 81-58.
The Cavaliers were at their smothering best, holding Syracuse to 37.3 percent (22-for-59) shooting from the floor. The Orange were also a paltry 20.8 percent (5-for-24) from deep. Quincy Guerrier was the most affected by the Cavaliers' defense, as the 57.6 percent shooter made just 6-of-16 (37.5 percent) field goals.
Syracuse coach Jim Boeheim knew that his team needed to put up points to win because of Virginia's reputation.
"We needed to score," Boeheim said. "Offensively, I thought we got some pretty good looks and we didn't make enough of them to stay in the game. But [Virginia's] really good and I think we'll learn something from this game."
Offensive board ➡️ open 👌

Buddy cuts UVA lead to 4

Watch on https://t.co/Ux1UmVjSOl pic.twitter.com/NFm5E3S7e8

— Syracuse Basketball (@Cuse_MBB) January 26, 2021
Syracuse's continued struggles on the boards once again played a factor. Virginia outrebounded the Orange 41-28, but did it differently than some other teams. While North Carolina and Pittsburgh dominated the offensive glass en route to massive rebounding advantages, Virginia controlled 34 of 38 possible defensive rebounds, good for 89.5 percent.
Virginia led for the final 35:35 thanks to a quick 12-0 run early in the game. The Cavaliers were down 6-2 but turned that into an eight-point lead that never got smaller than four. Syracuse used an 8-0 run toward the end of the half to create the four-point deficit, but Virginia won the final three minutes of the half 5-0 to take a nine-point lead into the break.
Sam Hauser, who made seven threes, buried a triple early in the second half to give the Cavaliers a double digit lead that never dipped below 11. Hauser did most of his damage in the first half, going 5-for-8 from downtown in the opening 20 minutes.
As a team, Virginia shot 45.2 percent (14-for-31) from behind the arc. Syracuse continually left shooters open and the Cavaliers didn't miss. Trey Murphy III made four threes, while Jay Huff, Reece Beekman and Casey Morsell all had one apiece.
Syracuse was willing to give up some threes in order to stop other things, but the Cavaliers just didn't miss much.
"The lob pass, we've gotta help on that. Getting the ball in the middle, Huff's good in there," Boeheim said. "You've gotta give something, someplace. So you're going to give some shots up. They make threes against everybody. They make them against man-to-man, zone. They're a good shooting team."
Guerrier led Syracuse in scoring with 16 points. He also chipped in seven rebounds. Alan Griffin aided Guerrier with 13 points and eight rebounds. Buddy Boeheim was held to nine points and just one made three in seven attempts. Marek Dolezaj (8), Joe Girard III (8), Robert Braswell (3) and Kadary Richmond (2) also played and scored for the Orange.
Guerrier with the 3-point play ✊

🔸9 pts
🔸7 rebounds pic.twitter.com/jF0YiFs7dn

— Syracuse Basketball (@Cuse_MBB) January 26, 2021
Hauser and Huff both scored 21 points for Virginia. Huff secured the double-double by also grabbing 12 boards. Murphy and Beekman also went into double figures, netting 16 and 10, respectively. Morsell (7), Kihei Clark (4) and Francisco Caffaro (2) rounded out the Cavaliers' scoring. Clark also dished out nine dimes, marking the second straight year he hit that mark against the Orange.
Syracuse will look to even up its ACC record at 4-4 on Sunday at 6 PM when the Orange host North Carolina State. Virginia, sitting atop the ACC at 7-0 in conference, takes on No. 20 Virginia Tech on Saturday.