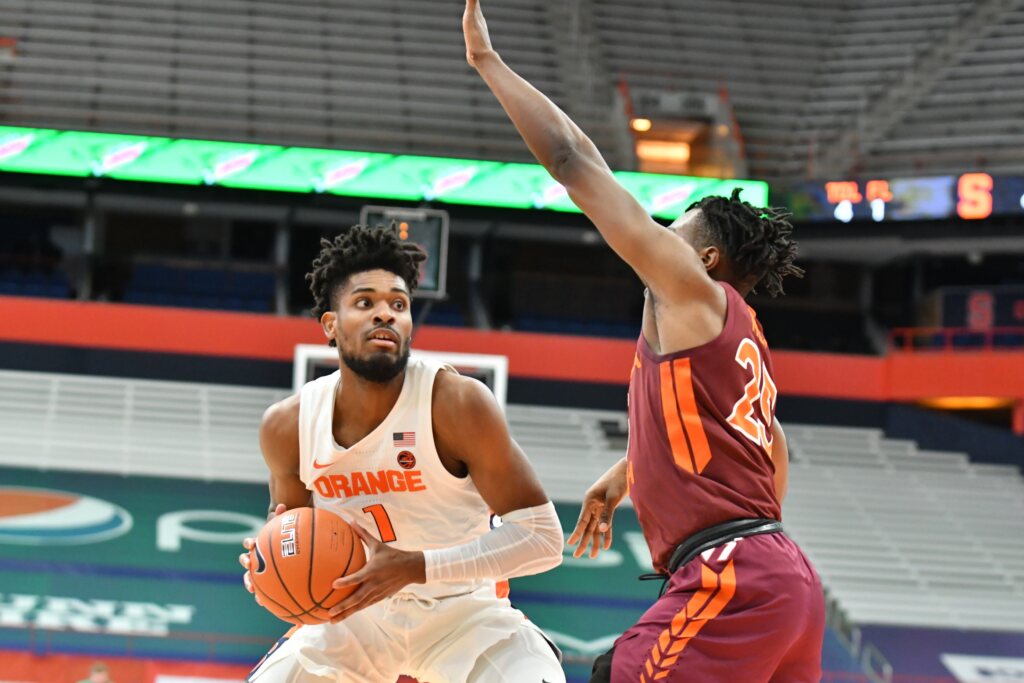 By PAUL CIFONELLI
With Syracuse holding a 47-44 lead with 13:48 left in the second half, the game could've gone either way. Virginia Tech outscored the Orange 10-7 in the half and was beginning to pick up momentum. After that point, Syracuse outscored the Hokies 31-16 to pick up a 78-60 win over the No. 16 team in the AP Top 25 Poll.
Quincy Guerrier scored 11 of his team-high 20 points for Syracuse in that final stretch. The 6-foot-7 forward came one rebound shy of a double-double. Kadary Richmond contributed nine of the Orange's final 11 points, the last of which gave Syracuse a 25-point lead.
Get out the way! 😤@quincyguerrier

Watch: https://t.co/M2OojvwqpP pic.twitter.com/UdoL4CKsH3

— Syracuse Basketball (@Cuse_MBB) January 23, 2021
While Syracuse's offense helped contribute to the final run, the defense really stepped up and kept Virginia Tech off the board. The Hokies shot 25 percent (5-for-20) with three turnovers during the final 13:48.
The first half was a back-and-forth affair, with each team going on a few runs to pull away or even the score. It started with Virginia Tech going from down 4-3 to up 10-4. Immediately following that, Syracuse took a 15-10 lead. After the teams exchanged baskets a few times, the Hokies went on another 10-0 run. The Orange ended the half on an 11-3 run to take a 40-34 advantage into the halftime break.
Syracuse's offense was efficient throughout the entire contest, making 50.9 percent of its field goals (28-for-55) despite shooting 4-for-13 from behind the arc. The defense held Virginia Tech to 32.8 percent (20-for-61) shooting and forced 10 turnovers. Syracuse had seven steals and eight blocks, with Alan Griffin setting a new career-best with seven blocked shots.
Griffin aided Guerrier offensively with a 15-point, 10-rebound double-double. Marek Dolezaj played all 40 minutes and scored 18 points on eight made foul shots. Richmond finished with 13 points on 5-of-6 shooting. Buddy Boeheim and Joe Girard III rounded out Syracuse's scoring, adding seven and five points, respectively. Girard also pitched in five rebounds and four assists.
Crash the boards! 😤@alangriffin_

Watch on YES: https://t.co/M2OojvwqpP pic.twitter.com/V4Lodva6KV

— Syracuse Basketball (@Cuse_MBB) January 23, 2021
Nahiem Alleyne paced the Hokies with 20 points on five made triples. Tyrece Radford scored 10 points and also contributed seven boards. David N'Guessan netted 10 points in 14 minutes for Virginia Tech. Justyn Mutts (9), Hunter Cattoor (6), Jalen Cone (3) and Keve Aluma (2) rounded out the Hokies' scoring. Aluma averages 14.8 points per game and was just 1-for-10 from the field today.
Syracuse will look to extend its winning streak on Monday, when the Orange travel to take on Virginia at 7 PM. Virginia Tech's next game is on Wednesday at Notre Dame.