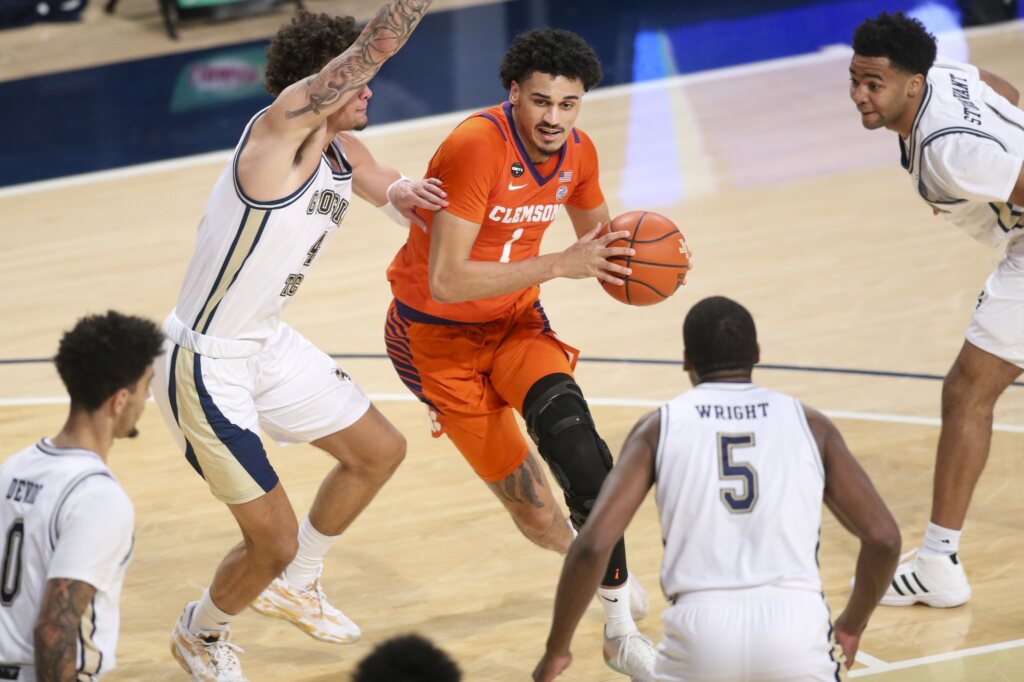 PROVIDENCE (8-6) 74
No. 11 CREIGHTON (10-4) 70
David Duke hit a three-pointer with 28 seconds remaining to help Providence hold on for a wire-to-wire victory. Leading 67-65 with time winding down on the shot clock, the junior guard banked in a fadeaway long-range shot from the left wing in front of his team's bench. Duke netted a pair of free throws with two seconds left to secure the win as well. Overall, the 6-foot-5 guard had 12 points, six boards and five assists. Nate Watson led the Friars with 29 points on 12-of-19 shooting and six rebounds. Alyn Breed made 4-of-5 field goals, including 2-of-2 from long range, as part of his 15-point performance. Jimmy Nichols, Jr. chipped in 10 points. For Creighton, Damien Jefferson converted 9-of-13 field goals as part of his career-high 26 points. Marcus Zegarowski netted 17 points and Christian Bishop 12.
No. 20 CLEMSON (9-3) 65
GEORGIA TECH (7-3) 83
Georgia Tech scored 39 second-half points on 64 percent shooting to pull away and take down Clemson. After allowing them to shoot 60 percent from the field in the first half, the Yellow Jackets held the Tigers 38 percent in the second. Michael Devoe netted 13 of his game-high 22 points in the last 20 minutes. The junior guard knocked down three long-range shots, a mid-range jumper and a layup in the second half. Devoe dished out six assists and grabbed four rebounds as well. Jordan Usher and Moses Wright both recorded 21 points, three rebounds and three assists. Usher hit 5-of-8 three-pointers while Wright made 9-of-15 field goals. For Clemson, Aamir Simms converted 9-of-13 field goals for 19 points along with five rebounds and three assists. Clyde Trapp scored 14 points and corralled seven boards. John Newman III had 12 points and Nick Honor 10.
TULSA (8-5) 59
No. 8 HOUSTON (12-1) 86
Marcus Sasser scored 18 of his game-high 26 points in the first-half as Houston surged to a 45-19 advantage and cruised to victory. The 6-foot-1 guard netted four long-range shots and a pair of mid-range jumpers through the opening 20 minutes. Overall, Sasser hit six three-pointers and collected three rebounds and one assist in 25 minutes. Quentin Grimes posted 18 points, seven boards and five assists. Tramon Mark chipped in 11 points and six rebounds. For Tulsa, Brandon Rachal led with 18 points, three rebounds and three assists. Keshawn Williams collected six of his 10 points from the charity stripe.
NORTHWESTERN (6-7) 52
No. 10 WISCONSIN (12-3) 68
Four different players scored during a 12-0 run as Wisconsin pulled away for the win. Leading 44-39 less than six minutes into the second half, Tyler Wahl made a three-pointer and dished an assist to Trevor Anderson for a layup. Anderson converted back-to-back layups. Nate Reuvers knocked down a mid-range jumper and Micah Potter a three-pointer for a commanding 56-39 advantage. Wahl led a balanced Badgers' offense with 14 points, six rebounds and a pair of assists. D'Mitrik Trice had 12 points and four assists. Brad Davison chipped in 11 points and Potter 10. For Northwestern, Chase Audige made 4-of-5 three-pointers as part of his 16-point performance. Miller Kopp added 10 points. Anthony Gaines posted five points and five boards.
ALSO:
VCU 54
ST. BONAVENTURE 70
St. Bonaventure opened the second half on a 20-3 run, making eight of its 10 field goal attempts and overtaking the Rams for the lead just 5:44 into the second period. The Bonnies rode the momentum to a 70-54 victory, turning a possible blowout loss into a sizable win in a clash for first place in the conference. READ MORE.
BUFFALO (WBB) 81
OHIO 84
Dyaisha Fair (Edison Tech) notched a double-double of 21 points and 11 boards. The 5-foot-5 guard knocked down three long-range shots and 4-of-4 free throws and added four assists and four steals in 37 minutes.
OTHER SCORES
FORDHAM 58
DAVIDSON 73
RHODE ISLAND 69
DUQUESNE 71
ST. JOSEPH'S 85
GEORGE MASON 87 (2OT)
WAKE FOREST 73
NORTH CAROLINA 80
LOYOLA CHICAGO 75
VALPARAISO 39
BRADLEY 56
ILLINOIS STATE 71
COLORADO 80
WASHINGTON 84
KENTUCKY 62
GEORGIA 63
AUBURN 73
ARKANSAS 75