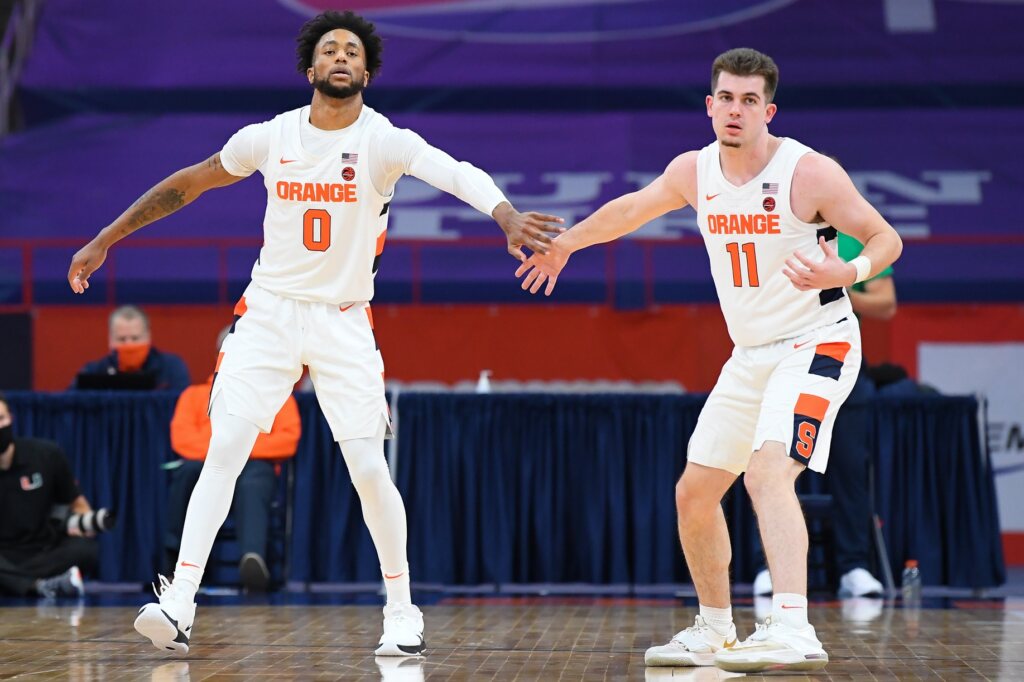 By PAUL CIFONELLI
With 9:26 remaining in the first half, Earl Timberlake made a layup to tie the game at 14 for Miami. From that point on, Syracuse outscored the Hurricanes 69-43 to give the Orange an 83-57 victory to snap a two-game losing skid.
Syracuse went on a 22-8 run from that 9:26 point in the first half, which gave the Orange a 36-22 halftime lead. Joe Girard III led the way on the run with eight points, but Kadary Richmond, Jesse Edwards, Buddy Boeheim and Quincy Guerrier also scored for the Orange in the stretch.
Girard's scoring toward the end of the half was what got the Orange going, according to Syracuse coach Jim Boeheim.
"Obviously, we made some shots tonight. Joe got it going early," Jim Boeheim said. "With Kadary coming in and Jessie coming in, Kadary made two steals right away and got the ball to Joe, who made two big shots. It was 11-2 and after that it was like 50-20 or something like that."
Marek Dolezaj was on the bench for a majority of the first half in foul trouble, paving the way for Jesse Edwards to log his most playing time this season. Edwards finished with seven points, six boards, two steals and a blocked shot.
"With Marek getting in foul trouble, Jessie was monstrous for us," Jim Boeheim said. "He did a great job in the middle. He's still got a long way to go but he rebounded it and was a presence out there. He was big."
The Orange stepped up defensively after allowing 177 points over the last two games. Miami only shot 39.3 percent (22-for-56) from the field and 16 percent (4-for-25) from three. Isaiah Wong, the Hurricanes' leading scorer who netted 30 points in his team's upset win over Louisville on Saturday, was held to 16 points on 5-for-16 from the field. Additionally, Miami turned the ball over 17 times to Syracuse's eight.
Syracuse got big days out of Buddy Boeheim and Girard, as the guards led the Orange with 23 points apiece. Buddy Boeheim went 5-for-9 from three, while Girard went 4-for-8. Syracuse as a team made 10-of-25 shots from deep.
Guerrier came two rebounds short of another double-double, scoring 18 points and grabbing eight boards. Richmond also filled up the stat sheet again with seven points, eight assists and five steals. Richmond had eight of Syracuse's 19 assists and five of its 11 steals. Alan Griffin also scored five points for the Orange.
Anthony Walker started the game hot for Miami, scoring nine of his 13 points in the first seven minutes of the first half. Kameron McGusty (9), Nysier Brooks (6), Elijah Olaniyi (4), Timberlake (4), Harlond Beverly (3) and Willie Herenton (2) rounded out the Hurricanes' scoring.
Syracuse's next game is on Saturday, when the Orange will host No. 16 Virginia Tech. The game will tipoff at noon. Miami will look to get back in the win column on Sunday at Notre Dame.