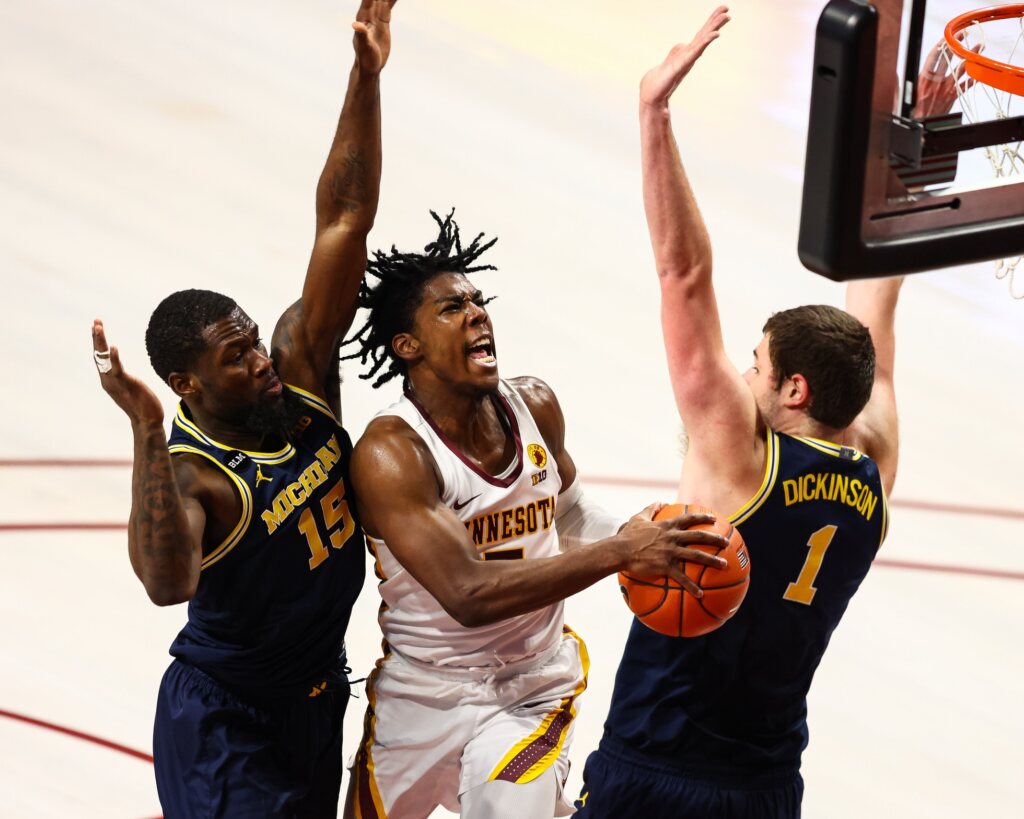 NO. 1 GONZAGA (14-0) 73
SAINT MARY'S (9-5) 59
Corey Kispert finished with 17 points to lead four in double figures for Gonzaga. Joel Ayayi added 16 points while Drew Timme and Jalen Suggs had 14 apiece. The Bulldogs won despite handing out just six assists while committing 11 turnovers. Gonzaga entered the game averaging 21 helpers per game.
NO. 2 BAYLOR (12-0) 68
NO. 15 TEXAS TECH (11-4) 60
Adam Flagler came off the bench and scored 15 points including five during a decisive second-half run as Baylor improved to 5-0 in Big 12 play. Trailing 45-44 with 7:11 remaining in the game, Flagler connected on the go-ahead jumper to give Baylor a lead it did not surrender. Less than four minutes later, the sophomore guard connected on his third 3-pointer of the game for a 59-51 Bears lead. Flagler connected on 5-of-8 shots from the floor including 3-of-6 from distance.
Davion Mitchell led Baylor with 19 points on 6-of-12 shooting. Macio Teague aded 12 points. The two teams combined for 36 turnovers. Baylor converted 20 Texas Tech miscues into a 22-12 advantage in points off turnovers.
Texas Tech's Mac McClung led all scorers with 24 points. Marcus Santos-Silva grabbed 11 rebounds. Kevin McCullar posted a double-double with 10 points and 10 rebounds.
KANSAS STATE (5-9) 67
NO. 4 TEXAS (11-2) 82
Kamaka Hepa connected on back-to-back 3-pointers to give Texas a 24-12 lead less than 12 minutes into the contest, and the Longhorns did not allow Kansas State within single digits for the remainder of the contest. Hepa finished with 15 points on 5-of-8 shooting from long range. Andrew Jones paced Texas with 19 points. Courtney Ramey and Jericho Sims added 14 apiece. Ramey handed out nine assists.
Davion Bradford paced Kansas State with 14 points.
NO. 7 MICHIGAN (11-1) 57
NO. 23 MINNESOTA (11-4) 75
Minnesota led wire-to-wire and shot 17-of-28 (60.7 percent) in the second half to pull away from a seven-point halftime lead. Junior center Liam Robbins connected on a 8-of-13 shots from the floor and finished with a game-high 22 points, and Minnesota avenged an earlier loss (82-57) to Michigan. Marcus Carr added 17 points, and Gabe Kalscheur had 10. The Golden Gophers shot 25-for-44 inside the arc.
Minnesota held Michigan to 22-of-56 (39.3 percent) shooting for the game.
NO. 8 CREIGHTON (10-3) 66
BUTLER (4-7) 70 OT
Myles Tate scored five of his 15 points during an 8-0 Butler run to close the overtime, and the Bulldogs snapped a two-game skid. Tate's 3-pointer pulled Butler within one at 66-65, and teammate Bryce Nze finished a layup for the go-ahead bucket. Aaron Thompson led Butler with 17 points. Nze added 15, and Chuck Harris scored 10 off the bench.
VANDERBILT (4-6) 61
NO. 10 TENNESSEE (10-1) 81
Keon Johnson scored 16 points off the bench and led four in double figures as Tennessee won its third straight game. Johnson connected on a 4-of-8 shots from the floor and 7-of-8 from the free throw line. John Fulkerson added 15 points, and Victor Bailey, Jr. had 11 in the win.
The Volunteers converted 16 Vanderbilt turnovers into a 20-9 advantage in points off those miscues.
Vanderbilt's Dylan Disu scored 19 points on 7-of-9 shooting from the floor.
NO. 18 VIRGINIA (9-2) 85
NO.12 CLEMSON (9-2) 50
Five finished in double figures, and Virginia's defense limited Clemson to 5-of-23 shooting from behind the 3-point arc. Sam Hauser and Tomas Woldentensae scored 14 apiece for the Cavaliers. Trey Murphy III added 13 points while Kihei Clark and Jay Huff had 12 apiece.
Reece Beekman handed out six assists part of an overall effort which saw the Cavaliers collect 22 helpers on 34 made field goals.
NO. 21 OHIO STATE (11-3) 87
NO. 14 ILLINOIS (9-5) 81
E.J. Liddell scored five as Ohio State opened a 10-2 lead to start the game and did not trail for the remainder of the contest. Liddell finished with a game-high 26 points on 10-of-16 shooting including 4-of-7 from behind the 3-point arc. The Buckeyes shot 11-of-21 from long range as a team. Justin Ahrens, Duane Washington, Jr. and Seth Towns scored 11 apiece in the win. Ohio State has won three straight.
NO. 16 LOUISVILLE (9-2) 72
MIAMI (6-6) 78
Isaiah Wong scored nine of game-high 30 points in the first half as Miami built a 33-21 lead at the break and held off Louisville for the final 20 minutes. Wong connected on 12-of-20 shots for the game. Matt Cross added 16 points off the bench, and Elijah Olaniyi had 15 points to go with 10 rebounds. Nysier Brooks grabbed 11 boards.
The Hurricanes limited Louisville to 3-of-20 shooting from behind the 3-point arc.
NO. 17 MISSOURI (8-2) 68
TEXAS A&M (7-5) 52
Jeremiah Tilmon posted a double-double with 14 points and 10 rebounds to lead Missouri. Dru Smith paced the Tigers with 15 points. Javon Pickett had 12 points.
ALSO:
KENT STATE (6-3) 89
OHIO (7-6) 79
Miles Brown (Northstar Christian) collected three points, two assists, a steal and a rebound in 19 points off the bench for Ohio.
GREEN BAY (3-11) 65
DETROIT MERCY (3-7) 68
Noah Waterman (Finger Lakes Christian) grabbed six rebounds and scored three points in 26 minutes of action.
OTHER SCORES:
DAVIDSON 77
LA SALLE 53
GEORGE MASON 60
RHODE ISLAND 80
SYRACUSE 76
PITTSBRUGH 96
NORTH CAROLINA 75
FLORIDA STATE 82
BOSTON COLLEGE 70
NOTRE DAME 80
NIAGARA 55
MANHATTAN 58
QUINNIPIAC 63
MONMOUTH 70
FAIRFIELD 55
MARIST 52
SIENA 74
RIDER 72
MARQUETTE 73
ST. JOHN'S 71
VALPARAISO 58
DE PAUL 77
NORTHERN ILLINOIS 58
BALL STATE 78
TOLEDO 94
AKRON 95 OT
EASTERN MICHIGAN 64
CENTRAL MICHIGAN 75
AMERICAN 86
NAVY 87 OT
HOLY CROSS 55
COLGATE 95
ARMY 79
BOSTON U. 59
LEHIGH 70
BUCKNELL 75
LOYOLA (MD) 75
LAFAYETTE 77
HARTFORD 70
UMBC 63
NEW HAMPSHIRE 81
STONY BROOK 64
UMASS LOWELL 92
BINGHAMTON 78
MAINE 30
VERMONT 65
NJIT 75
ALBANY 83
INDIANA STATE 73
ILLINOIS STATE 65
EVANSVILLE 60
BRADLEY 69
NORTHERN IOWA 57
LOYOLA CHICAGO 72
GEORGIA 78
OLE MISS 74
KENTUCKY 59
AUBURN 66
ARKANSAS 59
ALABAMA 90
FLORIDA 69
MISSISSIPPI STATE 72
SOUTH CAROLINA 80
LSU 85
STANFORD 64
COLORADO 77
WASHINGTON 76
UCLA 81
ARIZONA STATE 79
OREGON STATE 80
WASHINGTON STATE 77
USC 85
CALIFORNIA 72
UTAH 63