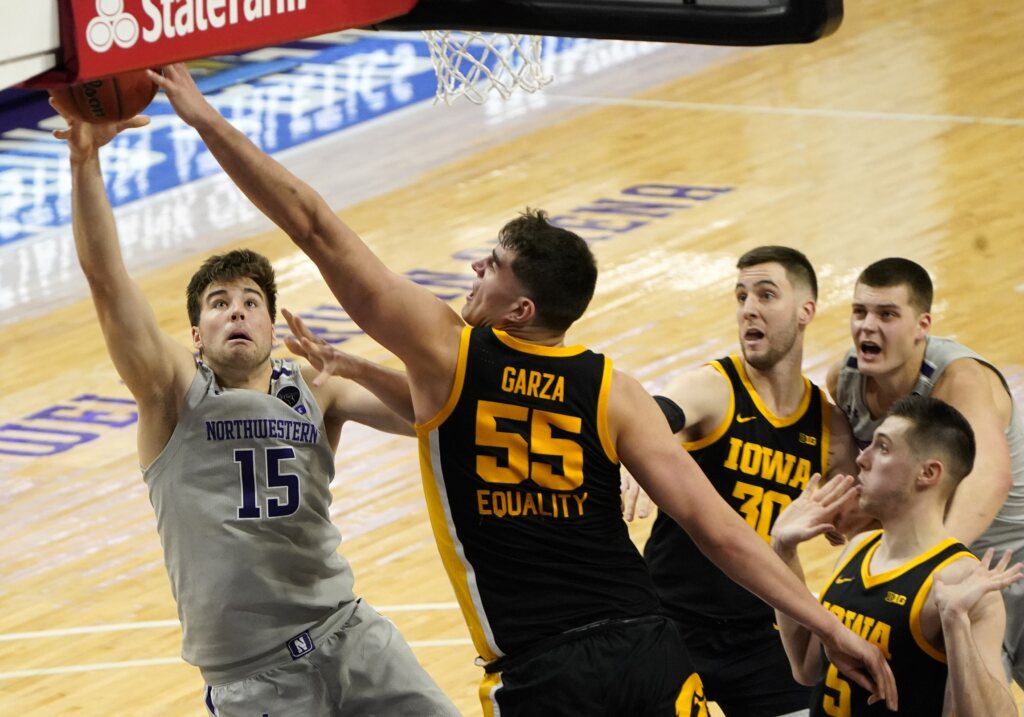 NO. 5 IOWA (12-2) 96
NORTHWESTERN (6-6) 73
Luka Garza posted his sixth double-double of the season, and Iowa won its fifth straight game. Garza finished with game highs of 17 points and 10 rebounds The senior center connected on 7-of-12 shots including 1-of-3 from behind the 3-point arc over 24 minutes of action. Joe Wieskamp added 16 points while CJ Frederick had 13, Jack Nunge 12 and Jordan Bohnannon 11. Iowa as a team shot 57.9 percent (33-57) from the floor and handed out 22 assists.
Pete Nance led Northwestern with 16 points.
UCF (3-5) 58
NO. 11 HOUSTON (11-1) 75
Houston connected on its first four 3-point attempts of the game and jumped 12-0 lead on its way to a 45-19 advantage at halftime. Dejon Jarreau connected twice from long range while Quentin Grimes and Marcus Sasser also found the measure from long range in the opening 3:14 of the game. Grimes finished with a game-high 18 points on 7-of-18 shooting. Teammate Justin Gorham grabbed nine rebounds to go with 15 points. The Cougars converted 20 UCF turnovers into a 20-9 advantage in points off those miscues.
NO. 20 VIRGINIA TECH (11-2) 64
WAKE FOREST (3-5) 60
Tyrece Radford led three in double figures, and Virginia Tech won its third straight game. Radford's jumper with 6:34 remaining in the game gave the Hokies a lead they did not surrender at 48-46. David N'Guessan and Hunter Cattoor added 13 points apiece. Keve Aluma grabbed 11 rebounds.
Wake Forest's Isaiah Mucius scored 10 points including a layup as the Demon Deacons erased a six-point halftime deficit and tied the game at 46-46.
OTHER SCORES: UMASS 65
FORDHAM 46
DAYTON 67
GEORGE WASHINGTON 54
AMERICAN 59
NAVY 71
HOLY CROSS 87
COLGATE 96
ARMY 76
BOSTON U. 65
BUCKNELL 77
LEHIGH 61
LAFAYETTE 72
LOYOLA (MD) 70
UMASS LOWELL 77
BINGHAMTON 67
MAINE 60
VERMONT 88
HARTFORD 49
UMBC 57 '
NEW HAMPSHIRE 67
STONY BROOK 64
NJIT 71
ALBANY 83
PENN STATE 72
PURDUE 80
WESTERN KENTUCKY 69
MARSHALL 67
INDIANA STATE 74
ILLINOIS STATE 68
EVANSVILLE 55
BRADLEY 86
NORTHERN IOWA 46
LOYOLA CHICAGO 88