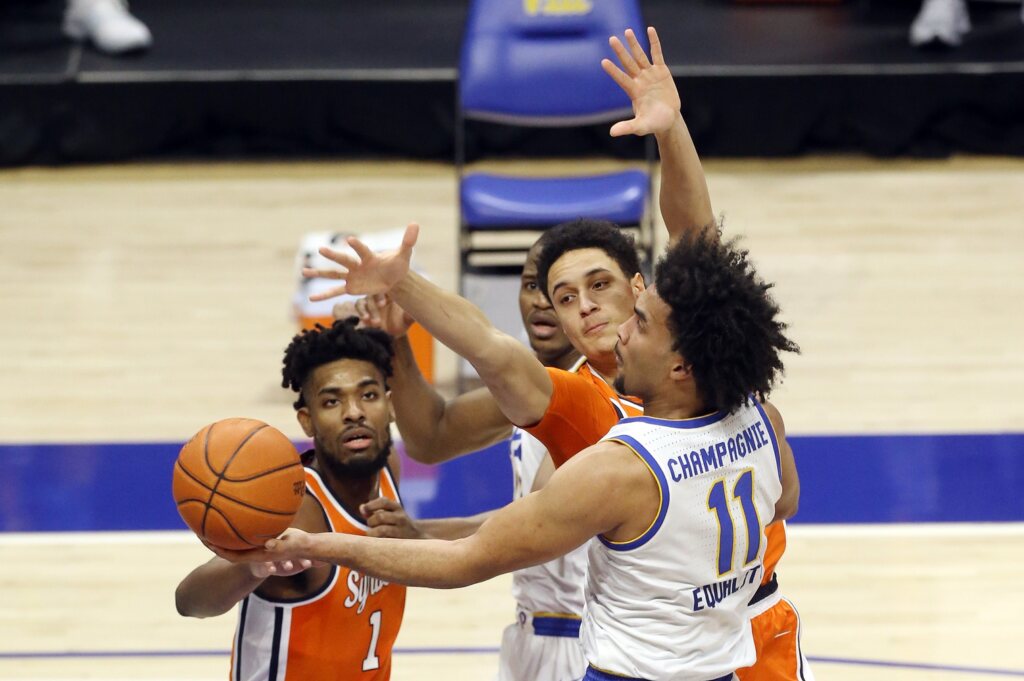 By PAUL CIFONELLI
Pittsburgh only scored one point for the first six and a half minutes of the game, but got 64 points in the second half to beat Syracuse, 96-76. It was the Panthers' second win over the Orange in 10 days.
Justin Champagnie, Pittsburgh's leading scorer and rebounder, returned from injury to score 24 points and grab 16 rebounds. He led the second-half explosion by scoring 18 of his points and grabbing 10 of his boards during the frame. Additionally, Xavier Johnson and Ithiel Horton went into double figures over the final 20 minutes, netting 15 and 14, respectively.
The Panthers were down 37-32 at halftime, but started the second half on a 20-9 run. That gave Pittsburgh an 11-point advantage, but Syracuse was able to cut the lead down to three. The Panthers followed that up with another 16-4 stretch to put the game out of reach. From there, the closest the Orange could get was 12.
Boeheim with the steal ➡️ Griffin with the finish ✊ pic.twitter.com/mQtA3xwmUv

— Syracuse Basketball (@Cuse_MBB) January 16, 2021
Syracuse coach Jim Boeheim was not too pleased with his team's defensive performance in the second half.
"In the second half we couldn't get any stops," Boeheim said. "It wasn't just rebounding, we couldn't stop them. They just did whatever they wanted inside. They made some key threes when they had to, but we could not get stops.
Pittsburgh shot 57.9 percent (22-for-38) from the field in the second half. Of the 22 made field goals, 15 were assisted on and the Panthers also made 16-of-18 free throws.
Quincy Guerrier and Marek Dolezaj led Syracuse in the first half. Guerrier scored 12 points and Dolezaj had 11. Outside of a 15-4 Pittsburgh run for four minutes during the first half, the Orange controlled the game to take that five-point lead into the break.
.@marekdolezaj with the moves ✊

Marek has 9 points

29-30 Pitt | 3:20 1st pic.twitter.com/EeojJQ0A0V

— Syracuse Basketball (@Cuse_MBB) January 16, 2021
Champagnie, Johnson and Horton all scored at least 20 points for Pittsburgh. Johnson had 23 and Horton finished with 20. Both players added six rebounds, but Johnson also had seven assists and made all 13 of his free throw attempts. Au'Diese Toney, who made the game-winner in the first meeting, scored 18 points. Femi Odukale (5), Abdoul Karim Coulibaly (4) and William Jeffress (2) rounded out the Panthers' scoring.
Syracuse was yet again outrebounded, with the Panthers grabbing 47 rebounds to Syracuse's 35. Additionally, Syracuse only shot 13.6 percent (3-for-22) from three, while Pittsburgh shot 34.8 percent (8-for-23) from deep.
Alan Griffin led Syracuse with 28 points. Griffin netted 20 in the second half by shooting 7-for-12. Guerrier notched his sixth double-double for Syracuse with 18 points, 12 boards and four blocks. Dolezaj finished with 14 points and Buddy Boeheim added 12 points and five assists. Joe Girard III (2) and Kadary Richmond (2) also scored for the Orange.
Syracuse's next game is on Tuesday at home against Miami (FL). Pittsburgh will face Duke on the same day at home.