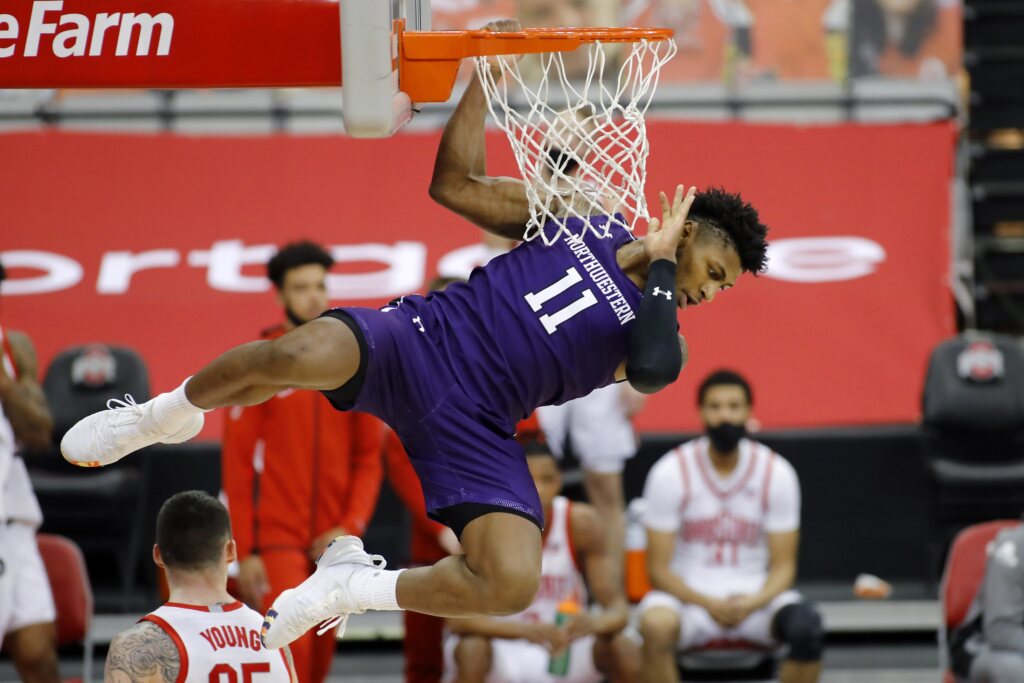 NOTRE DAME (3-8) 68
No. 18 VIRGINIA (8-2) 80
Virginia converted 51.9 percent of its shots in the first half and held Notre Dame to 33.3 percent en route to a 12-point halftime lead and the victory. Despite the Fighting Irish's comeback attempt in which they trimmed their deficit to 10 twice, the Cavaliers increased their field goal percentage to 56.7 (17-of-30) in the second half and stretched the lead back to 17 with 2:52 remaining. The Cavaliers led for 39 of 40 minutes as well. Senior forward Jay Huff netted four long-range shots as part of his game-high 18 points. Sam Hauser finished just shy of a double-double with 15 points and nine boards. Kihei Clark had 12 points and six assists. Trey Murphy III chipped in 10 points. For the Fighting Irish, Cormac Ryan scored all 16 of his points in the second half. Trey Wertz knocked down three shots from beyond the arc as part of his 13 points. Nate Laszewski contributed 12 points and eight rebounds. Juwan Durham had 10 points.
NORTHWESTERN (6-5) 71
No. 21 OHIO STATE (10-3) 81
Four different players scored during a late 12-0 run as Ohio State held on and notched its 10th victory of the season. Leading 67-66 with 3:55 left, Justin Ahrens responded to Northwestern's 8-0 run with a left-wing three-pointer. Justice Sueing made a mid-range jumper while being fouled. Kyle Young converted a contact layup. Duane Washington, Jr. capped off the run with a jumpshot and two free throws. Washington, Jr. scored 17 of his career-high 23 points in the first half along with six assists. Sueing netted 13 points while Ahrens and Young both chipped in 12. For Northwestern, Chase Audige made 11-of-23 field goals for a game-high 25 points. Miller Kopp scored 16 points and corralled nine boards. Pete Nance netted 12.
No. 16 LOUISVILLE (9-1) 77
WAKE FOREST (3-4) 65
Dre Davis and Carik Jones netted six points apiece as Louisville ended the game on a 15-9 run. Both players converted a pair of layups and two foul shots. Samuell Williamson rounded out the run with a three-pointer. Jones recorded a double-double of a game-high 23 points and 10 rebounds. Davis and Williamson both scored 15. Williamson grabbed 11 boards for a double-double as well. For Wake Forest, Daivien Williamson led with 19 points. Jonah Antonio, Jalen Johnson and Ody Oguama all scored 11.
No. 15 TEXAS TECH (11-3) 79
No. 4 TEXAS (10-2) 77
Mac McClung nailed the game-winning jumper with three seconds left to lift Texas Tech over its conference rival. Tied at 77, the junior guard grabbed the rebound, took the ball the length of the floor and swished a right-wing jumper with his feet on the line. McClung led the Red Raiders' 12-point comeback with a game-high 22 points. Kevin McCullar made 6-of-7 field goals as part of his 16 points and grabbed eight boards. Terrence Shannon, Jr. posted 14 points and seven rebounds off the bench. Marcus Santos-Silva had 12 points. For Texas, Andrew Jones scored 20 points. Jericho Sims recorded 16 and Courtney Ramey 15. Matt Coleman III chipped in 13 points.
ALSO:
ST. BONAVENTURE 68
FORDHAM 54
St. Bonaventure allowed just two 3-pointers in the second half and held Fordham to 17 total points over the final 20 minutes. The Bonnies won 68-54, improving to 5-1 and 3-1 in Atlantic 10 play. READ MORE.
BOWLING GREEN 74
BUFFALO (WBB) 82
Dyaisha Fair (Edison Tech) poured in a game-high 36 points, corralled seven rebounds and dished out six assists. The former Edison Tech star netted 11-of-23 field goals, including eight long-range shots.
OTHER SCORES:
VCU 84
GEORGE WASHINGTON 77
RHODE ISLAND 78
UMASS 80 (OT)
LA SALLE 42
GEORGE MASON 75
DUQUESNE 63
DAYTON 72
NORTH CAROLINA STATE 73
FLORIDA STATE 105
TULSA 53
WICHITA STATE 72
AUBURN 95
GEORGIA 77
ARKANSAS 76
LSU 92
TEXAS A&M 56
MISSISSIPPI STATE 55