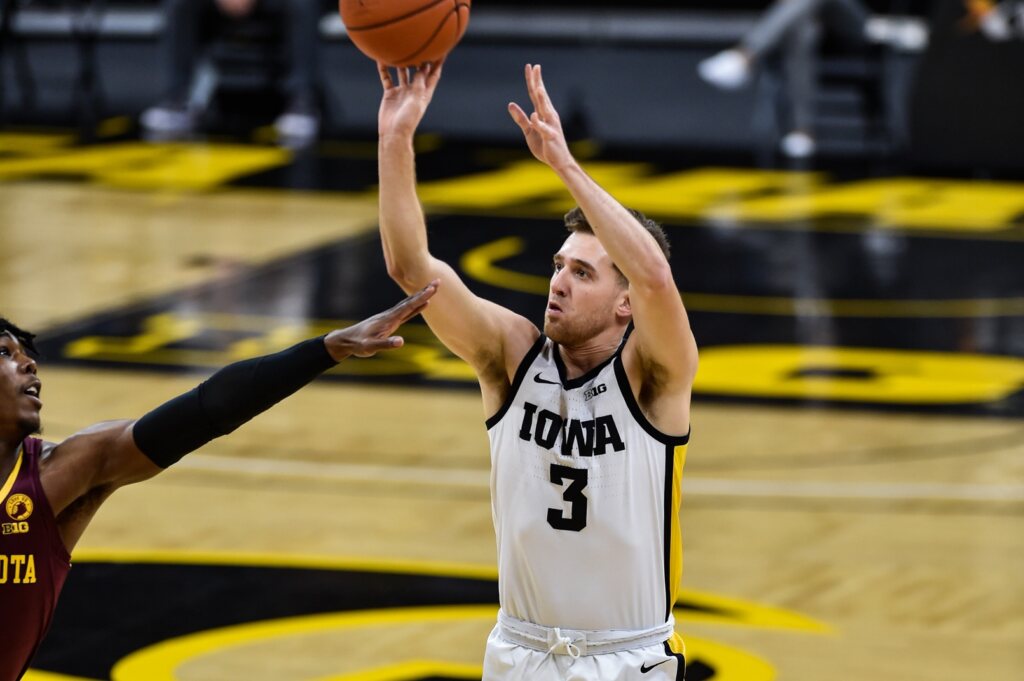 NO. 16 MINNESOTA (10-4) 71
NO. 5 IOWA (11-2) 86
Jordan Bohannon posted a double-double finishing with a career-high 14 assists to go along with 19 points as Iowa avenged an earlier loss this season with its fourth straight win. Bohannon shot 5-of-8 from the floor and paced a long-range effort from the Hawkeyes connecting on 4-of-7 from behind the 3-point arc. The senior guard also grabbed seven rebounds and did not commit a turnover in 36 minutes of action.
Pre-season All American selection Luka Garza led all scorers with 33 points on 13-of-20 shooting. The senior center collected five rebounds and three assists. Joe Wieskamp contributed 20 points.
Iowa handed out 27 assists on 31 made field goals while committing 10 turnovers. The Hawkeyes shot 17-of-24 (70.8 percent) from the floor in the second half and 9-of-14 from distance for the game. Leading 39-37 at half, Iowa scored on 22 of 35 possessions over the final 20 minutes. Iowa outscored Minnesota 34-20 in the paint. Minnesota downed Iowa in overtime on Christmas Day.
MARYLAND (7-6) 66
NO. 12 ILLINOIS (9-4) 63
Hakim Hart sparked a decisive 7-0 run with his only 3-pointer of the game, and Maryland downed a ranked opponent on the road for the second time this season. Trailing 61-59 with 1:20 left on the clock, Hart hit the go-ahead bucket. Teammate Darryl Morsell collected an assist on the play. Morsell followed with a layup, and Aaron Wiggins converted a pair of free throws to ice the Terrapins first victory since knocking off then No. 6 Wisconsin on December 28th.
Morsell paced Maryland with 19 points. Donta Scott added 16, and Wiggins had 12. Hart finished with nine points.
Ayo Dosunmu topped Illinois with 23 points. Kofi Cockburn collected 21 points and 10 rebounds.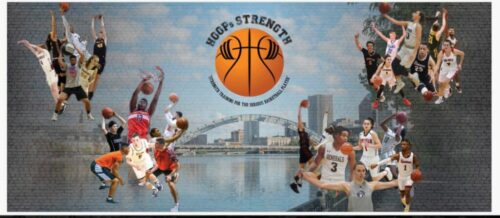 NOTRE DAME (3-7) 63
NO. 19 VIRGINIA TECH (9-2) 77
Justyn Mutts paced a second-half rally with 12 of his 14 points, and Virginia Tech bounced back from a loss in its previous game. Trailing 42-35 at the break, the Hokies scored the first eight points of the second half with Mutts accounting for four points in the run.
Keve Aluma converted a pair of free throws to give Virginia Tech a lead it did not surrender at 51-50, and the Hokies outscored Notre Dame 28-13 over the final 11:58 of game timE. Aluma finished with 15 points and 12 rebounds. Hunter Cattoor had 15. Jalen Cone paced the Hokies with 18 points off the bench. Virginia Tech outrebounded Notre Dame 41-24.
The Hokies lost to Louisville (71-73) on Wednesday.
Nate Laszewski led the Fightin' Irish with 17 points on 11-of-12 shooting from the free throw line.
ALSO:
SIENA (4-0) 75
FAIRFIELD (2-11) 68
A native of nearby Hamden, Connecticut, Aidan Carpenter followed up a solid freshman debut Saturday with a remarkable performance Sunday while getting the start in place of injured MAAC Preseason Player of the Year Jalen Pickett. READ MORE.
Siena head coach Carmen Maciariello said in his taped interview on the Talk 1300 pregame show that he didn't think Pickett's injury was "super serious." He didn't specify the injury, but Saints play-by-play man A.J. Kanell said it was a hamstring. — Mark Singelais (@MarkSingelais) January 10, 2021
OTHER SCORES:
PROVIDENCE 73
XAVIER 74
MARIST 62
MONMOUTH 72
COLGATE 89
BOSTON U. 45
LEHIGH 58
NAVY 73
HOLY CROSS 70
ARMY 61
BUCKNELL 76
LAFAYETTE 87
UMBC 68
NEW HAMPSHIRE 66
HARTFORD 75
UMASS LOWELL 58
VERMONT 84
BINGHAMTON 44
MAINE 45
NJIT 41
CINCINNATI 76
WICHITA STATE 82
INDIANA 84
NEBRASKA 76
ILLINOIS STATE 73
EVANSVILLE 68
MISSOURI STATE 78
VALPARAISO 68
BRADLEY 72
NORTHERN IOWA 78
LOYOLA CHICAGO 71
INDIANA STATE 76
DREXEL 68
CHARLESTON 73
CHOWAN 76
JAMES MADISON 100