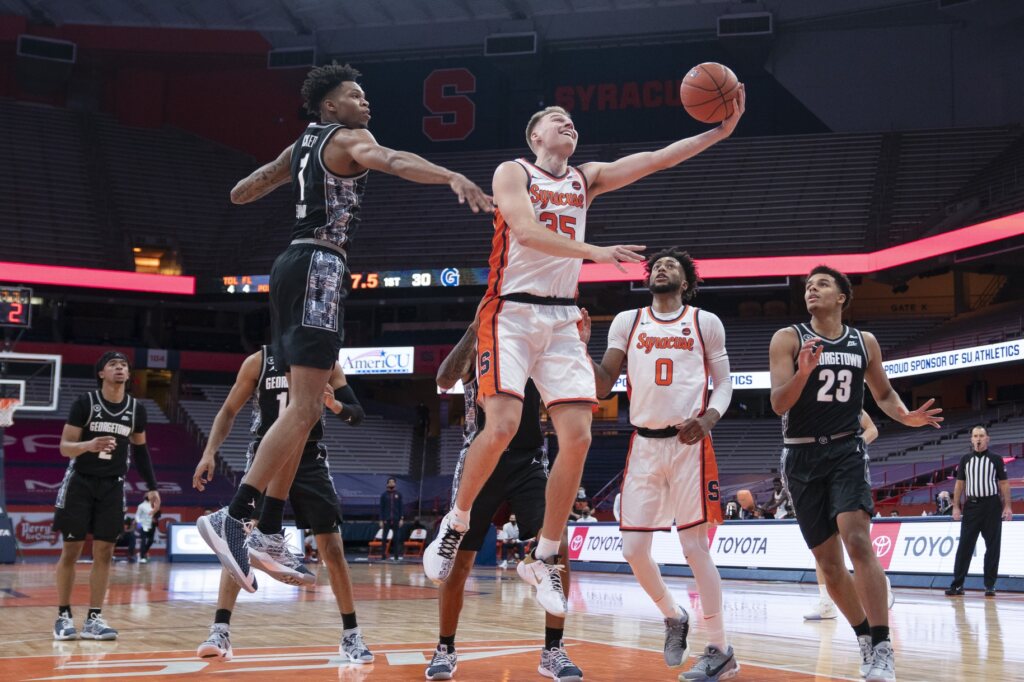 By PAUL CIFONELLI
Basketball is said to be a game of runs. Syracuse proved that to be true against rival Georgetown, as the Orange used a 22-6 run to end the first half to propel them to a 74-69 victory.
Joe Girard III led that charge with seven points. Five other Syracuse players added to the run, which lasted the final 6:38 of the opening period. Syracuse went into halftime with a 43-30 lead.
Syracuse coach Jim Boeheim was pleased with how his team closed out the half and was especially pleased with his backcourt's play.
Buddy to AG 😤

ESPN: https://t.co/fLSLesKyld pic.twitter.com/DChuify7co

— Syracuse Basketball (@Cuse_MBB) January 10, 2021
"We really played well at the end of the first half," Boeheim said. "It's probably some of the best we've played all year. Joe and Buddy, even though they missed a couple, they had their rhythm. They were looking like they were going to make shots and we need them to make shots to win."
Georgetown held a 16-11 lead with 13:30 left in the first half before Syracuse went on a 10-0 run. The Hoyas responded with an 8-0 spurt of their own to set up the Orange's sprint to halftime.
Syracuse never trailed in the second half, but the Hoyas made it a game. A made jumper from Girard extended the Orange lead to 16 with 16 minutes remaining in the game, but Georgetown put on a press that forced Syracuse to rush possessions. The Hoyas were able to get the deficit to three with three minutes remaining, but couldn't get any closer.
The start of the second half was the point in the game Jim Boeheim thought his team could have played better to put the game away.
🔪🔪🔪 @JG3_____ pic.twitter.com/mgf0UcAuCo

— Syracuse Basketball (@Cuse_MBB) January 10, 2021
"When we started the second half we got four good shots in a row and didn't get any of them to go down," Jim Boeheim said. "Then we missed two or three layups around the basket. You can't do that. You've got to keep making them."
With the Orange up 74-69, both Girard and Buddy Boeheim missed the front end of a one-and-one with less than 20 seconds remaining. Boeheim's free throw came after he got an offensive rebound on Girard's miss.
Buddy Boeheim led Syracuse in scoring with 21 points on 9-for-18 shooting. Girard nearly matched him, by scoring 18 points and dishing out eight assists. Both sharpshooters knocked down three shots from behind the arc. Marek Dolezaj, who had a tooth knocked out with a minute left in the game, nearly had a double-double with 11 points and nine boards. Quincy Guerrier had a similar statline with 12 points and nine rebounds. Guerrier sat for the final stretch of the game after being hit in the head in the first half. Alan Griffin and Robert Braswell also helped Syracuse's offensive effort by scoring nine and three points, respectively.
That's a 5-point swing.@caseballer20 ✋@Buddy_Boeheim35 👌

ESPN: https://t.co/fLSLesKyld pic.twitter.com/CGTRy4EtyA

— Syracuse Basketball (@Cuse_MBB) January 10, 2021
Jamorko Pickett paced Georgetown with 17 points and nine rebounds. The senior forward also swatted three shots. Jahvon Blair tallied a double-double for the Hoyas with 16 points and 10 assists. Blair knocked down four of his 10 three point attempts. Donald Carey notched 10 points, while Qudus Wahab and Chudier Bile had nine apiece. Dante Harris (3), T.J. Berger (3) and Jamari Sibley (2) also scored for the Hoyas.
Syracuse's next game will be on Tuesday at North Carolina. The Orange and Tar Heels were supposed to meet on Jan. 2, but that game was postponed because of Syracuse's contact tracing. Syracuse was supposed to play Clemson on Tuesday, but the Tigers had to cancel the game because of a positive COVID-19 test within the program. North Carolina and Clemson had their matchup for today cancelled due to that positive test. Georgetown will take the floor again on Wednesday at home against DePaul.