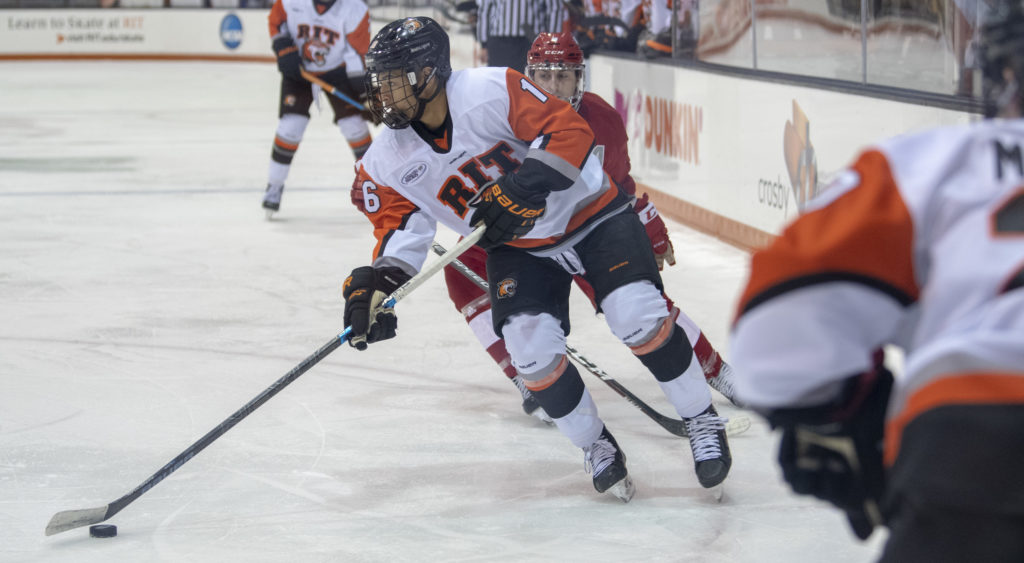 By PAUL GOTHAM
Kobe Walker delivered the equalizer with less than three minutes remaining in regulation, and the RIT men's hockey secured a 4-4 tie in non-league action at Colgate, Tuesday afternoon.
Walker one-timed a Nick Bruce pass with 2:14 remaining in the third period for the tying goal. The play started with Dan Willett stopping a clearing attempt along the left boards. Willett sent the puck behind the Colgate net. Bruce gathered the puck and fed a pass across the crease to an awaiting Walker who tucked the shot inside the left post.
THE EQUALIZER!! WE'RE OFF TO OVERTIME!! #RITvsColgate #GoTigers pic.twitter.com/j8xndMRr2v

— RIT Men's Hockey (@RITMHKY) December 29, 2020
RIT improved to 4-2-2 with the tie.
Colgate took a 2-0 first-period lead on a pair of Paul McAvoy even-strength tallies. McAvoy started the scoring 9:47 into the game and doubled the Raiders advantage less than two minutes later.
Jake Joffee got RIT on the scoreboard with 3:52 to go in the first with assists from Dimitri Mikrogiannakis and Willett. Elijah Gonsalves converted on a power play to tie the game with his first of two goals. Will Calverley and Jake Hamacher assisted on the first goal with 1:04 to go in the first period.
TIE GAME!!! #RITvsColgate #GoTigers pic.twitter.com/CifutepZ4N

— RIT Men's Hockey (@RITMHKY) December 29, 2020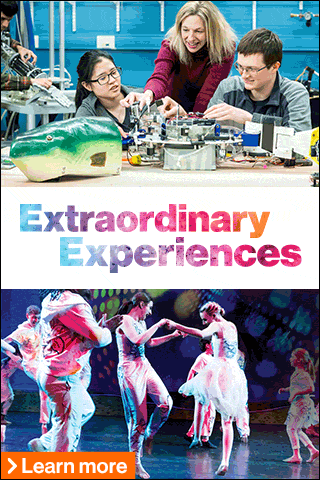 Gonsalves gave the Tigers a 3-2 lead 8:58 into the second period. Hamacher had the lone assist.
GONSALVES 2ND GOAL AND THE TIGERS TAKE THE LEAD!! #RITvsColgate #GoTigers pic.twitter.com/ih8TrBwcHM

— RIT Men's Hockey (@RITMHKY) December 29, 2020
The lead didn't last.
Trevor Cosgrove scored on a power play with 3:06 remaining in the second, and McAvoy notched a hat trick 8:37 into the third with a short-handed goal to give Colgate the late lead.
Logan Drackett made 27 saves for RIT. Colgate outshot the Tigers, 31-29.
RIT is unbeaten in the past three head-to-head matchups with Colgate having defeated the Raiders (3-1) a year ago in Hamilton and taking a 6-1 decision in the 2018 Brick City Classic.
Gonsalves now has five goals on the season and trails only Will Calverley (6) on the Tigers.
RIT is unbeaten in its past three games.
Colgate was coming off a 5-4 overtime win at Clarkson.
RIT returns to Atlantic Hockey action this weekend with a pair of games at Robert Morris. Saturday's puck drop is scheduled for 7:35 p.m. with a 3:05 start slated for Sunday.