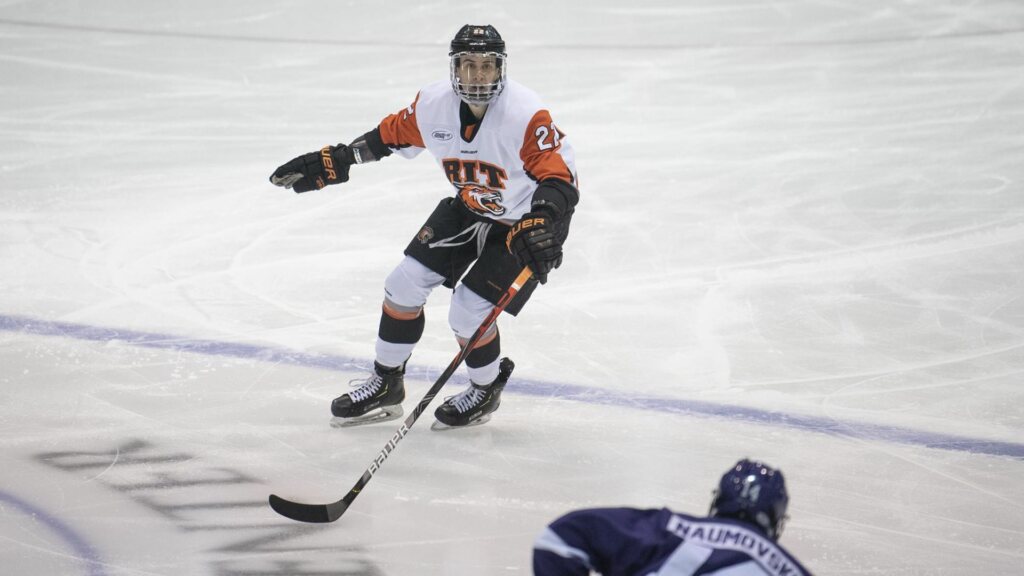 By PAUL GOTHAM
Nick Bruce and Ryan Nicholson collected a first-period goal apiece and the RIT men's hockey team went on to score four straight in a 5-4 win at Niagara University, Tuesday. 
Trailing 1-0, Bruce tied the game at the 7:40 mark with assists from Dimitri Mikrogiannakis and Regan Seiferling. Less than two minutes later, Nicholson gave the Tigers (4-2-1) a lead they did not surrender. Will Calverley and Kobe Walker assisted on the play.
Walker scored in the first minute of the second period, and Caleb Moretz extended the lead to 4-1, 10 minutes later. 
Logan Drackett made 29 saves to improve his personal record to 3-1-1 on the season. After giving up a goal in the game's first minute, the senior goalie stopped 14 shots for the remainder of the first period.
Calverley finished with three assists. The junior forward leads the team with 13 points (six goals and seven assists). 
Seiferling added a goal in the second period to give RIT a 5-2 lead.
Bruce led the offense with a goal and two assists. 
Carter Randklev gave Niagara (1-3-2) a 1-0 lead :51 seconds into the game.
Ludwig Stenlund's goal 2:56 into the third period cut the Niagara deficit to one. 
RIT is scheduled to play at Colgate, Tuesday December 29th. A 4:05 puck drop is slated.