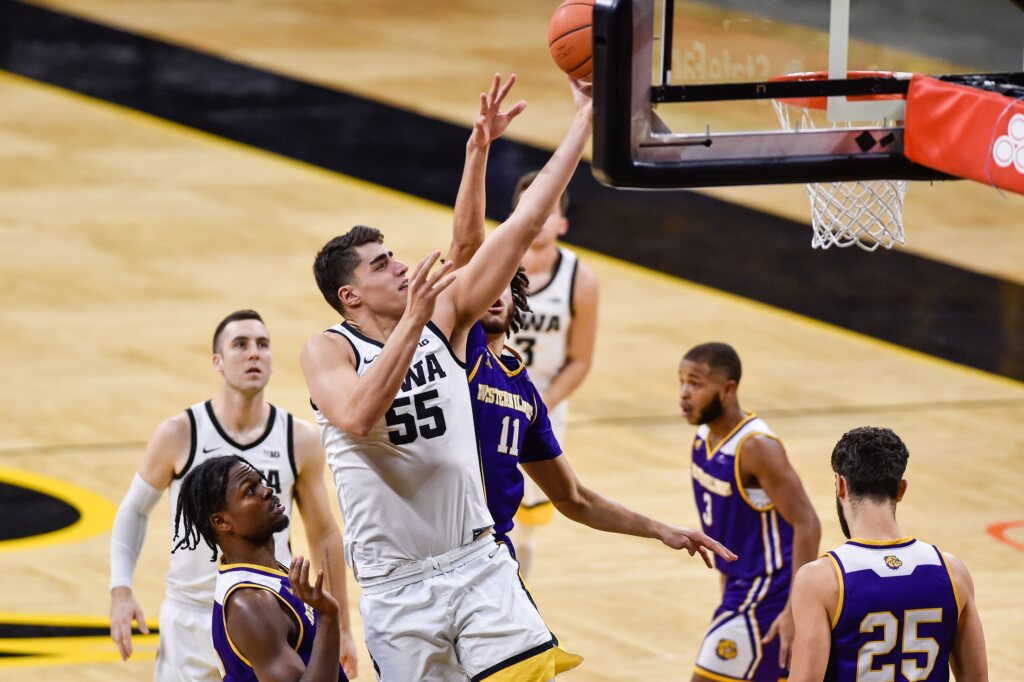 WESTERN ILLINOIS 58
NO. 3 IOWA 99
Luka Garza posted a double-double with 35 and 10 rebounds to lead Iowa (3-0) playing its first game after a week layoff. Garza connected on 13 of 21 shots from the floor and 7 of 10 from the free throw line. The senior grabbed 10 rebounds while blocking two shots in 25 minutes of action.
Leading 13-7 early in the first half, the Hawkeyes used a 14-2 run to gain separation before taking 48-26 advantage into halftime.
Jack Nunge scored 18 points off the bench on 8-of-11 shooting. Connor McCaffery handed out six assists to lead an overall effort which saw the Hawkeyes collect 25 dimes on 33 made field goals.
WASHBURN 54
NO. 7 KANSAS 89
David McCormack led four in double figures with 17 to lead Kansas (3-1) to its third straight win. McCormack hit 7-of-8 from the floor for the Jayhawks who shot 52.5 percent (32-61) as a team. Ochai Agbaji added 17 points. Jalen Wilson scored 13, and Bryce Thompson had 11 points off the bench.
Washburn's Tyler Geiman handed out a game-high seven assists to go with nine points.
VMI 57
NO. 16 VIRGINIA TECH 64
Five different players contributed to a 12-2 second-half run as Virginia Tech (4-0) rallied to beat VMI (2-2). Trailing 45-41 with less than 8:00 minutes remaining in the contest, Tyrece Radford sparked the decisive run converting a pair of free throws. Wabissa Bede fed Justyn Mutts for a dunk, and Bede followed with a jumper to give the Hokies a lead they did not surrender. Radford converted a traditional 3-point play, and Nahiem Alleyne finished a layup for a 53-47 VA Tech lead.
Keve Aluma posted a double-double with a game-high 17 points  and 12 rebounds to lead Virginia Tech. Radford added 13 points while Bede had 11 and Mutts 10.
VMI's Myles Lewis registered a double-double with 13 points and 12 rebounds.
NO. 25 ARIZONA STATE 70
CALIFORNIA 62
Remy Martin finished with a game-high 22 points to lead Arizona State (3-1) to its second straight win. In a game in which neither team led by double digits, the Sun Devils grabbed the lead late in the first half and did not surrender it.
Martin hit 8-of-11 shots to go with five assist and four rebounds. Josh Christopher added 14 points.
Matt Bradley led Cal with 20 points.
Also:
BUFFALO WBB 55
VCU 61
Buffalo's Dyaisha Fair (Edison Tech) led all scorers with 27 points. The sophomore guard also collected eight rebounds and five assists.
Other scores:
UMASS-LOWELL 59
NC STATE 90
NIAGARA 45
SYRACUSE 75
Alan Griffin and Kadary Richmond were both forced into the starting lineup due to injury and COVID-19-related issues, but the two combined for 26 points. READ MORE.
FLORIDA 90
BOSTON COLLEGE 70
UTSA 66
OKLAHOMA 105
UCONN 61
USC 58
WASHINGTON 62
UTAH 76
SEATTLE U 52
UCLA 78