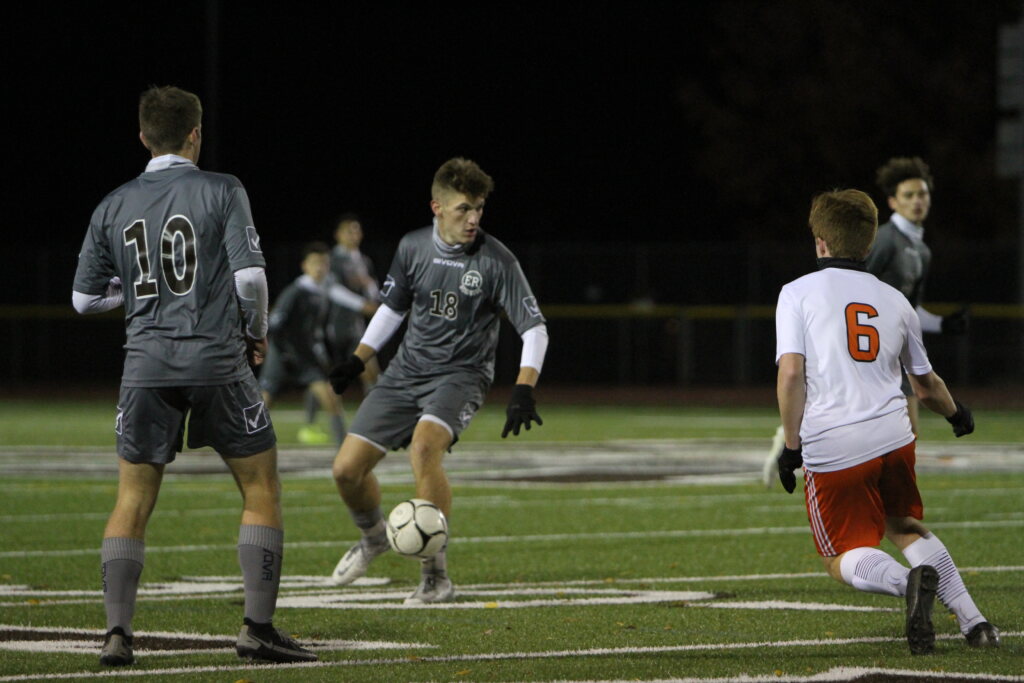 GIRLS
CLASS AA
No. 1 HILTON (8-1-2) 3
No. 5 RUSH-HENRIETTA (5-7-0) 2
Brynn Sidebotham scored the game-winning goal with 12 minutes to go in regulation by striking a ball through the legs of the goalkeeper. Emma Spelman scored in the 35th minute on a free-kick. Caitlin Nelson also scored in the 47th minute. After three straight sectional semifinal losses, the Cadets advance to the finals to play No. 3 Fairport with a chance to win their first Section V title in 30 years.
No. 2 PENFIELD (7-5-0) 0
No. 3 FAIRPORT (7-4-1) 1
Isabella Pucci scored the lone goal in the first half off an assist from Olivia Kayser. READ MORE.
CLASS A
No. 1 SPENCERPORT (14-0-0) 3
No. 4 BRIGHTON (9-3-1) 1
Alyssa Hackett and Kendall Mesh both sent shots off the crossbar early in the first half. Then Brighton goalkeeper Alice Yawman denied a Corynna Rotoli shot from inside the 18-yard box. There were opportunities that went just wide of frame and another just out of reach. On a night when the mercury didn't climb much above the freezing mark, one had to wonder if the early frustrations might allow Brighton just enough of a chance to end Spencerport's reign. READ MORE.
No. 6 CHURCHVILLE-CHILI (6-5-1) 1
No. 7 OUR LADY OF MERCY (8-3-0) 2
Our Lady of Mercy rode two first-half goals to advance to the Class A finals. Sophie Dearcop got the scoring started in the 33rd minute on an assist from Caroline Murphy. Anna Costello netted another goal in the 39th minute unassisted. For Churchville-Chili, Marissa Hartman scored in the 76th minute. Mercy will play No. 1 Spencerport in the Class A finals.
CLASS D1
No. 1 FILLMORE (14-0-0) 3
No. 4 KESHEQUA (9-3-2) 2
Trailing 2-1 with less than five minutes to play in regulation, Zoe Beardsley buried a direct kick for the Eagles to send the game to overtime. Nothing separated the two teams through two 10-minute overtime periods, which prompted two sudden-death overtime stanzas, each of which were scheduled to last five minutes. While the game seemed destined to go to penalty kicks, Fillmore broke through with 3:49 to play when Hope Russell connected with Sophia Templeton, who found the back of the net and sent the Eagles to a thrilling victory and the 'D' final for the third-straight season. READ MORE.
No. 3 ARKPORT/CANASERAGA (10-1-0) 5
No. 7 GENESEE VALLEY (9-5-1) 0
Senior Guilianna Smith netted a hat trick that paced the Arkport/Canseraga offense. Smith scored the first two goals of the game, both assisted by Meily Pfaff. Julia Flaitz scored an unassisted goal and assisted two more. Jenna Mess and Smith were on the receiving end of Flaitz assists. Goalkeeper Emily Fuller collected seven saves in the shutout. Arkport/Canaseraga will face off against No. 1 seed Fillmore in the championship game.
CLASS D2
No. 1 BELFAST (9-4-0) 0
No. 4 JASPER-TROUPSBURG (6-4-1) 1
Senior Brynn Waters netted the lone goal in the 33rd minute that helped Jasper-Troupsburg upset Belfast. Jasper-Troupsburg will match up with No. 3 seed Batavia Notre Dame in the finals.
No. 2 ANDOVER/WHITESVILLE (8-5-0) 0
No. 3 BATAVIA NOTRE DAME (7-6-2) 3
Three different goal scorers paced the Batavia Notre Dame offense as they advance to the finals. Skye Colantonio and Emma Sisson each scored a goal and assisted on another. Colantonio netted her goal in the 12th minute on an assist from Katie Ricupito. Colantonio assisted the Sisson goal in the 14th minute. Arabella Rogers added the final goal in the 54th minute on an assist from Sisson. Goalkeeper Rebeka Nickerson record seven saves in the shutout. Batavia Notre Dame will play No. 4 Jasper-Troupsburg for the championship.

BOYS
CLASS B1
No. 1 WAYNE (13-1-0) 2
No. 5 HORNELL (5-6-1) 1 (OT)
Dylan Cook netted the game-winning goal in overtime to lift Wayne to the finals. READ MORE.
No. 2 LIVONIA (12-2-0) 7
No. 3 BATAVIA (7-5-1) 1
CLASS B2
No. 1 BATH-HAVERLING (13-1-0) 6
No. 5 WILLIAMSON (8-9-2) 0
Keefer Calkins scored five goals which led Bath-Haverling to the Class B2 finals. Calkins netted the first five goals in the game, two unassisted, and the other three goals assisted by Zach Musso, Braden Yartym, and DJ Smith. Nate Musso scored unassisted in the 63rd minute. Bath-Haverling will play No. 6 seed Bishop Kearney in the championship.
No. 2 PENN YAN (6-5-1) 0
No. 6 BISHOP KEARNEY (9-4-1) 2
Casey O'Gara scored a goal in each half that led Bishop Kearney past No. 2 Penn Yan for the upset. Evan Stevely assisted O'Gara's goal in the 27th minute, and Calvin Kron assisted the other O'Gara goal. Bishop Kearney will play No. 1 Bath-Haverling in the Class B2 championship.
CLASS C1
No. 1 EAST ROCHESTER (12-1-0) 6
No. 5 SODUS (7-6-0) 1
Chuck Domm scored five goals to lead East Rochester to the Class C1 finals for the third straight year. Chuck Domm scored a pair in the first half and a trio in the second half. Russell Domm racked up five assists with four of them going to Chuck Domm. Max Wagner added the lone goal outside of Chuck Domm in the 33rd minute. East Rochester will play No. 3 Holley in the Class C1 finals.
No. 3 HOLLEY (11-3-1) 2
No. 7 PAVILION/YORK (8-6-1) 0
CLASS C2
No. 1 NAPLES (11-0-0) 2
No. 4 KENDALL (6-9-0) 0
Junior Ryan Lester scored a pair of goals in the first half that led Naples past Kendall. Donivan Todd assisted the first Lester goal in the 15th minute, and Wyatt Woodard recorded the assist on the Lester goal in the 38th minute. Naples will play No. 7 Geneseo in the finals as they look to bounce back from their Class C2 championship loss in 2018.
No. 3 BOLIVAR-RICHBURG (7-5-2) 0
No. 7 GENESEO (7-8-0) 2
Senior Michael Walton assisted on both goals scored as Geneseo pulled off another upset. James Thomas scored in the first half to put Geneseo up one at the half. Midfielder Sebri Fantauzzo added the insurance goal in the second half. Geneseo looks to win their fifth Class C2 championship in the last ten years when they take on No. 1 Naples.