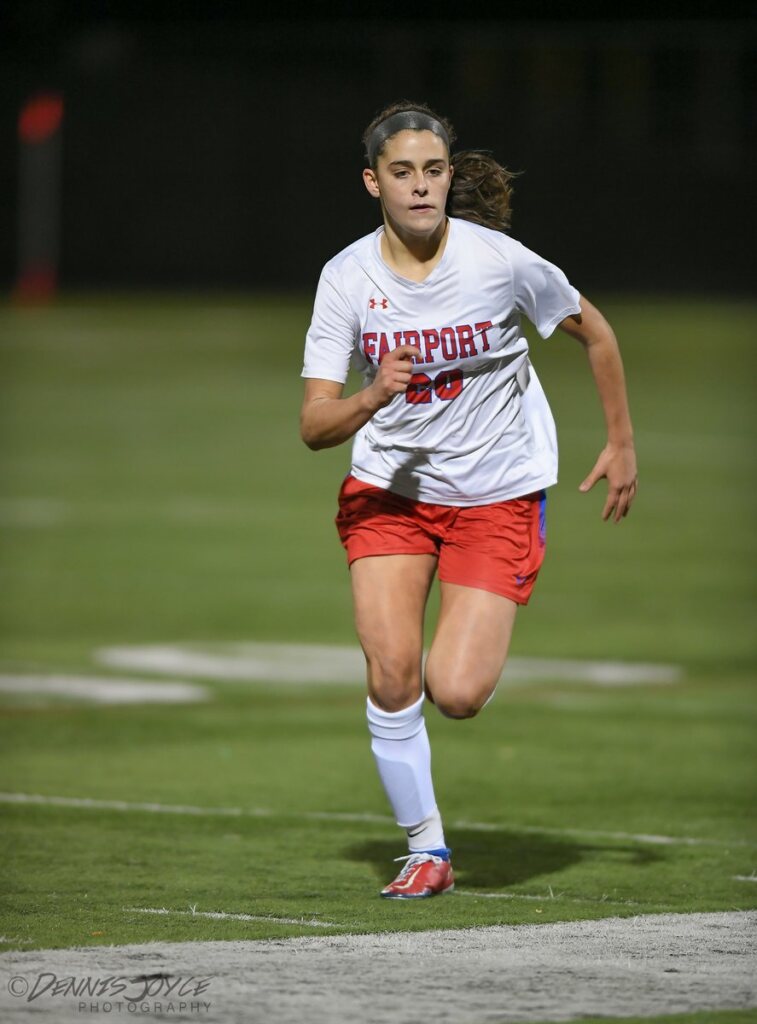 By CHUCKIE MAGGIO 
Penfield High School Stadium is no longer a house of horrors for Tom Natalie and the Fairport Red Raiders girls soccer team.
Natalie had recorded just one win and two ties at Penfield in his 10 years as Red Raiders coach, even settling for a tie when he brought the No. 1 team in the state. "This place has been a nightmare for me," he acknowledged.
The story was rewritten, at least for now, on Tuesday night. Lifted by Isabella Pucci's goal just 42 seconds in, Fairport recorded a 1-0 shutout and advanced to Thursday's Class AA sectional final against No. 1 seed Hilton.
The home fans were stunned when Pucci, after the Red Raiders successfully advanced the ball inside the 18-yard line box off the opening kickoff, blasted a right-footed shot past goalkeeper Paytyn Crane and into the lower left corner.

After falling behind in the previous two meetings with the Patriots this season, allowing four goals to one goal for, Natalie emphasized that his team needed to score first in the semifinal.
"All year we have actually outshot every team we've played, in every game," Natalie said. "Out-corner kicked every team three to two, and we've played good soccer, but we haven't been able to find the net. And we've gotten behind. We got behind them twice and they took the first two games. Every one of our losses were where got behind. We were able to get in front, and that's what we've been concentrating on the second half of the year.
VIEW MORE DENNIS JOYCE PHOTOS HERE.
"Since our loss to them, 2-0, we've gotten the first goal pretty much every time except for the Hilton game. We've just been able to build confidence in our ability to finish. We've been generating the opportunities, but we hadn't been generating the goals."
The Red Raiders outshot the Patriots by a slim margin, controlled possession and successfully cleared each of the three corner kicks they defended. One of those Penfield corners created a tense moment which forced a Fairport defender to clear the ball near the goal line to avoid a rebound chance, followed by goalkeeper Brigid Mulholland calmly securing a wind-aided try on net.


Fairport entered Tuesday's game with three goals scored in each of its last two games, the regular season finale at Hilton and the sectional opener against Victor. Whether you credit the windy, snowy conditions or simply Penfield's defense, the latest matchup was won by controlling possession and thwarting the Patriots' goal scoring opportunities.
"Hey, every time you put a zero on the board (defensively) is a great thing," Natalie remarked. "My senior leadership in the back, Kayla Maxwell, Lilian Hicks and Juliana Novais, my seniors played back there three back and they did a fantastic job. To take an offensive team that's scored a lot of goals this year and to keep them off the scoreboard was a great thing for us."
Penfield eliminated Fairport 2-0 in sectionals last year. When the final whistle sounded on the latest edition of the rivalry, the boisterous Red Raider bench spilled onto the field to celebrate.
"Oh yeah, it's the great thing about high school sports," Natalie said, cracking a smile. "I coached over at RIT for 14 years and you can't capture this excitement level that you do in high school. It's awesome. I really enjoy coaching at the high school level."