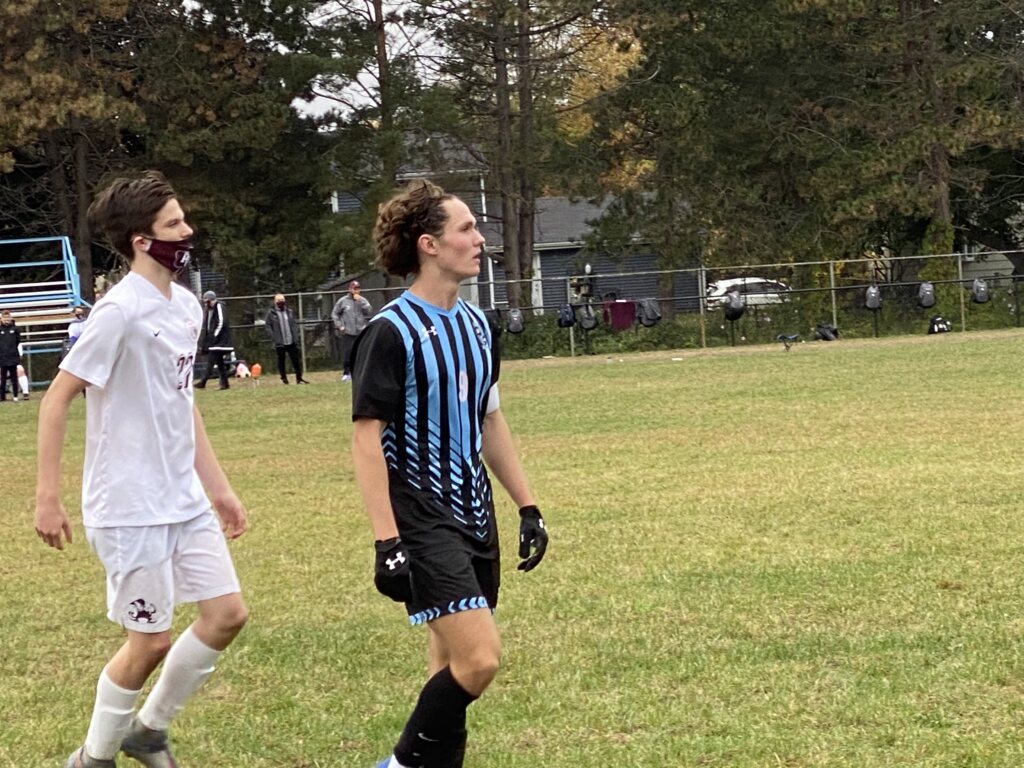 By CHUCKIE MAGGIO
The Bishop Kearney Kings established themselves as the aggressor early in the first half of Thursday's rivalry boys soccer matchup against Aquinas.
The Kings tested Little Irish goalkeeper Kevin Howse, hitting the post three times on the afternoon. Kearney forward Evan Stevely, with midfielder Casey O'Gara distributing, pushed the pace and created close chances before Aquinas even produced a shot.
Once Stevely broke through with 28 minutes remaining, however, the manic pace keyed multiple close calls. Kings coach Stephen Strauss implored his team to slow the game down as Aquinas pushed for an equalizer in the final 10 minutes. Kearney goalkeeper Sam Furioso turned away the Little Irish, preserving a 1-0 shutout victory.
"Get a couple more goals, it would've made it a lot easier tonight," Strauss acknowledged, "but we hung tough at the end and found a way to get it done."
Kearney's strategy, as Strauss outlined, was to find Stevely in space as often as possible. Stevely drew fouls, hit the post twice and was turned away by Howse's fingertips on a searing shot just under the crossbar.
The frustration eased when Stevely won a through ball at the edge of the 18-yard box, was forced to bounce outside by Aquinas defender Ben Geyer, took a touch and lifted a left-footed shot past Howse and into the back of the net.
"It's just nice to finally get that through ball from my teammates I got so many times and put it in the back of the net," Stevely remarked. "Basically helping them, reassuring them that they're doing their job as well as me, because it's a team game. I really could not have done it without the through ball, so really it's a team goal. I appreciate it a lot. It was very nice."
Howse, a junior, saved 15 shots to keep the Little Irish in the game and earned the appreciation of those attempting to get the ball past him.
"They had a really good team despite their record," Stevely said of Aquinas, which fell to 1-6-1 after the defeat. "The keeper was outstanding, had at least three incredible saves… it was incredible.
"Score sheets only say one thing and that's if you win or lose. It doesn't say how good you play."
Strauss felt his Kings, who have allowed nine goals in seven games, pressed forward more than normal against the compact Irish defense in an effort to get the ball back quickly.
The strategy paid off, as Kearney held an edge in possession and created several chances inside the box. Junior midfielder Ezra McMullen, who was active on the ball on the right side, nearly insured a victory when two close range shots skied over the bar.
Kearney's 5-1-1 start to the season is a point of pride for the team's head coach.
"We've got a great group of seniors," Strauss commented. "They're a great group of kids. They really worked hard to get ready for the season. I'm glad they're able to have the opportunity.
"Any game we can play is a good thing, and if we can win, even better."