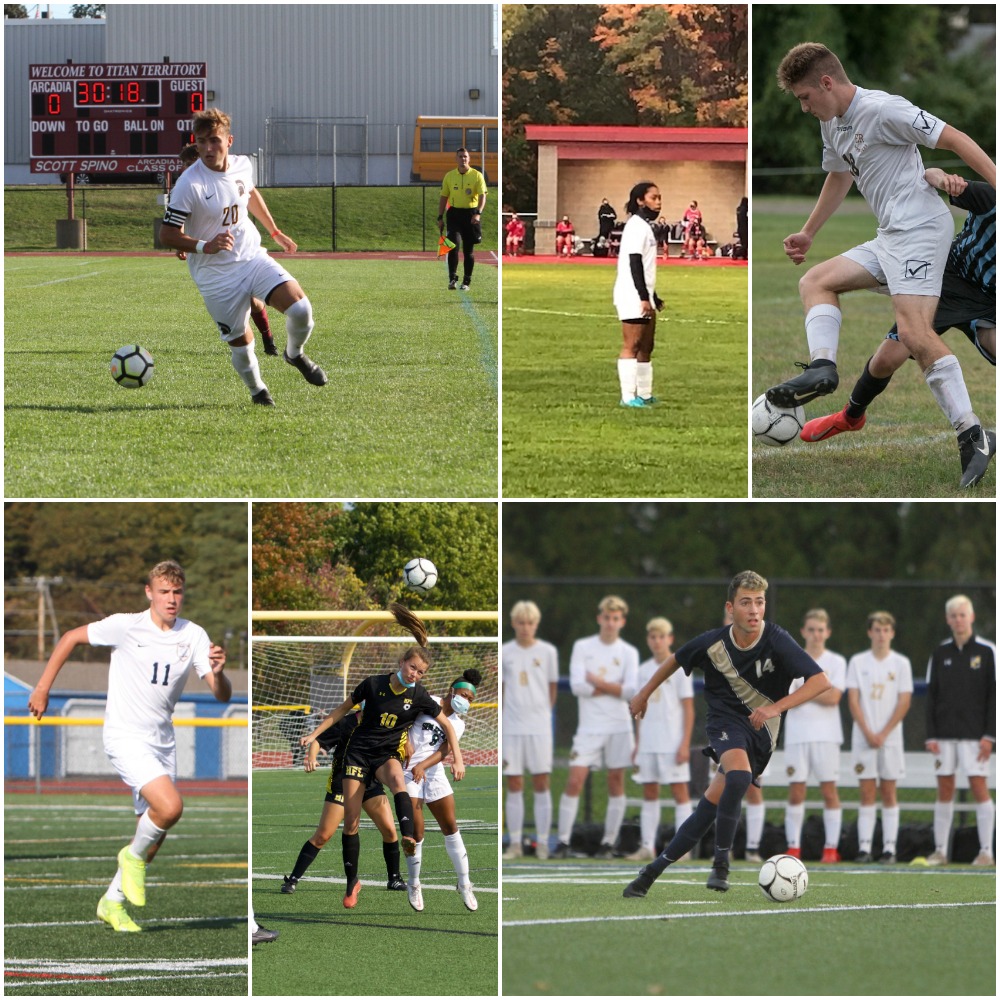 By PAUL GOTHAM
Surveying some of the top soccer players in Section V over the past week (October 5-10).
CHUCK DOMM Sr. Forward, East Rochester Bombers (Wayne County) — Section V's leading goal scorer among boys a season ago has advanced vision on the pitch combined with the ability to make high-level decisions. At 6-foot-3, Domm is an imposing target on the frontline. He is comfortable serving as a wall  to distribute to the flanks, but is obviously at his best finishing, can go with either foot; because of his strength he forces opposing keepers into rash decisions where he takes advantage, needs the slightest of an opening to get his shot; deft foot skills get overlooked because of his scoring touch, able to turn on the ball in tight spaces.
KALEB GLESSING Jr. Midfield, Wayne Eagles (Finger Lakes) — Sturdy player has made a smooth transition into starting role for the Eagles; Glessing understands how to use frontline teammates Josh Bolt and Dylan Cook, demonstrates a keen awareness of pace on his passes to catch teammates in stride and create scoring opportunities, he sees the field well and seamlessly distributes to either side; strong defender who regularly wins 50/50 situations and can make effective passes out of traffic.

KAIA GOODE Jr. Forward, Bishop Kearney (Private-Parochial) —  Known to most for her accomplishments on the hardwood as point guard of Bishop Kearney's sectional championship team, Goode also led BK in scoring on the pitch a year ago. Strong and confident with the ball at her feet, Goode can quickly release on shots and has the ability to change directions within dribble, combined with vision that she brings over from her experience on the court makes her a challenging matchup.
A lot happened on opening night of @SecVAthletics soccer season tonight, including @KaiaGoode of @BKHS_Sports girls soccer @KGoode_BKKings scoring a magnificent goal from edge of 18-yard box and @SodusSchools boys soccer sending home a whopping 8 goals in a rainy, rainy drencher. pic.twitter.com/8rVw2xLPTv

— Matt Trabold (@TrabsMatt) October 3, 2020
MARIA KARIPIDIS So. Midfield, Honeoye Falls-Lima (Monroe County Division IV) — Attacking midfielder with a knack for creating scoring opportunities for teammates; Karipidis possesses the ability to change speeds with the ball at her feet while making quick decisions, demonstrates unique ability to accelerate while under control to create space and opportunity, strong with either foot she has the ability to distort defenses which have to accommodate for her as an offensive threat.
Maria Karipidis weaves her way to a 30-yard rush. Giana Dimora makes the save. @HFLCSDAthletics 3 @Oly_Athletics 0 pic.twitter.com/f9eYwBGPH5

— Paul Gotham (@PickinSplinters) October 10, 2020
DYLAN KLADSTRUP Sr. Midfield, Pittsford Sutherland Knights (Monroe County Division III) — Crafty playmaker with a high motor; dominant in tight spaces while possessing the ability to accelerate in the open field, Kladstrup regularly wins 50/50 situations despite being outnumbered by opponents, ball is a yo-yo at his feet in tight spaces as he weaves his way out of situations where opponents have the advantage, capable of quick accelerating while under control, sees diagonal seams for teammates, understands how to use pace to catch teammates in stride for scoring opportunities.
CODY LUTHER Jr. Goalkeeper, Newark Reds (Finger Lakes) — A raw athlete with a knack for being in the right spot; strong and quick Luther reacts well to take away scoring opportunities, at his best stopping redirects in tight spaces, strong hands prevent second-chance goals for opponents, adept at getting his team into offensive flow.
I was at game for opening 40 mins. Cody impressed me a ton in net. A number of excellent saves today for his @NewarkAthletics team. https://t.co/uxIo6wdPro pic.twitter.com/eV21Alep1r

— Matt Trabold (@TrabsMatt) October 3, 2020
EMILY PARKER Fr. Forward, Wheatland-Chili Wildcats (Genesee Region) — A slashing forward with quick-strike capability; Parker is well-schooled in how to use diagonal runs to create space in the offensive third, uses deft footwork and balance (uncanny at her age) to make herself a threat from 20 yards in, she routinely receives the ball in stride and can cut back against a defender to draw secondary coverage, see the field well and uses impressive pace on passes to create for teammates.
27' On the counterattack, freshman Emily Parker with the long lead to Niyah Rosado who levels the score at one. @WCWgvs pic.twitter.com/eznPEXMaho

— Paul Gotham (@PickinSplinters) October 8, 2020
DYLAN RICE Sr. Midfield/Forward, Greece Athena Trojans (Monroe County Division III) — All-American who combines power, finesse and high motor; with high-level foot skills and body control, Rice is capable of creating scoring opportunities from 50 yards in, he is comfortable being marked by opponents and making decisions with the ball in those situations, has learned how to give the ball up quickly with his back to the goal and receive it in return while facing, at the same time he senses one-on-one opportunities and can turn upfield to beat a single defender, at 5-foot-11 with a sturdy frame it is nearly impossible to knock Rice off the ball without fouling.
Siblings share. 𝗚𝗮𝘃𝗶𝗻 𝗥𝗶𝗰𝗲 of @athena_soccer @AthenaHigh and his older bro and All American 𝗗𝘆𝗹𝗮𝗻 𝗥𝗶𝗰𝗲 @Dylan_rice11 are well aware. On Saturday, younger bro sent a booming cross far bar on a set piece, where older bro ran onto it and powered a header home. pic.twitter.com/kaPuWU6Guz

— Matt Trabold (@TrabsMatt) October 11, 2020
ISABELLA THOM Fr. Sweeper, Holley Hawks (Genesee Region) – Steady performer along the backline; Thom combines an impressive ability to anticipate plays with a sure foot, she understands different situations and when to clear the ball as opposed to getting team into offense, shows advanced communication levels for a younger player and does not get flustered while being the last line of defense in front to the keeper, understands how to close down and contain opposing attackers.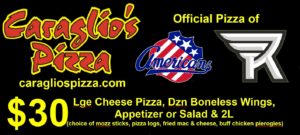 PATRICK UEBELACKER Sr. Center Back, Spencerport Rangers (Monroe County Division II) — At 6-foot-5 an imposing figure along the backline for the Rangers; combines deft touch with strength, he anticipates situations well and understands how to use angles to cut down opposing passing lanes and runs, used in a variety of situations in Spencerport's offense, he pushes up for corner kicks and restarts to take advantage of his height for a target, at the same time he takes free kicks from defensive half, understands how to use pace and diagonal leads to create for teammates.
MAX WAGNER Sr. Attacker, East Rochester Bombers (Wayne County) — Speedy forward who understands how to use his body to create space; at 5-foot-8, Wagner is deceptively strong, works well on the outer third and routinely gets the corner on opponents when he ducks his shoulder and gets under pursuit, strong with either foot, he recognizes situations for passing as opposed to attacking; with teammate Chuck Domm drawing defenders in the middle of the park, Wagner makes intelligent runs off the ball while consistently staying onside.